Is the GoPro Too Awesome for Its Own Good?
People aren't rushing out to buy the new, fancier cameras. The old ones suit them just fine.
The trouble with making a product people love is that they aren't keen to replace it. Ask anyone who owns a Weber grill, a Birkin handbag, or an air-cooled Porsche 911.
The typical mantra: It just works. And the earlier the model, the more its pragmatic simplicity is revered.
There's evidence that GoPro, 18 million cameras after its launch, is beginning to face this problem as it tries to sell new cameras and finds the steepest sales slump in its most established market. GoPro's revenue from the Americas slid 7 percent in the quarter ended Sept. 30 from a year earlier, dragging the company below its overall estimates and sending its stock into what skiers refer to as a yard sale.
GoPro is still posting decent growth in both sales and units, but much of the demand is coming from China and other relatively untapped markets; GoPro is now getting more than half of its sales dollars from outside the U.S. A lot of companies aim for just that, but it suggests GoPro is running short of early adopters closer to home.
Consider the hardware. GoPro's first high-definition camera hit the shelves roughly six years ago at $300 (and now costs $129). It lacks many of the features available on the latest, $500 iteration, but how many weekend warriors adjust their own ISO limit, set up time-lapse landscape shots, or require "liquid smooth" slow motion at 240 frames per second? Is a remote control necessary for something that is often strapped to your person? GoPro now hosts an annual clinic to make sure action-sports athletes better understand everything the little cameras can do.
Apple's iPhone doesn't have this upgrade challenge. The cost to switch is generally spread over a long service contract, and the programs that run on smartphones are consistently updated to take advantage of the most powerful hardware, so a brand-new iPhone is far more useful than an older iteration.
With diminishing returns on ever more esoteric features, GoPro has tried to win on size. The Hero4 Session it launched this year lacked a lot of the complicated settings of its standard offerings and was pitched as 50 percent smaller. The tag line: GoPro Simplified.
https://instagram.com/p/8Bk0gBLfz6/?taken-by=gopro
But 50 percent of something that's already pretty small doesn't seem a lot smaller. GoPro's standard camera has long been plenty slight enough to suction onto a helmet or strap on a dachshund. Meanwhile, the $400 initial price on the ice-cube-size Session was far higher than customers wanted. Sales picked up only when GoPro slashed the price by 25 percent after about two months of slow business1.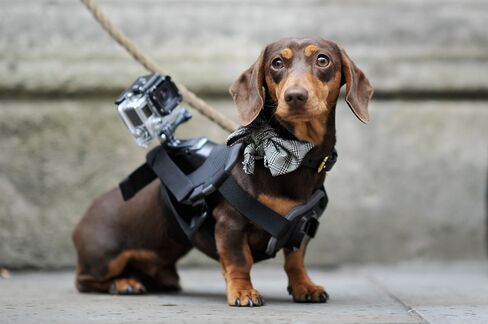 CEO Nick Woodman told investors on a conference call this week that the size and convenience of the Session "clearly wasn't enough" to help it sell well. "This experience taught us how hard it is to sell against GoPro," he said.
At its current pace, GoPro is turning over its inventory only 3.4 times a year, down from 6.3 a year ago. Not only are there plenty of GoPro customers who don't feel the need to upgrade to a newer model, but there are plenty of prospective GoPro customers who'll be perfectly happy with the entry-level camera.
Woodman noted that the recent quarter was the first in which the company had missed its earnings guidance. "We take this situation very seriously," he told investors on the call.
Part of his strategy is to turn GoPro into a media company. The company said this month that it would put $5 million in a slush fund to make sure surfers, skaters, and grizzly bear antagonists keep sending it a steady stream of video it can license and throw up on its various media platforms. Content may become king for GoPro, and the cheaper it comes, the better.
Meanwhile, the company has prodded its engineers, spending $67.3 million last quarter on research and development, or 17 percent of its sales dollars2. As a result, it recently started selling a $15,000, 16-camera rig for filmmakers to capture "spherical" video for virtual-reality scenes. It has another six-camera virtual-reality system in the works, as well as a drone.
Woodman said a drone makes perfect sense for GoPro. He's not wrong about that, and the company will probably make a great one. But it will be playing catch-up in that space, which is something it never had to do with wearable cameras.
Before it's here, it's on the Bloomberg Terminal.
LEARN MORE