Birinyi Sees Money in Stocks After Best Month Since 2011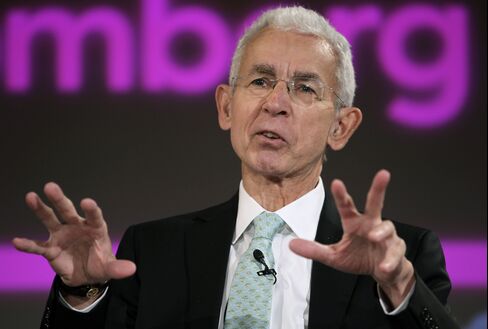 Bull market to run further after 8.3 percent October rally

Investor's six-month forecast is `higher' for U.S. stocks
Laszlo Birinyi says there's more money to be made in the stock market.
"You're in a bull market, and in a bull market stocks go up," said Birinyi, the investor whose calls have repeatedly come true since 2009. "The best thing I can do right now, which I have been saying all along, is stay the course."
At the depths of a summer swoon, the president of Birinyi Associates in Westport, Connecticut, predicted that stocks would "come out OK" after a six-day rout sent the Standard & Poor's 500 Index tumbling into a correction. Since then, the gauge has rallied 11 percent, with the bulk of the gains coming during an 8.3 percent rally in October.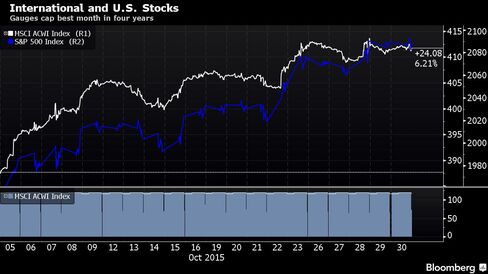 At the rout's worst, Birinyi said he was optimistic stocks would rebound because the causes of the correction weren't hidden. China's surprise devaluation of the yuan sparked concern that slowing growth there would spread.
"When the market went down, I thought I knew why, and therefore I wasn't nearly as concerned as if it would've gone down for no reason," he said. "If I understand it, the market does too, and they'll react and respond accordingly."
The response came from central banks, which reasserted themselves in October. The Federal Reserve kept interest rates pinned near zero, while signs of weak growth prompted the European Central Bank to hint at potential extra measures. In Asia, China unexpectedly cut its lending rate and Bank of Japan maintained record stimulus.
Another force in the rebound was buying by quantitative funds such as commodity trading advisers who operating in equity futures, according to a note Friday from strategists at JPMorgan Chase & Co. Those traders, whose selling was blamed for worsening the rout in late August, showed signs of "capitulation" at mid-October and probably amplified the move in equities, strategists including Nikolaos Panigirtzoglou wrote.
"There is still an overhang of short positions in U.S. equity futures, which if unwound could propel U.S. equities even higher from here," they wrote. "While the position reversal by CTAs points to capitulation by bearish equity investors, the overhang of short positions in US equity futures suggests that there is room for further short covering."
The S&P 500 rallied 3.5 percent in the month's first three days, as concern over China faded with the nation's markets closed for a holiday. A weak U.S. jobs report Oct. 2 reinforced bets the Fed would stand pat on rates, sending the dollar lower and boosting commodities prices.
The October advance erased the S&P 500's loss for the year, leaving it higher by 1 percent as it capped fifth straight week of gains. That's the longest rally of the year. The Nasdaq 100 Index surged 11 percent, at one point coming within a point of its 15-year high set in July.
Energy and materials, laggards through August, paced gains in the broader index, with rallies of at least 11 percent. Crude rallied past $50 in the month, but failed to hold the gains amid a persistent supply glut.
European equities also saw the summer's worst performers lead gains, as the Stoxx Europe 600 Index jumped 8 percent, the most since 2009. Carmakers, miners and energy producers climbed, and European equities got a boost after President Mario Draghi said the ECB will consider adding to its bond-buying program this year.
In Asia, Japan's Topix Index surged 10 percent in the month, its best since April 2013, and the Nikkei 225 Stock Average ended the period at the highest level since Aug. 28. While the Bank of Japan refrained from adding to its record stimulus, reports said the government may add to the size of its budget.
"There was a lot of emotion involved in the downdraft we saw related to China," said Don Townswick, director of equities at Hartford, Connecticut-based Conning Inc., which manages $92 billion. "We've seen a little bit of strength return to the market over the past month. We've had some decent earnings beats that are coming in."
With about two-thirds of companies in the S&P 500 finished reporting results, 75 percent have beaten profit projections. Analysts now project profits dropped 3.9 percent in the quarter, improving from an estimated decline of more than 7 percent at the end of September.
Earnings delivered outsize gains in the U.S. technology sector, where Microsoft Corp., Apple Inc., Amazon.com Inc. and Google parent Alphabet Inc. surged after reporting results. The quartet accounted for 25.3 points, or 16 percent, of the S&P 500's 159.3 point advance.
"As the market was coming back, I was very gratified by the names," Birinyi said. "When I see stocks like Amazon, Google and MasterCard recovering, that to me is a lot more important than some average S&P 500 figure. If you focus less on the market and more on stocks, you're going to have a very good year."
One stock that drew copious attention in the month was Valeant Pharmaceuticals International Inc. The Canada-based drugmaker's shares sank 47 percent in October as it was the focus of scrutiny over its business practices.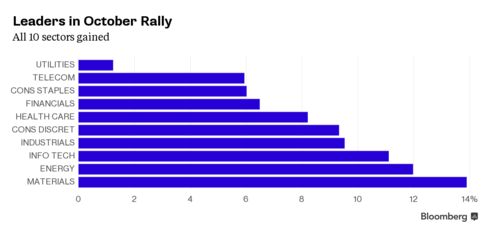 Birinyi has defied market pessimists throughout the 6 1/2-year bull market, writing in December 2008 that stocks had reached their lows. In September 2011, he said U.S. companies were earning too much to be dragged lower by Greece's debt crisis. The index bottomed the next month and then climbed 14 percent through the end of the year.
While he is hesitant to put out a specific market forecast due to uncertainty over Chinese policy and volatile oil prices, Birinyi says the direction for stocks is up. Recent events, such as Fortress Investment Group LLC's decision to shut its flagship macro fund and a postponed public offering by Albertsons Cos., contribute to indications that that bull market still has room to run, he said.
"You don't see people closing hedge funds at a top. You don't see them postponing IPOs at market tops," he said. "My six-month forecast is higher."
Before it's here, it's on the Bloomberg Terminal.
LEARN MORE