Africa's Biggest Economy Defying Currency Critics Chokes Growth
Nigeria refuses to go way of other oil economies and devalue

Currency controls starve companies of dollars to pay suppliers
Nigeria's economy is growing at the slowest pace this decade as oil prices drop. Companies are complaining they can't get the dollars they need to do business. And trading in the naira has long since dried up.
There are many good reasons why Godwin Emefiele, who runs the central bank of Africa's biggest economy, should lift currency controls and let the naira depreciate. One of the things holding him back is politics.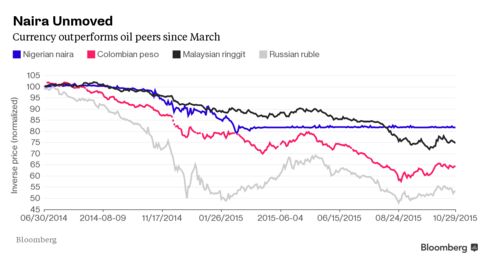 Devaluing the naira may give opposition parties the opportunity to claim that Emefiele's main supporter, President Muhammadu Buhari, has lost control of the economy. With his backing, the policy chief will be able to resist his critics into 2016 before the worsening economic slump eventually forces him to capitulate, according to Standard Chartered Plc and Bank of America Corp.
"They could probably hold out for at least six months, maybe even a year," said Ayodele Salami, chief investment officer for London-based Duet Asset Management Ltd., which manages about $200 million of African equities. "The central bank has chosen currency stability and the price they're paying for that is growth. They could hold the line for a lot longer than the markets expect."
Africa's top oil producer introduced curbs on buying foreign-exchange from late 2014 in a bid to prop up the naira as prices for crude, the source of two-thirds of government revenue and 90 percent of export earnings, plummeted. The measures have all but fixed the exchange rate at 198-199 per dollar since March, even as other oil exporters from Russia to Colombia and Malaysia have let their currencies slide.
Barclays Plc and HSBC Holdings Plc still say the central bank will be forced to weaken the naira to between 220 and 230 before the end of 2015. The currency dropped 0.1 percent to 199.05 by 4:25 p.m. on Friday in Lagos, the commercial capital.
'In Denial'
The International Monetary Fund says the currency measures are detrimental to Nigeria, whose growth slowed to 2.35 percent on an annualized basis in the second quarter. Former central bank Governor Muhammadu Sanusi II said last week his successor was "in denial" if he thought he could continue propping up the naira.
Buhari, a former general who took office as president in May, acted to stabilize the naira when he ruled Nigeria in the 1980s, and since coming to power this time around has said a devaluation wouldn't be "healthy." The government released a statement late Thursday reiterating its opposition to debasing the naira. Emefiele has also warned a devaluation would stoke inflation.
"The central bank governor is doing what he thinks the president wants," David McIlroy, the London-based chief investment officer at Alquity Investment Management Ltd., which oversees $100 million of frontier market stocks and is steering clear of buying more Nigerian shares until the currency weakens, said.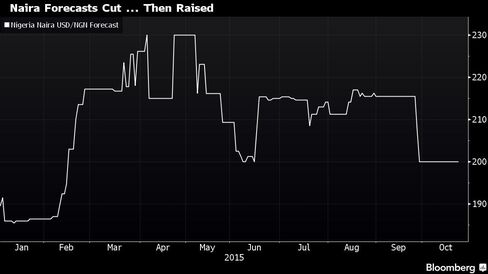 Strategists who earlier this year cut their naira forecasts on expectations Emefiele would capitulate have pushed them back up. The median year-end estimate in a Bloomberg survey fell to as low as 230 per dollar in May and has since been increased to 200.
While companies including Dangote Cement Plc, the country's largest publicly traded stock, and Sahara Group, a power plant operator, have complained that they are struggling to pay for imports, Buhari insists the central bank is provides "legitimate businesses" all the dollars they need.
The authorities' position is bolstered by foreign reserves that equate to almost six months of imports, double the IMF's recommendation, and giving authorities
enough firepower to defend the naira.
The exclusion of the country's bonds from JPMorgan Chase & Co.'s local-currency emerging-market indexes last month has also given Emefiele less incentive to keep portfolio investors on side. They're already fleeing Nigeria, with foreign holdings of naira government debt falling to less than 10 percent of the total from 27 percent in 2013, according to Standard Chartered. The London-based earns most of its income from emerging markets.
"There's enough room to maintain the current regime for now," said Samir Gadio, head of African strategy at Standard Chartered in London, which in September changed its end-of-year forecast for the naira to 200 from 222. He now predicts a devaluation by the end of March. "Eventually an adjustment will take place if oil prices remain at these levels. It's unlikely to be imminent."
Before it's here, it's on the Bloomberg Terminal.
LEARN MORE