Central Banks of World Unite! Pact Seen Needed to Spur Inflation
ABN Amro economist suggests central banks raise goals together

Coordinated increase would boost credibility in markets
Three decades since global finance chiefs signed the Plaza Accord to weaken the dollar, one economist is proposing a similar pact to propel prices higher.
With inflation undershooting the goals of most major central banks, Nick Kounis, head of macro research at ABN Amro Bank NV, is recommending Federal Reserve Chair Janet Yellen and her key counterparts unite to deliver a globally coordinated increase in inflation targets.
"It is time for central banks to join forces to break out of the rut," said Amsterdam-based Kounis, a former economist at the U.K. Treasury.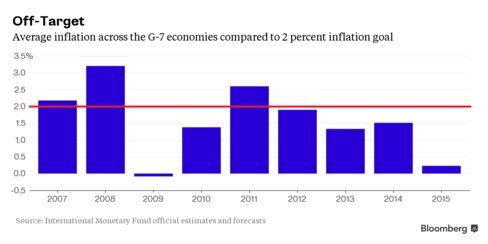 The idea adds a spin to that of economists Olivier Blanchard and Paul Krugman for central banks to start eyeing inflation of 4 percent rather than the annual rate of about 2 percent most now aim for.
Acting together would have three advantages in Kounis's view, all of which would lend credibility to the new policy. The announcement of an accord would have a shock-and-awe quality and the international commitment would reinforce inflation trends in each economy. Currencies would also be more stable than if one central bank moved alone.
Off Target
All major central banks are currently missing their aims, explaining why many are mulling another injection of monetary stimulus or leaving interest rates on hold. The Fed aims for 2 percent inflation, measured by the overall personal consumption expenditure index, which rose by 0.3 percent in the 12 months through August and has been beneath target since April 2012. The Fed also takes labor markets into account when setting policy.
Neither the European Central Bank nor the Bank of England have hit their targets since 2013 and the closest the Bank of Japan has got to its was 1.5 percent in April 2014. Each witnessed their preferred measure of prices fall 0.1 percent from a year ago in the latest reporting month. Canadian inflation has been below its central bank's goal for 10 months.
The weaker inflation runs, the more risk there is that economies start to suffer from falling prices or deflation, which prompts consumers and companies to cut back spending and makes it harder for them to pay off debts.
'Consigned to History'
If traders began betting on higher inflation then real interest rates would fall, providing a spur to economies, according to Kounis. Authorities would then be able to end stimulus sooner and ultimately lift their benchmarks higher, giving them more room to fight future slumps with conventional rate cuts.
"Quantitative easing would likely be consigned to history rather than becoming an increasingly regular policy tool with diminishing returns," Kounis said.
There would be resistance, just as there was when Blanchard, then the chief economist at the International Monetary Fund, pitched a rethink of targets in 2010. The worry is that inflation could get out of hand or the suspicion could fester that having done so once, central banks could move the goalposts again. Politicians may also blanch at the idea.
"The risk of runaway inflation expectations can be mitigated by strong communication," said Kounis. "In any case, the risk seems smaller than the possible future consequences of continuing on the path we are now on."
Watch Next: When Will the Bad News End for European Banks?
Before it's here, it's on the Bloomberg Terminal.
LEARN MORE