Car Reviews
The Mercedes AMG GT S Is the Bad-Boy Rock Star You Don't Know Yet
While not nearly as popular as Mercedes would like, the sports coupe has a lot to offer if you want to treat yourself.
Odds are, if you're considering the 2016 Mercedes AMG GT S, you're not seriously considering a Porsche 911.
Yes, they're meant to be direct competitors—they're each low, fast, powerful coupes, the closest thing to a pure sports car either brand currently makes.
But Mercedes's 503-horsepower biturbo V8 is much less ubiquitous than its German compatriot. In the first half of this year, Merc sold just 900 of them, while Porsche sold 5,000 of the 911 in the same period. More significant, 13 percent of U.S. drivers looking at the new Mercedes are not cross-shopping it against the 911, according to Edmunds.com. Instead, they're mostly comparing it against other Mercedeses.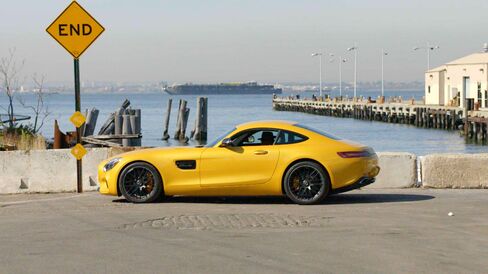 But there are a lot of factors that go into that stat, and sometimes the number sold has nothing to do with whether it's a good car. As it happens, this is a good car. If you know you want a Mercedes, and you know you don't need that Mercedes to be an SUV, you might as well choose the AMG GT S. Why hold back and try to do the practical thing and thing you're "supposed" to do? Coulda woulda shoulda, etc. Treat yourself. Free yourself.
(If you know you want a 911, go buy a 911 and God bless you for it. But that's a totally different animal. And a column for another day. Just do yourself a favor and don't get either in yellow.)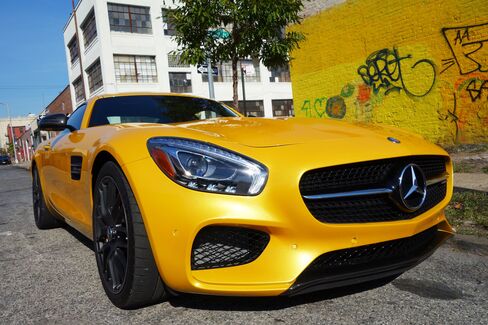 Racing Body, Racing Blood
The $129,900 AMG GT S is the halo car that recalls the gullwing SL that Mercedes made in the 1960s. I say halo because while it's financially out of reach for those buying a $40,000 Mercedes, in theory at least, its sexy allure is what initially might attract young new fans to the brand. The AMG GT S shows what can be done when cost isn't (as much) a concern and when Formula 1 racing technology is more directly applied to production-side vehicles. It's a car to dream about.
In fact, I'm a firm believer that, if you can afford it, you should buy the things you dream about. There's no value in overcomplicating the purchase with qualms about what is more sensible in this instance. Just do it, and enjoy! (Can you tell I'm saying—without saying—that the AMG GT S is impractical? It is. Totally. But it was never meant for a life of routine anyway. And I'll get to that nonexistent back seat in a moment.)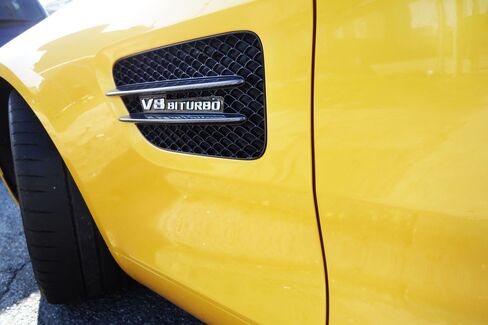 Buy the AMG GT S because it's faster and more fun to drive than any other production car Mercedes makes (zero to 60 mph in 3.7 seconds). It comes standard with a 7-speed AMG-built transmission and paddle shifters that push its sleek aluminum rocket body to a top speed a wink away from 200 mph. The 4-wheel double-wishbone suspension and low chassis are tuned to racing precision; when you drive it, you feel like you're redlining on something major, like this is the purest sports car Mercedes has ever made. And it is.
There are three drive modes and $8,950 AMG adaptive carbon-fiber brakes, a carbon-fiber drive shaft, standard crash avoidance, and a performance exhaust system that you'll hear in your sleep at night. The Race mode is the most aggressive, and if you're not careful, the AMG GT S will get away from you, fishtailing forward as it gulps asphalt like a greyhound gulps water after a run.
Did I mention this beast starts with a deafening CRUNCH? It doesn't rumble or growl like a Ferrari or Jag. This one grinds into gear, like a locomotive rousing from stasis, angles colliding underneath the hood. It does not feel quite as nimble around corners as a 911 does—it's a couple hundred pounds heavier and two inches longer than its less expensive German counterpart—but on the straight it feels incredibly, bluntly direct, more masculine, more serious.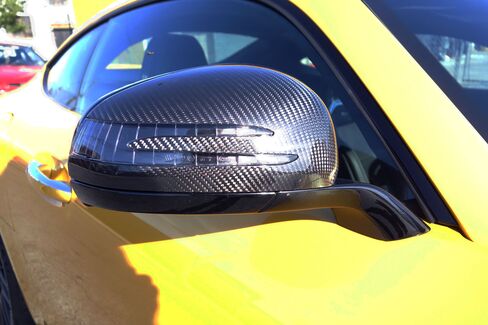 Not a Nice Car (Thank Goodness)
Buy the AMG GT S because it's the most visually stunning Mercedes on offer, too—it's different enough from the crowd to stand out, but it doesn't beg for attention. That can get exhausting. Several strangers tried to guess its price when I drove it last week in New York, and they overshot by a hundred thousand dollars.
This is not a swooped, curved song of a car like an F-Type or an Aston Martin. The AMG GT has a too-long nose, with sneering side vents and a softly rounded rear. It almost begs car columnists to compare it to something dirty. You can choose gloss or matte paintwork (the "solar beam yellow" of the model I had cost an extra $9,900) and among three styling packages and six wheel choices to go with its full-LED headlights, airplane-worthy air vents, and automatic rear spoiler. The carbon-fiber trim on the sides and rear of the car costs $5,300 extra. Adaptive high-beam lights, 19-inch front/20-inch rear wheels, and LED daytime running headlights come standard.
Pay a Lot and Go All the Way
Inside, the oblong but effective AMG Dynamic Select controller in the center by your elbow is the first thing you'll notice. It feels a little like an oversize computer mouse to use and allows you to choose one of four modes, and shows the corresponding throttle maps, gear changes, and suspension setups, among other things, on the center control screen. The model I drove also had an AMG-exclusive interior trim ($2,650), an exclusive interior package with Napa leather seats, roof-liner and ambient lighting ($3,600), illuminated door sills ($700), and a $2,600 AMG dynamic package with performance-grade steering wheel and twin yellow cluster dials at front. Those extras are unnecessary, really, but they're there if you want them, and they go far to make the car feel like your own.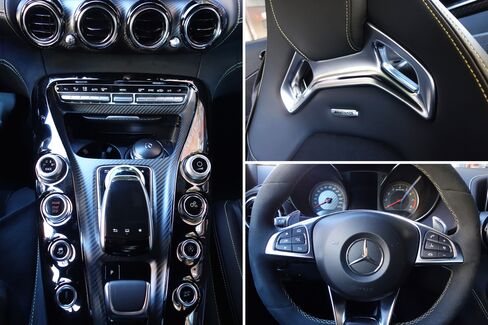 The rest of the console is lined all down either side with silver round buttons that look like the underside of an octopus arm. There's even a button to enhance the exhaust notes—I recommend using it a lot.
What I do not recommend is driving this train on cobblestone or pockmarked side streets. (It gets only 16 mpg in the city anyway.) I also recommend you plan accordingly when you take this car away for the weekend—it does have a rear ledge that, without having to open the trunk, allows access to a small storage area inside the car, but it does not have a back seat, and the trunk itself offers a puny space. Otherwise, the leg- and headroom feel at least as generous as that in the 911, if not more so. Tall males with broad shoulders and long legs will be fine.
All this to say: The Mercedes AMG GT S is not nice. It's loud and impractical and low and stiff and expensive. It's not popular like a 911. But feel the fury of its AMG racing power just once, and you'll know it's good. Very good. And that makes all the difference.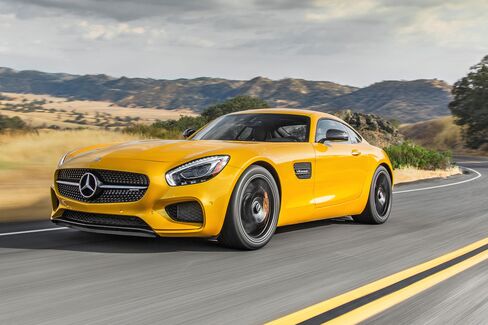 Before it's here, it's on the Bloomberg Terminal.
LEARN MORE