Shell's $7.4 Billion Loss Raises Stakes for CEO's Big Takeover
Lower oil and gas price outlook dims appeal of BG takeover

Investors still giving Shell chief `benefit of the doubt'
Royal Dutch Shell Plc's worst loss in at least 16 years has further stoked concerns about the wisdom of buying BG Group Plc. For now at least, investors are still giving Chief Executive Officer Ben Van Beurden the benefit of the doubt.
Europe's biggest oil company said it will press ahead with its largest-ever acquisition even as the worsening outlook for energy prices contributed to asset writedowns of almost $8 billion. Van Beurden said in July that BG Group's assets including Australian natural gas plants and Brazilian oil fields would add to Shell's cash flow with crude at $67 a barrel in 2016, a position he declined to repeat Thursday.
"He's walking a thin line -- a lot of investors believe the BG deal would be dilutive for Shell at these oil prices rather than accretive," Philip Lawlor, a strategist at Smith & Williamson Investment Management LLP in London, which oversees about $24 billion of investments. "Investors are willing to give the CEO the benefit of the doubt for the time being, but how many quarters of pain are they willing to tolerate?"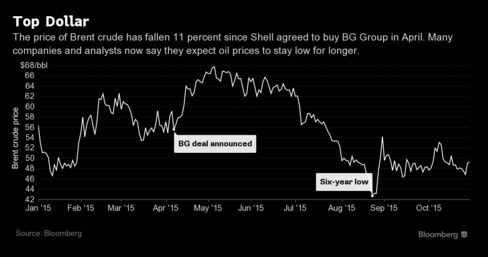 Shell's CEO, 57, is staking his reputation on the BG deal, worth $70 billion when it was announced in April. The purchase will add to Shell's natural gas assets around the world, extend its access to oil resources in Brazil and help it replace reserves that dropped in three of the last four years.
The outlook for the takeover got a boost Friday after BG raised its oil and natural gas production forecast for this year to 680,000 to 700,000 barrels of oil equivalent a day. In July, it had forecast production to be at the upper end of a 650,000 to 690,000 range. Still, slumping oil prices -- about 12 percent lower now than when the takeover was announced -- have weakened the foundations of the deal. BG's adjusted net income for the third quarter fell 63 percent to $280 million.
Oil Slump
Van Beurden, a 35-year veteran at Shell, took over as CEO in January last year, having led the company's refining, marketing and chemicals unit previously. Six months into his tenure, oil prices started to collapse as supply outstripped demand. Shell's market value has dropped to $166 billion from $230 billion in the beginning of 2014.
"The oil price assumption is the key here," said William Hares, a London-based analyst with Bloomberg Intelligence. "With a lower oil price outlook, the accretiveness of the BG deal will be pushed back from original estimates."
Almost half of the charge that pushed Shell into a $7.42 billion third-quarter loss was triggered by "the downward revision of the long-term oil and gas price outlook," the company said in a statement. When Shell announced the BG deal in April, it assumed oil would rise to $90 by 2018. Brent crude will average $70.42 that year, according to analyst estimates compiled by Bloomberg, and traded at about $49 Friday.
Late Recovery
Shell is not alone. The oil slump has been brutal to companies around the world, forcing them to slash spending, lay off employees and delay projects. Eni SpA, Italy's largest oil producer, also reported a net loss for the third quarter on Thursday. France's Total SA posted a profit of $1.08 billion, 69 percent lower than a year earlier, as rising oil and gas production and growing profits from its refining operations helped to offset the slump in crude prices.
BP Plc, one of the first companies to predict a prolonged price downturn, said Oct. 27 that it has "reset" its business to be able to generate surplus cash flow with oil at about $60 a barrel by 2017. Chief Financial Officer Brian Gilvary said he doesn't expect a recovery in prices until late 2016.
Any Price
The BG deal will add to Shell's cash flow and dividend payouts in any oil price scenario, CFO Simon Henry said on a conference call Thursday. Seventy percent of the acquisition cost will be funded by Shell's own shares, meaning the price of the takeover has fallen as lower oil prices dragged the company's stock lower. The value of the deal is currently in the "low $60 billions," he said.
Shell's B shares, the ones used in the purchase, have dropped 23 percent since the day before the deal was announced on April 8, while BG has gained 13 percent. The 23-member Stoxx Europe 600 Oil & Gas Index has declined 11 percent.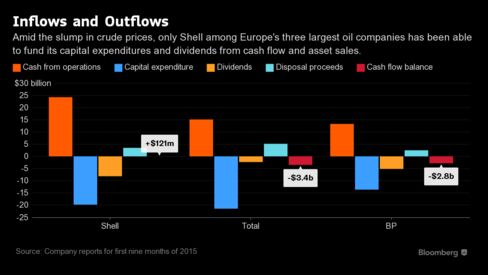 While the scale of Thursday's writedowns surprised the market, Oswald Clint, oil analyst at Sanford C. Bernstein & Co., said investors should take comfort from the strength of the company's balance sheet. Unlike BP and Total, Shell was able to cover its capital investment and dividends with the money it earned from operations plus asset sales in the first nine months of the year. BG Group was able to do the same, CFO Simon Lowth said on a conference call Friday. The other companies are only expecting to achieve that target in 2017, Clint said.
"There's been some clearing of the decks and cash flow numbers show Shell's balance sheet is strong," Smith & Williamson's Lawlor said. "Still, the quarter emphasized the level of pain investors may have to face. Shell paid top dollar for BG and the market will be unforgiving if the CEO slips."
Before it's here, it's on the Bloomberg Terminal.
LEARN MORE