Pimco Added Treasuries to Protect Against Increasing Volatility
Fed will move toward liftoff in December, Scott Mather says

Treasury market volatility for October is lowest this year
The Pimco Total Return Fund added government and related debt last month to guard against financial-market volatility and as a hedge against its other holdings, Scott Mather, one of the fund's three managers, wrote in an e-mail.
Treasuries proved to be a haven from turbulence in other markets in October. The Bank of America Merrill Lynch MOVE Index, which measures price swings in U.S. government debt based on options, averaged 74.59 this month through Thursday. That's the lowest monthly reading in 2015. Bonds rose, halting a two-day decline that was driven by Federal Reserve's comments earlier this week that it will consider raising interest rates before year-end.
"The Fed will likely move toward rate liftoff in December and there will be more episodes of volatility and opportunity that arise from the markets adjusting" to the first rate increase in nine years, Mather, who is based in Newport Beach, California, wrote in his e-mail Thursday.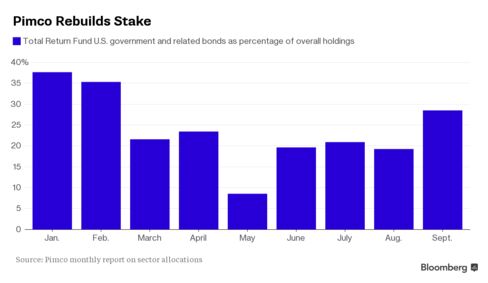 Benchmark U.S. 10-year note yields declined one basis point, or 0.01 percentage point, to 2.16 percent as of 9:10 a.m. New York time, according to Bloomberg Bond Trader data. The 2 percent security due in August 2025 rose 3/32, or 94 cents per $1,000 face amount, to 98 18/32. The yield jumped 14 basis points in the last two days to a six-week high.
Paring Bets
Trading in the Treasuries market is probably poised to slow even if the Fed moves because some investors will pare their bets as the end of the year approaches, according to Ali Jalai, a Treasury trader at Bank of Nova Scotia in Singapore.
"I don't think volatility can pick up too much going into year-end," he said. "There's no reason for them to hike at every meeting. Speculation is going to get smaller and smaller. When you don't get that much speculation, you're not going to get that much volatility." Nova Scotia is one of the 22 primary dealers that trade directly with the U.S. central bank.
A report by the New York Fed this month showed events such as the flash rally in Treasuries on Oct. 15, 2014, seem to have become more common with the rise of high-frequency trading. Metrics such as bid-ask spreads and prices do not show pronounced reductions in liquidity compared with before the global financial crisis, the report said. The crisis peaked when credit markets froze in October 2008.
Increased Holdings
The Total Return Fund, the world's biggest actively managed bond fund, increased its holdings of U.S. sovereign and related debt to about 28 percent of assets in September, according to its latest monthly allocation report. It was the highest level since February, rising from 8.5 percent in May. Its biggest position was mortgage-related debt, comprising 55.4 percent of assets. Emerging-market securities accounted for about 28 percent.
Sovereign debt also serves as a hedge, Mather wrote. "We added government-related holdings in response to anticipated market volatility and as a hedge to other attractively priced assets," he wrote. "As always, the opportunity set can change rapidly and we already see a quick recovery in many of the positions established in that period."
The government stake isn't limited to Treasuries and can include related investments such as inflation-protected debt, futures contracts and agency securities, according to the Pimco website.
The $95.5 billion Total Return Fund has returned 1.5 percent in the past year, beating 81 percent of its peers, according to data compiled by Bloomberg. It is the biggest debt fund after the $120.2 billion Vanguard Total Bond Market Index Fund.
Economic Data
Treasury yields climbed this week after Federal Reserve officials on Wednesday said an interest-rate increase was still on the table for this year. Yields rose further on Thursday after separate reports showed U.S. gross domestic product grew at a 1.5 percent annual rate in the third quarter, in line with economists' forecasts, and jobless claims held near a four-decade low.
Household spending increased 0.1 percent in September, the smallest gain since January, after rising 0.4 percent in August, a Commerce Department report showed Friday. The median forecast of 75 economists in a Bloomberg survey called for a 0.2 percent advance.
"With the data this morning, the tone had been set by what the Fed said earlier this week, the economic data we got in GDP," said Larry Milstein, managing director of government-debt trading at R.W. Pressprich & Co. in New York. "As we move forward here, the employment data is going to be the critical point on whether the Fed can actually pull the trigger."
Before it's here, it's on the Bloomberg Terminal.
LEARN MORE