FBN of Nigeria Falls to 10-Year Low After Banking Unit Fined
$9.4 million penalty for failure to transfer state funds

Third major business to be punished by regulators this week
Shares in the parent of First Bank of Nigeria Ltd. plunged after the country's biggest bank by assets was fined 1.88 billion naira ($9.4 million) over a directive to transfer deposits of state companies to the central bank, the third major business to run foul of Nigerian regulators this week.
"The management of First Bank is still engaging in conversations with the Central Bank of Nigeria on this regulatory decision," Tijjani Borodo, secretary of parent FBN Holdings Plc, said in a statement on the Nigerian Stock Exchange's website. FBN fell 3.9 percent to 5 naira by 11:55 a.m. in Lagos, its lowest since April 2005.
President Muhammadu Buhari and Governor Godwin Emefiele gave banks until Sept. 15 to move funds for state-owned bodies to the Treasury Single Account at the central bank in a move designed to clamp down on corruption and financial waste in the public sector. Interbank rates jumped before the deadline as banks sought cash. Fewer than half the deposits had been transferred to the central bank a week later, according to Chibuike Uche, a member of the Monetary Policy Committee.
The Nigerian telecommunications regulator this week imposed a fine of $5.2 billion on the local subsidiary of South Africa's MTN Group Ltd. for failing to disconnect customers with unregistered SIM cards.
A separate financial regulator ordered the suspension of the chief executive officer and chairman of Stanbic IBTC Holdings Plc, the Nigerian subsidiary of Standard Bank Group Ltd., after accusing the company of posting misleading statements over two years. Stanbic denies the allegations and says its directors remain in their jobs.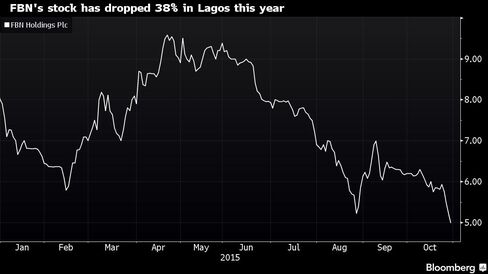 FBN, which reported a 9.7 percent decline in third-quarter profit this week, is down 38 percent this year, compared with a 16 percent retreat in the country's main index and a 14 percent drop in the banking industry index.
Before it's here, it's on the Bloomberg Terminal.
LEARN MORE