Modi Sees India Asset Sale Target Slip Away on Market Swings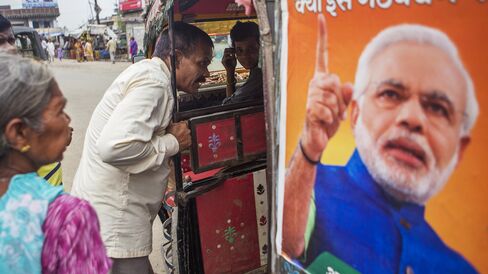 India has only raised a fifth of Jaitley's target so far

Big-ticket infrastructure projects at risk of facing cuts
When Indian Finance Minister Arun Jaitley read out the annual asset sale target during his February budget speech, one person was immediately skeptical: The woman tasked with making it happen.
Aradhana Johri, the Indian bureaucrat in charge of selling stakes in state-run companies, proposed a target of about 400 billion rupees ($6.1 billion), according to a person familiar with the situation who asked not to be named. Jaitley instead set the goal at 695 billion rupees -- almost triple from what the government earned the previous 12 months.
That plan is now starting to unravel. With five months to go in the financial year, India has only managed to raise about a fifth of Jaitley's target. He acknowledged this week that it would be difficult to achieve with low commodity prices pushing down valuations of the state-run energy companies up for sale.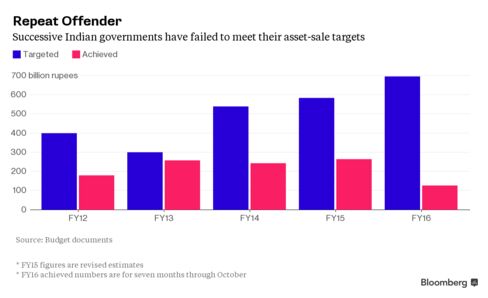 The struggle to sell state assets is one of Prime Minister Narendra Modi's biggest obstacles to reducing the fiscal deficit to an eight-year low. To hit it, India could be forced into doing what it does nearly every year, no matter who is in charge: Drastically cut spending, mostly on infrastructure, in the final months of the financial year.
"If the target seems unattainable come December, the government will start telling ministries to curtail spending starting with overseas trips and other non-essential expenditures," said Madan Sabnavis, chief economist at Mumbai-based Credit Analysis and Research Ltd. "The last option is eventually cutting big ticket infrastructure projects or deferring payments till next year."
When contacted, Johri declined to be interviewed. D.S. Malik, a spokesman for the Finance Ministry, also declined to comment on the deliberations into setting this year's disinvestment target.
The deficit reached 67 percent of the goal in the first five months of the fiscal year. While Modi's administration has shifted more funds toward infrastructure, higher outlays on army pensions and employee wages leave little room for error if revenues fall short of target.
So far this year, the government's made four asset sales to raise 127 billion rupees. The finance ministry has a pipeline of more than a dozen stocks that it wants to unload, including 10 percent of Coal India Ltd., 10 percent of Oil India Corp. Ltd. and 5 percent of NTPC Ltd.
"We have a host of companies for disinvestment but we will be careful about the valuations," Jayant Sinha, India's deputy finance minister, told a seminar in Mumbai this week. "We have to take into account market volatility."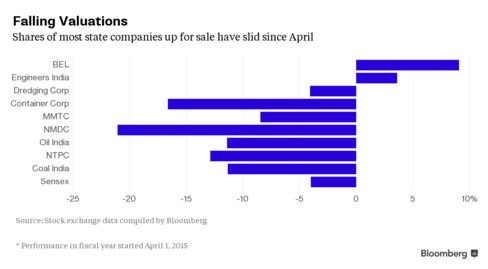 Five-day historical volatility in the benchmark S&P BSE Sensex Index touched 59 in August, the highest level since 2009. The equity gauge -- which was among the world's top gainers in the previous fiscal year -- has dropped more than 8 percent in dollar terms this year, compared with an average 5 percent loss among more than 90 global indexes tracked by Bloomberg.
Foreign investors have expressed skepticism due to a lack of power-sector reforms and the poor performance of state-owned companies, according to a Finance Ministry official who didn't want to be named because the discussions are private.
If the government goes through with more sales, it may again rely on state insurer Life Insurance Corporation of India, which often steps in to buy shares if other investors are reluctant. India's biggest insurer bought almost 45 percent of Coal India shares up for grabs in January. The stock has slid about 11 percent since then.
Poor returns are one reason why the government should stop using asset sales to plug budget holes, according to Nitin Desai, a former chief economic adviser in the Finance Ministry.
"I personally have never liked the idea of justifying disinvestment from a deficit management point of view," Desai said. "The way you handle public assets is purely in terms of efficiency."
Before it's here, it's on the Bloomberg Terminal.
LEARN MORE