Merkel Seeks China's Support on Refugees as Crisis Follows Her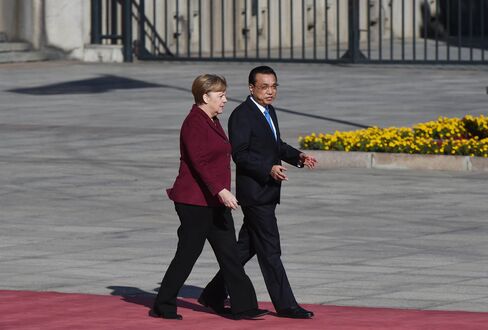 Syria, Afghanistan on German leader's agenda in Beijing

China's Li says Europe needs to master migration flows
German Chancellor Angela Merkel asked China for help in tackling Europe's refugee crisis, prompting pledges by Chinese Premier Li Keqiang to step up humanitarian aid and support efforts to end Syria's civil war.
After a nine-hour plane trip to Beijing for a visit officially centered on economic and financial ties, Merkel failed to leave behind a domestic crisis that's dominating the agenda and eroding her poll ratings as asylum seekers from Syria, Pakistan and Afghanistan flock to Germany.
"China's good contacts with Pakistan and Afghanistan could perhaps contribute to reconciliation," Merkel said in a speech in Beijing on Thursday. "That's one of our expectations, given that we have relatively many refugees from Afghanistan in Germany now."
With international talks on Syria under way in Vienna, Merkel and Li also discussed the war that's cost more than 250,000 lives since 2011 and forced millions from their homes. As many Syrians flee to Germany, the strains caused by a surge in refugee arrivals since the summer are now the biggest challenge to Merkel's decade in power.
"We are deeply concerned about the refugee crisis currently taking place in Europe and particularly in Germany," Li said at a joint news conference. "We will continue to make our constructive contribution to the solution of the Syrian conflict."
China's Stature
Merkel, who's also meeting President Xi Jinping on her two-day visit, said China's expanding global presence makes it a force for resolving geopolitical challenges, including the refugee crisis. China may have scope to exert influence over Russia, which has intervened in the Syrian civil war to prop up President Bashar al-Assad, according to a German official who spoke on condition of anonymity.
"We believe that China's stature and its voice are increasing in many areas," Merkel said in her speech. "That naturally applies to security and foreign policy, too."
Business deals signed in Merkel and Li's presence included a $17 billion order of 130 Airbus Group SE planes by China and a Deutsche Boerse AG venture intended to strengthen German-Chinese financial links. Germany is China's biggest European trade partner, while China is Germany's fourth-biggest export market.
Merkel arrived in Beijing after Xi celebrated China's expanding ties with the U.K. during a visit last week that featured a speech to both houses of Parliament and lunch with Queen Elizabeth II. French President Francois Hollande is due in China next week in another sign of Europe's engagement while U.S.-Chinese tensions increase.
"We have very well-developed, broad relations with China on the economic level and the level of society," Merkel said. "The one thing we don't have in Germany is a queen."
Before it's here, it's on the Bloomberg Terminal.
LEARN MORE