A King Loses His Way in the Enchanted Forest
An unexpected hit hobbles a London book publisher.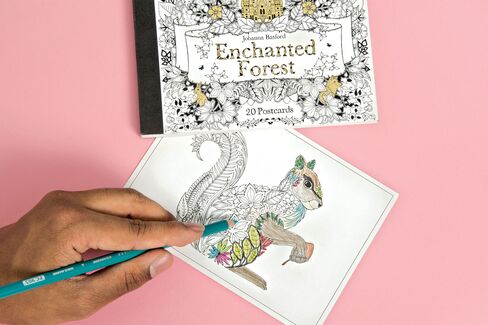 Two years ago, Laurence King Publishing released a coloring book for grown-ups called Secret Garden, but most bookstores relegated it to the kids' section. Customer reviews on Amazon.com praised it for the Zen pleasure of filling in its sophisticated drawings, so King decided to issue a second volume by the same Scottish illustrator, Johanna Basford. Enchanted Forest was a runaway hit. "It was a much greater explosion than anything we, our distributors, and our sales force had ever experienced," says founder Laurence King. "It was difficult for 50 people based in London to create a global brand."
King's tale is a cautionary one for any business grappling with unexpected demand. Basford's two volumes—with their intricate, kaleidoscopic illustrations of plants and animals—soared to the top of New York Times and Amazon best-seller lists, propelled by unofficial endorsements on social media from celebrities such as Korean pop star Kim Kibum and American actress Zooey Deschanel. The phenomenon caused a colored pencil shortage in Brazil, King says, and gave rise to a global movement in meditative coloring. The titles have sold more than 10 million copies in two dozen languages and have spawned ancillary products such as postcard sets, notecards, and a large-format artist's edition printed on thicker paper. King says the books' success will almost triple his company's revenue this year.
The publisher initially had modest expectations for Basford's handiwork: The first edition of Secret Garden had a print run of 25,000 copies, which took about six months to sell. The pace picked up after the release of Enchanted Forest, and by April this year, Amazon often had both titles on back order even though King was shipping 50,000 copies a month of the two books. One bottleneck was finding paper for the books and the postcard stock for other versions. "We rang up endless merchants in Europe and Asia," he says. "People weren't used to creating paper of sufficient quality."
Tests of the printing process also consumed several weeks because of the gold foil that's integrated into some of the illustrations. "I was worried American printers weren't taking us seriously," King says. He ultimately found printers in China, the Netherlands, and Italy to take on the work and paid extra to have the books airfreighted to the U.S.
After those difficulties, Basford in May announced she would publish her next two titles with Virgin Books, a joint venture of Richard Branson's Virgin Group and Penguin Random House. "It's a great sadness to us," says the jilted publisher, who declined Penguin's offer to buy the rights to Basford's earlier books, which still bring in "substantial" revenue. "King gave me the most awesome opportunity," says Basford, who wouldn't say whether Virgin is paying her more.
Laurence King hasn't given up on grown-up coloring books. His next title, due in the spring, showcases the work of Chinese illustrator Shan Jiang and depicts a riderless bike's journey through a wasteland reminiscent of the Mad Max films. "We know it's not going to be a best-seller," King says. "But it's just so brilliantly insane."
The bottom line: Publisher Laurence King lost his most valuable author after struggling to keep up with demand for her titles.
Before it's here, it's on the Bloomberg Terminal.
LEARN MORE