Fortunes Diverge for Brazil Steelmakers Amid Economic Crisis
Gerdau, with a large North America business, saw sales pick up

Competitors Usiminas, CSN facing rising debt, falling revenue
The Brazilian currency's collapse is intensifying the split in fortunes among the country's steel producers.
Gerdau SA, the largest Brazilian steelmaker, reported a surprise increase in third-quarter earnings Thursday as rival Usinas Siderurgicas de Minas Gerais SA, known as Usiminas, saw its stock slump on wider losses. The difference: Usiminas relies much more on Brazil.
The real's 31 percent depreciation this year has made it harder for companies that make money in local currency to keep up with interest payments on foreign loans. Consequently, Usiminas and Cia. Siderurgica Nacional SA, another Brazil-focused competitor, have seen their debt loads balloon, turning them into the most indebted members of Brazil's benchmark stock index. At the same time, the nation's worsening economic slump is eroding demand for steel.
Gerdau shares rose as much as 7.5 percent in Sao Paulo Thursday before closing down 1.3 percent. Usiminas lost 3.4 percent and CSN fell 6.5 percent.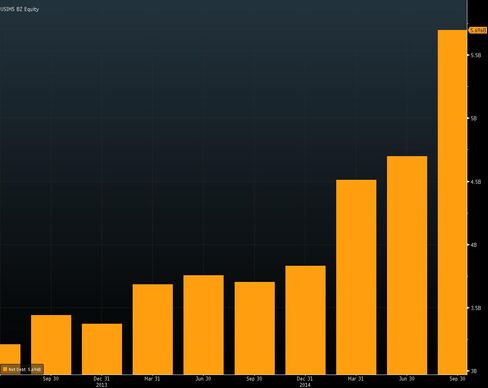 "The Brazilian fundamentals are really bad," said Wilbur Matthews, the San Antonio-based chief executive officer of Vaquero Global Investment LP, which owns Gerdau bonds. "That's a pretty ugly overhang for a commodity tied to GDP growth. What's probably helping Gerdau is broader international exposure."
Gerdau is getting some relief thanks to sales growth at its North America business and expanding exports from Brazil, where cost cuts and management initiatives allowed the company to keep profit margins higher than 10 percent. Usiminas, which is suffering a dispute at its board, doesn't have that luxury, announcing plans to close one of its plants after piling on debt earlier this decade to tap growing demand.
Steelmakers that accumulated debt to expand operations are now retrenching, seeking to sell assets and extend debt maturities as a global steel glut deepens. CSN, the company led by Benjamin Steinbruch, has net debt that's more than triple its market value, prompting Standard & Poor's to cut its credit rating three times in the past year.
Steel Output
Annual crude steel output in Brazil, the region's largest producer, is heading for a fourth consecutive year of contraction as industrial demand slumps and the economy faces its longest recession since the 1930s. Marco Polo de Mello Lopes, the executive president of lobby group Brazil Steel Institute, said in July that the industry -- which has at least 29 mills in the country -- is going through its worst crisis ever.
Usiminas, also Latin America's largest producer of steel used by automakers, this year has shut two Brazil furnaces, suspended work temporarily at its headquarters and sought relief in exports as its two biggest controlling shareholders Techint Group and Nippon Steel & Sumitomo Metal Corp. fight over how to run the company.
Total Usiminas debt as of Sept. 30 grew to 8.1 billion reais ($2.1 billion), 49 percent of which was denominated in dollars, the steelmaker said its third-quarter results released Thursday. Chief Financial Officer Ronald Seckelmann said he's studying options to extend some debt maturities and seeking debt waivers with some creditors.
The company faces the maturity of about 226 million reais in the fourth quarter and 1.75 billion reais in 2016. The ratio of net debt to earnings before interest, taxes, depreciation and amortization rose to 6.8 times, from 1.8 times a year earlier, according to the company's calculation in its press release.
CSN, which hasn't announced a date for its third-quarter earnings release, in September extended the maturity of 4.8 billion reais in debt with Banco do Brasil SA and Caixa Economica Federal from 2016 and 2017 to as late as 2022. The company, which is the second-largest listed iron-ore producer in Brazil, also hired investment banks including Credit Suisse Group AG and Banco Bradesco SA to help it sell assets.
Real Drop
The depreciation of the Brazilian currency toward 4 reais per U.S. dollar will probably boost CSN's total debt by about 5.8 billion reais in local currency terms by the end of the year, S&P said on Tuesday, after lowering the company's rating by one notch to BB-, three levels below investment grade.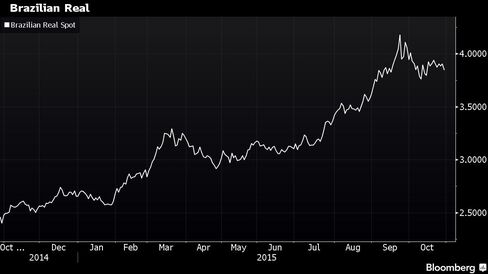 "The downgrade reflects the challenging domestic steel market that acts as a drag on CSN because demand continues to weaken and depreciation of Brazilian real is pushing up the company's debt," S&P said in a statement. "CSN's credit metrics should continue to weaken for the next few quarters and won't improve significantly at least until 2017."
CSN's $1.2 billion of notes due in 2020 sank to a record low last month and yielded 13.8 percentage points more than similar-maturity debt from Gerdau -- which is rated three levels higher as investment grade. CSN's press department in Sao Paulo didn't respond to an e-mailed request for comment.
Steel consumption in Brazil is likely to continue falling next year and net debt for the country's three main producers is expected to increase, Credit Suisse analysts led by Ivano Westin in Sao Paulo said in a research note Oct. 16.
"We expect investors to increasingly focus on companies' ability to repay and lengthen debt, divestments, and prices," the analysts wrote. "All eyes are on balance sheets."
Before it's here, it's on the Bloomberg Terminal.
LEARN MORE