As China's Stock Market Crashed, These Hedge Funds Rose 70%
Chasing gains was like `sucking blood from the tip' of a knife

Best performers sold before the selloff, some bought on dips
China's summer market selloff wasn't a total rout if you were one of the country's top-performing hedge funds that gained an average 70 percent as almost 1,300 other funds were wiped out.
The country's top 10 performers, run by Ze Quan Investment, Sunrise Investment, Zexi Investment and Yingyang Asset Management, found gains in the June-August period by heeding a famous maxim: Markets are ruled by fear and greed.
"I was scared," said Jiao Ji, chairman of Sunrise, based in northeastern China's Jilin province, who dumped all his stock holdings in May, sat out the post-June 12 crash, and then made strategic purchases on brief upswings prompted by government intervention in July. Chasing gains at the top of the market was like "sucking blood from the tip of the knife," he said.
Four of Sunrise's funds made the top-10 list of the 2,193 stock funds in China in the three months through August, according to Shenzhen Rongzhi Investment Consultant Co., which tracks hedge funds. All 10 funds had sold their holdings or stayed out of the market before the June selloff.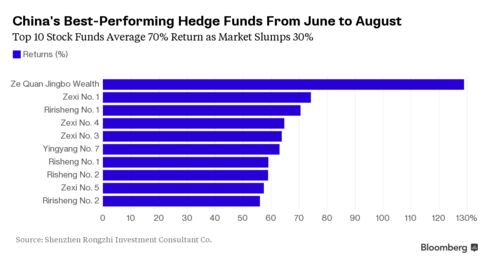 Chinese funds have few sustainable strategies to avoid large declines. They mostly only buy and sell shares, rather than engage in tactics such as short-selling and trading in stock-index futures, which Chinese authorities have clamped down on after the market crash. While private investment firms are broadly categorized as hedge funds in China, they differ from their global counterparts in not making extensive use of hedging strategies. That makes it harder to produce consistent returns.
"Pure market timing is very difficult, if not impossible, from a statistical point of view," Hong Yan, Shanghai-based director of China Hedge Fund Research Center, said by phone. Timing it right becomes crucial because "there are no other tools" for hedging, such as derivatives, he said.
Funds Liquidated
China's stock hedge funds as a whole suffered an average 18 percent decline from June through August, according to Shenzhen Rongzhi data, while the Shanghai Composite Index fell 30 percent during the three-month period. The mid-June market crash spurred a $5 trillion selloff. Almost 1,300 hedge funds were liquidated this year as of the end of August, according to Howbuy Investment Management Co., and only 303 of 2,193 stock funds recorded gains during the June-August period, according to Shenzhen Rongzhi.
Since the end of September, however, the index has risen 11 percent, prompting some funds to now inch their way back into the market. Yingyang Asset Management, whose Hangzhou-based stock fund was among the top 10, said it expects a 15 percent market rebound in the fourth quarter, spurred in part by the sharp drop in valuations.
Capturing Gains
The market rose more than 150 percent in the 12 months through June 12. Some of the top-performers' high returns were due to just the first two weeks of June before the crash. Gains from June 1 to June 12 alone were big enough to generate a 129 percent return for the three-month period at Ze Quan Investment's top-performing Jingbo Wealth fund, said Beijing-based manager Xin Yu.
Jiao, whose Sunrise funds including its Risheng and Ririsheng offerings, rose an average 61 percent during the June-August period. He was prompted to sell in May by seeing large amounts of borrowed money, or leverage, being used to make stock purchases and valuations approaching the highest levels since 2009, even as the nation's economic slowdown continued.
"People didn't believe me then because the market was still surging like everyday," Jiao said by phone from Nong An, a small city in Jilin province, which borders North Korea.
Tourism, Pharmaceuticals
After selling all stocks in his first fund in May and holding onto all cash for three others, Jiao starting buying again July 6, escaping a 20 percent market plunge in between. Buying newly listed pharmaceutical and tourism stocks and selling them Aug. 5 helped push up returns by about 30 percentage points, Jiao said without naming the targets. Companies that posted gains in the period include Tibet Tourism Co., which rose 78 percent, Beibu Gulf Tourism Corp., which surged 65 percent, and Well Lead Medical Co., which advanced 58 percent.
Xin's Jingbo Wealth hedge fund also exited near the top of China's stock market. His funds started to trim positions after the Shanghai gauge topped 5,000, dumping their last stocks on June 12 as the index peaked at 5,178. The funds have since kept stock exposure at about zero, he said.
"The market was frenzied," said Xin, who manages more than 6 billion yuan ($944 million) as chairman of Beijing-based Ze Quan Investment.
Brief Rally
The market rallied briefly in July as the government stepped in with measures attempting to ease the panic. The Shanghai index rallied 18 percent in two weeks through July 23 after authorities gave state-run China Securities Finance Corp. access to as much as 3 trillion yuan of borrowed funds to prop up stocks, banned large shareholders from selling stakes and ordered state-run institutions to buy shares.
Yingyang No. 7, a 280 million yuan fund that ranked sixth on the top 10 list with a 63 percent return for the three months, built up stock positions in mid-July after having cut its holdings in May. That enabled the fund to reap "relatively lucrative" profits on military-industry stocks and beneficiaries of the nation's state-owned-enterprise reform, Yingyang Asset Management replied in a written response to questions.
Cautious Approach
Lu Weidong, manager of the Fuguo No. 1 multi-strategy fund, was more cautious. He shunned stocks when the fund started May 4 and instead only traded in stock-index futures and commodities, enabling an 86 percent return for the three months ended August, Lu said by phone from Dongguan in southern Guangdong province.
For September, Sunrise's Ririsheng No. 1 fund yielded 15.2 percent, according to Shenzhen Rongzhi. Performances were lower for others: Fuguo No. 1's return fell to about 5 percent as the fund mostly stopped trading in stock-index futures after the government's rule tightening, Lu said. Yingyang's fund rose about 2 percent, the company said. Stock funds lost an average 1.5 percent for the month, according to Howbuy.
Lu and Ze Quan's Xin said market risks are much smaller now than they were in June. While they are now more comfortable with today's valuations, both are still sitting on cash and waiting for clear signs that a rebound is under way, they said.
"We don't do bottom-fishing," Xin said. "We leave the risk of that to others."
— With assistance by Dingmin Zhang
Before it's here, it's on the Bloomberg Terminal.
LEARN MORE