Argentine Wheat Output Seen Slumping 16% Amid Export Curbs
Production will be 9.5 million tons in 2015-2016, bourse says

Farmers switch to barley to avoid government regulations
Argentina's next wheat harvest may be the smallest in three years, according to the Buenos Aires Grain Exchange, a decline that may spur Brazilian flour mills need to import the grain from other countries.
Argentine farmers will produce 9.5 million metric tons of wheat in the 2015-2016 season, down 16 percent from a year earlier, the exchange said Thursday in its first wheat forecast.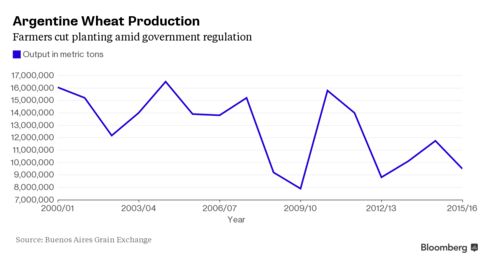 Farmers are switching to unregulated crops such as barley because the government charges wheat export taxes of 23 percent and restricts shipments to other countries. Wheat exports are permitted after 6 million tons are produced for domestic consumption. There are no export taxes on barley.
"We have had more barley than expected this winter," Diego Ubici, an agriculture engineer from Agropulso, a seed and fertilizer reseller in America City, in Buenos Aires province. "Farmers were not selling waiting for a new government."
Before it's here, it's on the Bloomberg Terminal.
LEARN MORE