700 Years of Swedish Prices Contrast Plague With Globalization
A 2.6% average since 1291 may provide solace to policy makers
If Swedish central bankers think they have an inflation problem now, they're lucky they weren't around when the bank was founded.
At its inception, back in 1668, the world's oldest central bank had to contend with consumer prices falling by 15 percent.
While the situation is less dire now, Sweden has flirted on and off with deflation over the past five years. Governor Stefan Ingves and his colleagues have unleashed unprecedented stimulus to get price growth back toward the 2 percent target, cutting rates to negative and buying government bonds.
Policy makers at the bank in Stockholm have come under fire from all sides, with some economist and politicians even arguing that their failure to reach the price goal should be remedied by lowering the target.
Yet looking back into history, they will find support in their fight to revive price growth.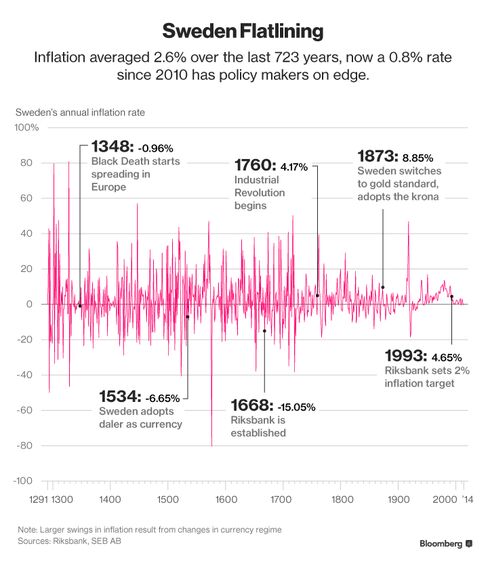 Researchers at the bank gathered 723 years of inflation data based on a changing basket of products that most often included, grain, beer, salt, butter, wax, oxen and iron. Market prices were largely culled from archives in the Stockholm region, which is seen as the most commercialized part of Sweden from the 14th century.
The resulting chart shows that while Sweden was not immune from the wild swings in inflation seen around Europe through the centuries, inflation has averaged just above the target at 2.6 percent.
Some of those huge fluctuations have to do with war, civil unrest, pestilence or even currency switches. On that front, things have certainly got a little quieter, with the consumer price index in single digits since 1991.
While the moderation is by design, inflation now really risks flatlining unless the central bank does more.
Robert Bergqvist, now chief economist at SEB AB, worked at the Riksbank when the current inflation target was set in 1993. He remembers it wasn't a very complicated process.
"Two percent was simply the level of inflation we had back then. We also looked at what inflation targets other central banks had," he recalls.
Today, the situation is not as clear.
Parliament has set up a committee to review the bank's inflation target. Some are calling for the target to be lowered, others want it doubled to 4 percent, and others still suggest the Riksbank reintroduce a tolerance band.
Sweden isn't alone. With banks from the U.S. to Japan all undershooting their goals, the central-banking community is proposing a general rethink. Even former Federal Reserve Chair Ben Bernanke earlier this year suggested increasing the U.S.'s 2 percent goal, saying there is nothing "magical" about that number.
As for Sweden, "it's not on the map today to discuss 4 percent," Bergqvist said, while acknowledging that "if monetary policy is moving in any direction, I think it'll go in the direction of raising the inflation target."
Before it's here, it's on the Bloomberg Terminal.
LEARN MORE