Starwood Seen as Acquisition Target for Hyatt, Chinese Firms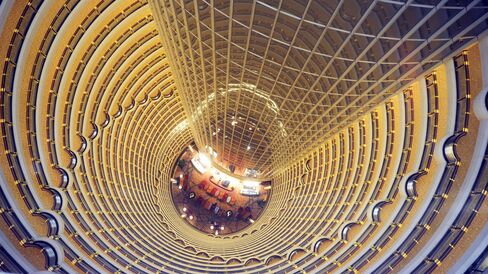 Hyatt in advanced talks to buy operator of W brand, CNBC says

Timeshare unit being spun off, sold to Interval Leisure
Starwood Hotels & Resorts Worldwide Inc., the lodging company that hired an adviser earlier this year to help explore strategic options, has a new suitor.
Hyatt Hotels Corp. is in advanced talks to buy Starwood, according to a CNBC report Wednesday. At least three Chinese firms also are vying to acquire the Stamford, Connecticut-based company, said a person with knowledge of the matter. Also Wednesday, Starwood said its timeshare unit, Vistana Signature Experiences, will be spun off and acquired by Miami-based Interval Leisure Group Inc.
Starwood, whose brands include W, Westin and St. Regis, announced in April that it hired Lazard Ltd. and was exploring options including a possible sale. The company, led by interim Chief Executive Officer Adam Aron after the resignation of longtime head Frits van Paasschen in February, had been lagging behind competitors such as Marriott International Inc. and Hilton Worldwide Holdings Inc. in expanding the number of hotels carrying its brands.
Starwood "owns a portfolio of generally well-regarded global lodging brands, it's got a big footprint internationally and it's got a big footprint in the U.S. with some of the better-known brands around," said Robert LaFleur, a hotel analyst at JMP Securities LLC in New York. "From a takeout standpoint, it's pretty attractive."
Shares Rise
Starwood shares rose 6.3 percent to close at $79.50, a three-month high. Hyatt slipped 1.8 percent to $49.63. Starwood has a market value of about $13.5 billion, and Hyatt's is about $7.1 billion.
Amy Patti, a spokeswoman for Chicago-based Hyatt, and Carrie Bloom, a Starwood spokeswoman, declined to comment on the CNBC report.
"Our progress and our process is active and nearing conclusion," Aron said of Starwood's strategic review on the company's earnings conference call Wednesday. "Indeed I'd be surprised if we don't have answers to these questions before the end of this calendar year."
CNBC's David Faber said a Hyatt deal for Stamford, Connecticut-based Starwood could come as soon as next week, citing people familiar with the talks. The company's founding Pritzker family controls Hyatt through its ownership of super-voting Class B shares.
Hyatt's well-established brands, especially Hyatt Place, in the limited-service hotel segment could help Starwood plug a hole in its own select-service business, said Michael Bellisario, an analyst at Robert W. Baird & Co.
'Formidible Competitor'
"Hyatt's problem is it's just smaller -- about one-fifth of the size of Hilton and Marriott," he said. If it combines with Starwood, "they would become a very formidable competitor."
Hyatt had 41 owned or leased hotels with about 20,000 rooms as of June 30, in 10 countries. The company has said it wants to increase the proportion of rooms outside the U.S. from 18 percent to 22 percent in owned and leased properties. Hyatt owns assets in Paris, London, Zurich, Seoul and Mexico City in addition to the U.S. It has 618 properties in 51 countries, including hotels it manages.
Starwood, as of Sept. 30, owns, leases or holds through joint ventures a total of 32 hotels worldwide, including St. Regis properties in New York, San Francisco and Florence, Italy, and Luxury Collection hotels in Spain, Austria and Argentina. They have a total of 12,339 rooms. Including hotels it manages, Starwood has more than 1,270 properties in about 100 countries.
The company is spinning off and selling Vistana, which includes 22 timeshare resorts with more that 220,000 owners and more than 5,000 employees, to Interval in a deal valued at about $1.5 billion. Starwood's sale of the business may be a prelude to a combination with Hyatt, which previously sold its own timeshare unit to Interval, Bellisario said.
"The resulting hotel-only business should be more attractive to any potential acquirer," he said. "It lessens the total investment needed by about $1.5 billion and the timeshare business is not as well understood by the investment community."
'Combined Platforms'
One benefit to a takeover by Hyatt "would definitely be the scale of the combined platforms," said Lukas Hartwich, a lodging analyst at Green Street Advisors LLC. "Combined, the two companies would have over 500,000 rooms, which would considerably close the gap between them and Hilton and Marriott."
The U.S. hotel industry is in its sixth year of recovery from the recession, with revenue per available room -- a measure of occupancy and rates -- increasing 6.7 percent this year through September, according to research firm STR Inc. Revpar rose 8 percent in September. Occupancies across all U.S. hotels averaged 65.4 percent in the 12 months through September, the highest in any one-year period since 1988, and the average daily room rate also reached a record, STR said.
"In the hotel industry, as an operator or owner, life is pretty good or awesome, depending on where you are," said Jan Freitag, senior vice president at the Hendersonville, Tennessee-based firm.
Chinese Suitors
At least three Chinese firms also are vying to acquire Starwood, said a person with knowledge of the matter. HNA Group Co., hotelier Jin Jiang International (Holdings) Co. and sovereign wealth fund China Investment Corp. have each applied to the Chinese government for approval to proceed with offers for all or part of Starwood, the person said.
One company that's not pursuing Starwood Hotels is McLean, Virginia-based Hilton.
"You can rule out Hilton's interest," CEO Christopher Nassetta said on the company's third-quarter earnings conference call Wednesday. "We are not involved in the process in any way."
Before it's here, it's on the Bloomberg Terminal.
LEARN MORE