The number of runners completing the New York City marathon has skyrocketed since the inaugural all-male event in 1970. Last year, the race drew 50,530 finishers, according to the New York Road Runners, and more than 40 percent were women. This year, about 50,000 marathoners are expected to finish the iconic five-borough road race, which will take place this Sunday, Nov. 1.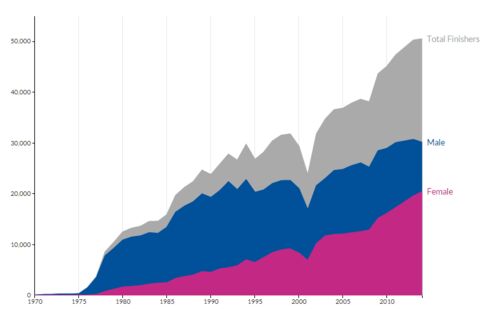 Marathoning Good for Heart Health ... and City Revenue
Those 50,530 finishers at last year's race didn't travel to New York alone. An estimated 258,100 out-of-town guests visited the city during marathon week last year, according to a report produced for NYRR by the Economics practice at AECOM. Those extra visitors brought in an estimated $22.2 million in sales and occupancy taxes to New York City, the report found. In total, more than 1 million spectators lined the streets on race day. All in all, AECOM estimates the 2014 race's total economic impact was $415 million. That's up sharply from 2006 and 2010, when economic impact assessments were last performed.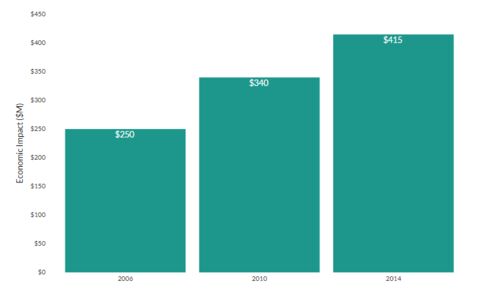 This Is More Than a New York State of Mind
With marathons bringing in so much revenue for local governments' coffers, it's no wonder more and more cities are choosing to host 26.2-mile events. Since 2012, the number of scheduled marathons in the U.S. and Canada has expanded more than 10 percent to 750 this year, while the number of U.S. finishers soared to 550,637 last year from about 25,000 shortly after the start of the running boom in 1976. In total, seven of the 15 largest global marathons are located in the U.S., with NYC taking the (carby) cake as the world's largest.
This article originally ran in Bloomberg Brief's Municipal Markets newsletter. View the original interactive StoryChart here.
Before it's here, it's on the Bloomberg Terminal.
LEARN MORE