Polish Leader Tells Allies to Ease Pressure on Central Bank
Duda's adviser against `abrupt' change of central bank charter

Aide sees scope to lower Poland's benchmark rate from 1.5%
Polish President Andrzej Duda is looking to temper expectations of a quick overhaul of monetary policy after his political allies, emboldened by an election victory, push for changing the central bank's mandate.
It's possible to accelerate economic growth without changing the monetary authority's charter -- as suggested by a lawmaker from the Law & Justice party that won power in Sunday's general election -- Duda's top economic adviser Zdzislaw Sokal said in an interview in Warsaw. He said there is scope to cut the National Bank of Poland's benchmark interest rate from a record-low 1.5 percent, because borrowing costs are higher than in the neighboring euro region. Derivative traders agree, increasing bets on a Polish rate reduction.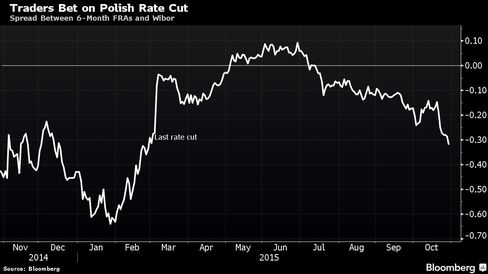 "Instead of an abrupt change of the mandate, it's fully feasible to gain cooperation between the central bank and the Finance Ministry through a proper policy mix that will help a much faster economic expansion," said Sokal, a former member of the central bank's management board. "Discussion over the mandate, however, is a part of a debate that's taking place in many other countries and Poland is no different in this regard."
Law & Justice has swept this year's presidential and parliamentary elections, gaining an unprecedented outright majority in the legislature, which will give the party a key role in shaping monetary policy as the terms of rate setters end early next year. Central bank Governor Marek Belka on Tuesday fended off what he called "illegal" calls by politicians for his institution to print money for budget financing.
Policy Toolbox
Central banks across eastern Europe are embracing policies usually reserved for more developed nations, with Hungary's providing low-cost loans to businesses and the Czech authority capping currency gains to revive price growth and the economy. In Poland, lingering deflation results in one of Europe's highest real interest rates, which fuels pressure from politicians to reduce official borrowing costs further even as the economy expands more than 3 percent per year.
Henryk Kowalczyk, a Law & Justice lawmaker who suggested amending the central bank's charter to boost its responsibility for economic growth, earlier this week also said the National Bank of Poland could run a loan program similar to that of the European Central Bank or the Bank of England's funding-for-growth.
The party will seek central bank "cooperation" in boosting lending and supporting investment in order to accelerate economic growth to 5 or 6 percent, Zbigniew Kuzmiuk, the group's lawmaker in the European parliament, told Dziennik Gazeta Prawna on Thursday. Such growth can be achieved during the next four years, he said.
Bond Buying
Sokal, 57, said he favors giving the central bank the ability to purchase government securities outside money-market liquidity operations. Belka has also asked for such emergency powers, which would help the bank work with the government in crisis situations. The legislation wasn't passed by the previous parliament.
"The fact that other central banks have at their disposal instruments to ensure financial stability supports implementing such a solution also in Poland," Sokal said.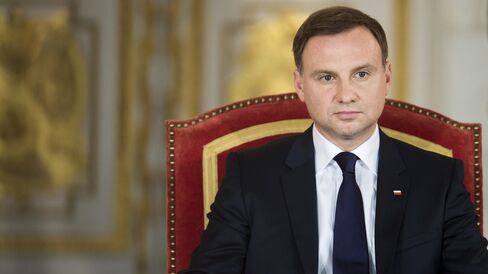 Poland's economy has expanded by at least 3 percent for the past seven quarters and the central bank expects growth to stay steady through 2016. Law & Justice, the former party of President Duda, seeks to accelerate the economy to significantly reduce unemployment and boost wages.
Bank Appointments
Duda, along with Law & Justice lawmakers, are set to appoint eight of the 10 members of the Monetary Policy Council for new six-year terms by February, potentially stuffing the panel with advocates of looser monetary policy. Forward-rate agreements, derivatives used to bet on interest rate levels, show expectations for easing surged to more than a quarter point over the next six months following Law & Justice's victory last weekend.
Kowalczyk told the PAP news service that dovish views of MPC candidates will "definitely be a factor that we'll take into consideration." In response, a group of present and past rate setters said in a statement that using such criteria would "breach the constitution, the National Bank of Poland's charter and good economic practice."
"The President is responsible for our country's security and stability, including its financial safety," Sokal said. "The President's MPC candidates will reflect this view."
Before it's here, it's on the Bloomberg Terminal.
LEARN MORE