Indonesia needs to reform state companies, open its economy

`Not in my lifetime' says economist on ceding legal power
Indonesian President Joko Widodo is heading home after telling U.S. President Barack Obama that Indonesia intends to join the Trans-Pacific Partnership. That went down well at the White House, but there are obstacles to implementation in a country where economic nationalism runs deep.
The TPP, agreed between the U.S. and 11 other nations on Oct. 5, goes far beyond typical trade agreements that focus on reducing tariffs, and highlights issues such as stricter safeguards for patents and leveling the playing field for companies that compete with government-backed businesses.
"It would be beyond even the most trade liberalist's point of view in the country," said Riza Noer Arfani, a researcher at the Center for World Trade Studies at Gadjah Mada University in Yogyakarta, Indonesia. "I'd say that the conditions for the TPP for Indonesia are way too high."
The TPP still needs to be ratified by individual countries before new members can join, a process that could take years before Indonesia can even apply to be accepted. Here are some areas that will be particularly difficult for Widodo, better known as Jokowi.
State enterprises
Indonesia has 119 companies directly owned by the state, with combined assets of about 4,500 trillion rupiah ($334 billion). TPP membership will mean Indonesia must reform the sector to allow greater competition in procurement. Such reform was a chief concern for TPP signatories Malaysia and Vietnam.
"To what extent can Indonesia favor its SOEs under this agreement remains to be seen," said economist Jonathan Pincus, president of the Rajawali Foundation, an Indonesian public policy think tank. "It's a similar story to Vietnam. There is a big state-owned sector in Indonesia that has access to implicit subsidies and advantages in the market."
Opening economy
Indonesia would have to reduce the number of industries with restrictions on foreign ownership. That would require approval by parliament, with lobbying likely by local business players and unions. Exporters of manufactured goods such as textiles, which could benefit from the TPP due to cheaper access to foreign markets, are in the minority.
"For those tycoons with a domestic orientation, there would be a lot of resistance and reluctance," said Yose Rizal Damuri from the Center for Strategic and International Studies. "Any trade liberalization is wrong in their mind. Other resistance will come from agricultural producers, like farmers, who are strong in Indonesia."
Dispute Settlements
The TPP may contain a clause that allows investors to bring claims of breaches of investment protection to an independent tribunal in a third country or at the World Bank. Ceding legal sovereignty in this fashion is very unlikely to be accepted within Indonesia, according to Iwan Azis, a lecturer in economics at the University of Indonesia.
"Just imagine, the domestic legal system not having any power in the country, and overshadowed by a non-national court," he said. "This is impossible. I don't think the country is ready for that. Not in my lifetime."
Election Timing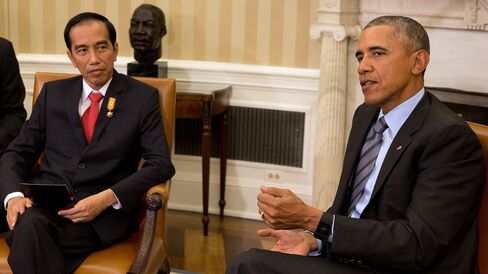 Jokowi may end up having to convince the country of the benefits of the deal in the run-up to the 2019 presidential elections. Campaigning on trade liberalization has traditionally not been a vote winner in Indonesia. Adding to the complications: Jokowi's own political party, the PDI-P, is among the most nationalist grouping in parliament.
"Jokowi is supported by one of the more inward-looking parties, which promotes the narrative that Indonesia should be still more independent," said Damuri. "Whereas the TPP is all about inter-dependency. This might be one of the biggest issues around the campaign period."
Before it's here, it's on the Bloomberg Terminal.
LEARN MORE