Google Parent to Launch Internet-Beaming Balloons in Indonesia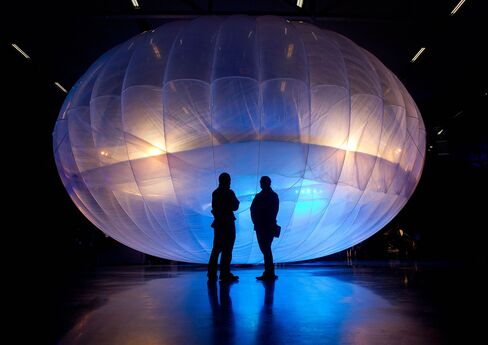 Alphabet plans to test hundreds of Internet-beaming balloons

Working with local telcos Indosat, Telkomsel and XL Axiata
Google parent Alphabet Inc. signed a deal to work with three Indonesian telecommunications firms to test its Internet-beaming balloons across the country, part of an effort to get more of the world online to broaden the audience for Google's services.
"It's going to take a number of companies and governments and organizations coming together to provide communications to everyone, but we are super-excited to play a role," Sergey Brin, co-founder of the Mountain View, California-based company, said Wednesday.
Alphabet's X unit, formerly called Google X, is working with Indonesian telecommunication companies PT Indosat, PT Telekomunikasi Selular, and PT XL Axiata on the project, said Mike Cassidy, who leads the initiative known as Project Loon. They will spend the next year using hundreds of balloons to perform tests of the technology, such as communication between balloons and ground-to-balloon and synchronizing the movements of balloon swarms, he said.
"This testing is going to be very revealing to us in terms of how close we are to launch," Cassidy said. "If all these tests go well it should be soon after that that we're ready for a commercial launch."
Test Market
Indonesia is a good test market for Project Loon as it is the fourth-most populous country in the world and is composed of numerous islands that are difficult to link to the Internet via traditional cables, Cassidy said. He also noted there are more than 150 million Indonesians today who lack Internet access.
Alphabet will work with the Indonesian companies to come up with a business model that works with the country's law, he said. The balloons will use wireless spectrum already secured by the firms for their communications, he said.
Indonesia's President, Joko Widodo, was scheduled to visit Google Wednesday as part of a U.S. tour, but had to cancel his trip because of haze in his country caused by forest fires.
Sky Towers
Alphabet has been working on Project Loon for several years and began testing the technology in earnest in 2013. It has flown tests of the helium-filled balloons, each about 40 feet tall and shaped like an upside-down raindrop, in such countries as Australia, Chile and Brazil, and worked with local telecommunications firms to integrate the balloons with the Internet.
"In effect, Loon is building cell towers for the telcos," Cassidy said. "But the towers we're building are 20,000 meters in the sky."
It should be easier for Project Loon to develop its technology and products faster under the new Alphabet corporate structure, Brin suggested.
"I think having very clear missions for each piece where they don't feel entangled in a complex way has been working really well for us," Brin said. "You shouldn't be worried about, whatever, what operating systems those phones are on, what other business relationships Google has with this telco or that other telco -- just go forth and do your jobs."
Alphabet also is creating large, solar-powered, unmanned aerial vehicles -- drones -- for Internet access, putting it into a technological race with advertising rival Facebook Inc. The social network is seeking to expand its global user base by using drones and satellites to give people in rural regions or other unconnected areas access to the Internet.
None of this is cheap. Google's capital spending is likely to rise next year, Chief Financial officer Ruth Porat said on an earnings call last week.
"We do see accelerated investment given the nature of the businesses that we're building up here," she said.
Before it's here, it's on the Bloomberg Terminal.
LEARN MORE