Drying El Nino weather event is strongest since 1997

Drought could lower growth to its weakest in 24 years
Australia's monetary policy debate, like its weather, is heating up.
The world's driest inhabited continent is confronting scorching temperatures that Goldman Sachs Group Inc. says threaten to cut growth in 2016 to the weakest in 24 years and could pressure the central bank to reduce interest rates from an already record-low 2 percent.
The strongest El Nino in 18 years and cooler ocean temperatures around Indonesia will combine to produce weather that parches Australia's farms and ranches. The fall in rural production would compound problems in an economy already struggling with slumping commodity prices and record-low private-sector wage rises.
"The drought just isn't in anyone's numbers," said Tim Toohey, chief economist for Goldman Sachs in Australia who noted past episodes cut growth by between a half and one percentage point. "A drought in a period where non-farm economic growth is already forecast by policy makers to be well below trend and inflation pressures contained is a sufficient reason to warrant additional monetary easing."
Dry September
Toohey forecasts Australia's economy will expand by a below-average 2 percent in 2016 and says his estimate may be cut back once the impact of the drought becomes clear. "Growth of 1.75 percent is certainly possible, maybe a little bit below that," he said. An annual expansion of less than 1.7 percent would be the weakest recorded since 1992.
Earlier this month, following the third driest September on record, the Australian Bureau of Meteorology estimated there was an 80 percent chance temperatures in the southern half of the country would be above the average maximum in October. The government agricultural agency, meanwhile, is still forecasting farm output will be steady in the period ahead.
This year's El Nino, which is a warming of Pacific Ocean surface temperatures, is the strongest since 1997, according to the bureau. Its effects are already being felt by Vietnam coffee growers, African cocoa farmers and dairy producers in Argentina.
Growth Impact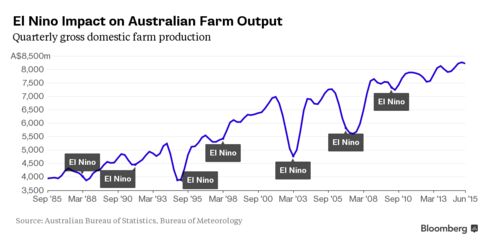 During the last drought in 2006, the Reserve Bank of Australia estimated farm output would fall by about 20 percent and subtract about 0.5 percentage point from growth in gross domestic product.
Sub-Par Growth
What makes this drought more serious for the economy than the previous three is that growth has been running below average for six of the past seven years. During droughts in 1994-95, 2002-03 and 2006-07, non-farm GDP growth was 4.6 percent, 4 percent and 4.3 percent respectively, and inflation was already above the 3 percent top of the central bank's target or accelerating toward it. Now, the non-farm economy is expanding at 2.4 percent and inflation is at 1.5 percent.
Data Wednesday showed underlying inflation in Australia slowed in the third quarter to the bottom end of the central bank's 2-percent-to-3-percent target. The trimmed mean core gauge of prices rose 2.1 percent, less than economists' forecasts of 2.4 percent.
The economy is "more vulnerable to the negative effects of a drought than at any time since the early 1980s," said David Bassanese, chief economist at BetaShares Pty.
The RBA is due to update its forecasts for economic growth and inflation on Nov. 6, three days after it announces its monthly policy decision.
"A severe El Nino drought-induced slump in Australian farm production at a time when growth is already sub-par due to the unwinding of the mining investment boom would not be good," said Shane Oliver, head of investment strategy at Sydney-based AMP Capital Investors Ltd. "While food prices may see some upwards pressure, the hit to growth would likely dominate the RBA's thinking and so is another reason why the RBA is likely to be under pressure to cut interest rates further."
Rate Bets
Following the inflation data, traders doubled their bets to a more than 60 percent chance of a quarter-percentage-point rate cut at the Nov. 3 meeting, according to swaps data compiled by Bloomberg.
While making up around 2 percent of Australia's economic output today, the country's cropping and grazing heritage figures large in the national psyche. About two-thirds of Australia's land is devoted to farming and from the 1840s to the 1950s, the economy rode "on the sheep's back" as agriculture, especially wool, brought in significant wealth.
Australia still remains the world's largest wool exporter and one of the top five suppliers of beef, cotton, sugar and wheat. El Nino weather conditions have reduced the country's wheat crop by 15 percent in the past month, Australia & New Zealand Banking Group Ltd. Senior Agricultural Economist Paul Deane said Oct. 21 in a research note.
Slaughter Rates
Severe drought has already engulfed 80 percent of the northeastern state of Queensland, which is Australia's largest supplier of beef products. The state government said the drought, along with increased demand for the country's beef, had encouraged graziers to increase their slaughter rates.
"Stock numbers are in decline and will continue to fall over the next few years unless climatic conditions improve," the state said in its annual budget.
Goldman's Toohey expects the RBA will downgrade its growth forecast for 2016 of 2 percent to 3 percent and won't be able to wait for the impact of the drought before cutting rates.
"If they're going to wait until after the activity data really falls away, you're going to find you're in a position that you'll be cutting by more," he said.
Watch Next: What You Need to Know About El Niño
Before it's here, it's on the Bloomberg Terminal.
LEARN MORE