Oil Climbs Most in Eight Weeks as Refiners Boost Operating Rate
EIA reports U.S. gasoline inventories fell for a third week

U.S. crude supplies rose a fifth week to 480 million barrels
Oil climbed the most in eight weeks in New York as increasing U.S. refinery activity signaled the end of seasonal maintenance and higher crude demand.
West Texas Intermediate surged 6.3 percent after the Energy Information Administration said refineries boosted operating rates. U.S. refiners typically slow during September and October to perform maintenance during a low fuel demand period. Gasoline and distillate fuel stockpiles fell last week, while consumption rose. Crude supplies climbed 3.38 million barrels.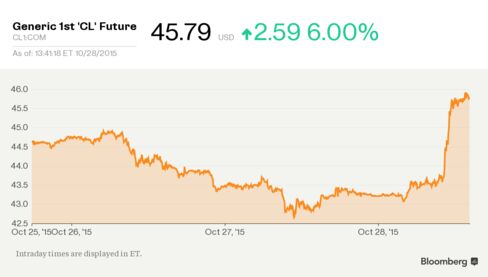 "The refinery data might be a sign that the maintenance season is winding down," said Rob Thummel, a managing director and portfolio manager at Tortoise Capital Advisors LLC in Leawood, Kansas, who helps manage $13.2 billion. "We're seeing strong demand for gasoline, diesel and jet fuel in the U.S. Even through crude supplies are high, there seems to be a little bit of a shift in sentiment."
Oil has slid since a rally above $50 earlier this month as U.S. crude inventories rose to more than 100 million barrels above the five-year seasonal average. Futures have slumped more than 45 percent in the past year amid a global glut that the International Energy Agency estimates will remain until at least the middle of 2016.
WTI, Brent
WTI for December delivery increased $2.74 to settle at $45.94 a barrel on the New York Mercantile Exchange. It was the biggest gain since Aug. 31. The volume of all futures traded was 24 percent above the 100-day average at 2:35 p.m. The contract fell to $43.20 on Tuesday, the lowest close since Aug. 27.
Brent for December settlement rose $2.24, or 4.8 percent, to $49.05 a barrel on the London-based ICE Futures Europe exchange. The European benchmark crude closed at a $3.11 premium to WTI.
Crude continued to rise after the Federal Reserve left interest rates unchanged, leaving open the option to tighten policy at a December meeting.
Refineries cut operating rates to 86 percent of capacity in the week ended Oct. 9, the least since January, EIA data show. Rates increased to 87.6 percent last week.
Demand Outlook
"The turnaround of refinery runs is supportive for the market," Mike Wittner, head of oil-market research in New York at Societe Generale AG, said by phone. "U.S. crude fuel production and crude demand should pick up."
Gasoline stockpiles dropped 1.14 million barrels to 218.6 million as demand jumped to the highest since August. Supplies of distillate fuel, a category that includes diesel and heating oil, fell 2.95 million barrels to 142.1 million, the lowest since July.
November gasoline futures rose 6.29 cents, or 4.9 percent, to $1.3501 a gallon. It was the biggest gain since Aug. 31.
Nationwide crude stockpiles rose to 480 million barrels in the week ended Oct. 23, the most since May. Inventories at Cushing, Oklahoma, the delivery point for WTI futures, declined 785,000 barrels.
Oversupplied Market
"We're still swimming in oil and it will take a long time to work off the 100 million extra barrels that we have in storage," Chip Hodge, who oversees a $9 billion natural-resource bond portfolio as senior managing director at John Hancock in Boston, said by phone. "This remains an oversupplied market. In the big scheme of things today's rise from about $43 to more than $45 is no more than rounding."
U.S. crude output rose 16,000 barrels a day to 9.1 million last week. Production is down from a four-decade high of 9.61 million reached in June, weekly data show. Falling prices have spurred companies to curb drilling. The number of rigs targeting oil in the U.S. fell to 594 last week, a five-year low, data from oilfield-services company Baker Hughes Inc. show.
"The current crude oil price environment is unsustainable," Thummel said. "We're going to have significant capital expenditure cuts for a second year. Supply will go down next year as demand goes higher."
Hess Corp. and Occidental Petroleum Corp. reported third-quarter losses Wednesday. Hess plans to cut spending by about 27 percent next year and projects a drop in oil and natural gas production.
BP Plc, one of the first companies to predict a prolonged price downturn, has "reset" its business to generate surplus cash flow with oil at about $60 by 2017, Brian Gilvary, the company's chief financial officer, said Tuesday. It joins France's Total SA, which last month unveiled investment cuts and project delays that will enable it to fund dividend payouts.
Before it's here, it's on the Bloomberg Terminal.
LEARN MORE