Oaktree's Marks Says China a `Teenager' With Best Years Ahead
Marks sees investment potential after recent market slump

Distressed debt investor says China ``kind of friendless'' now
Oaktree Capital Group LLC's Howard Marks said China is beginning to appeal to him as an investment proposition after the recent market swoons, likening the world's second-largest economy to a "teenager" with the possibility of its best years ahead.
"All I know is that this is a better time because prices are way down and sentiment is very weak," Marks, whose firm is the world's biggest distressed-debt investor, said during an event hosted by Bloomberg LP in Singapore on Tuesday. "You know China is kind of friendless at the present time as an investment proposition. Those are the circumstances under which I like to invest."
Marks, co-founder of Los Angeles-based Oaktree that dedicates more than a quarter of its $100 billion assets to distressed-debt investing, said the combination of an above-average future and falling market prices has made Asia's largest economy more appealing. China's surprise devaluation of the yuan on Aug. 11 sparked a global stock selloff and triggered the biggest quarterly slide in an emerging-market currency index in four years, while junk and distressed debt in developing markets posted their worst quarter for 2015.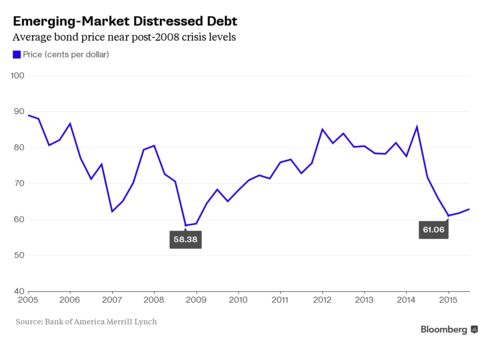 China's economy is on track to grow at the slowest pace in 25 years in 2015. Non-performing loans surged past 1 trillion yuan ($157.4 billion), or 1.5 percent of total loans, in the second quarter as borrowers including Glorious Property Holdings Ltd. and some state-owned enterprises skipped obligations. Oaktree is a minority investor in China Cinda Asset Management Co., one of the nation's four asset-management companies tasked with cleaning up bad debt from the system.
Oaktree completed a 1 billion yuan fundraising for its Shanghai Oaktree I Overseas Investment Fund LP from Noah Holdings, CreditEase Wealth Management and Harvest Capital Management, according to a statement released in Beijing on Wednesday. The capital, raised under China's Qualified Domestic Limited Partner program, will be invested in an offshore fund managed by Oaktree in its distressed-debt strategy.
Oaktree has invested more than $5 billion in Greater China to date, including its first investment in non-performing loans in May this year, the firm said. China's stock market correction from June's peak has produced "better values" for investors and the short-term slowdown in the economy should not come as a surprise, Marks said.
"When capital markets are in their infancy, investors can be first euphoric and then too depressed, and volatility is very high," he told reporters in Shanghai on Wednesday. "As the economy, the capital markets and the participants gain maturity, the fluctuation moderates, and I think the market will become attractive again."
Marks, 69, started Oaktree in 1995 with Bruce Karsh and other partners from another Los Angeles-based money manager, TCW Group Inc. The firm earlier this year had gathered almost $10 billion for a new distressed-debt vehicle in anticipation of a coming crisis, amid stresses in countries such as China and Greece, as well as slumping commodity prices. In July, Marks had called Europe the most attractive region because of prices that were lower than for comparable assets in North America.
"Europe, for example, is a senior citizen, U.S., a mature adult and China, a teenager," Marks said, using the analogy to reflect the growth phase of the three major economic regions. "If you have teenagers in your house, you know it can be chaotic and tumultuous, but a teenager has a great future with the best years ahead. In general, I believe in the proposition, but just like with any teenager, you can have some volatile spells."
Before it's here, it's on the Bloomberg Terminal.
LEARN MORE