Jordan, Cuban, Leonsis Put Millions on Sports Betting's Future
Sportradar provides data to leagues, media and betting houses

'If the U.S. market opens up for gaming we are ready to shoot'
Drawn in large part by the "inevitable" legalization of sports betting in the U.S., NBA owners Michael Jordan, Mark Cuban, and Ted Leonsis are investing millions of dollars into Sportradar AG, a sports data company that counts global bookmakers among its top customers.
The full investment round in the Swiss company totals $44 million and is being led by Revolution Growth, a private equity firm founded by Leonsis, who owns the NBA's Washington Wizards and NHL's Washington Capitals. The former AOL executive said he was attracted to Sportradar because of its deep experience in sports betting, which is legal and common in much of Europe.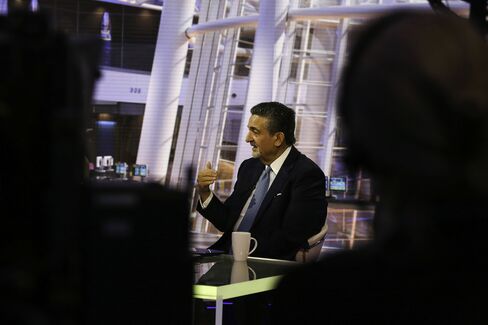 "Overseas, gaming and fraud detection have been perfected. So now that they've come to the U.S., I just felt they were just so well-positioned," Leonsis said in an interview. Unregulated gambling on the NFL is well over $100 billion, Leonsis estimated, and the amount of money at stake makes it "probably an inevitability" that sports betting will be legalized in the U.S. Sportradar's "experience is going to translate and augur well here because we're years behind."
The trio of NBA team owners, along with Revolution Growth partner Evan Morgan, will join the U.S. advisory board of Sportradar, which bases its U.S. operations in Minneapolis. The company has exclusive partnerships to distribute the data of the National Football League, National Hockey League, and Nascar. Follow a football game down by down on your iPad, for example, and you're probably looking at a Sportradar data feed; look up a player's stats online, and that's likely to be Sportradar data too.
None of investors would disclose their specific investment or Sportradar's valuation.
The Plan
"Data drives the sports world, and Sportradar is the leading global provider," Cuban said in an email. The tech billionaire bought the Dallas Mavericks for $285 million in 2000. "With our support I think they can be much bigger."
That's the plan, said Ulrich Harmuth, the company's U.S. president. Sportradar started in 2001, building its European foundation in the betting and gaming industries, where it also provides a level of fraud detection for betting houses and leagues.
In the U.S., where betting on sports is illegal in 46 states, the company has focused on building its business with media and technology companies, including Google, Facebook Inc. and Twitter Inc. Sportradar also provides data to daily fantasy sports companies such as FanDuel, which along with rival DraftKings is currently at the center of a legal and regulatory debate about whether fantasy sports are gambling, and if they are, what should be done about it.
"If the U.S. market opens up for gaming we are ready to shoot," Harmuth said. "We have the products readily available. We're in the perfect position to also serve customers in the U.S. gaming market."
'Inevitable'
Jordan, who became the majority owner of the Charlotte Hornets in 2010, noted the ongoing imbroglio, saying in an interview that data "goes way beyond sport." He declined further comment on the investment in Sportradar.
Unlike the NFL, which takes a hard line against sports betting, the NBA has been warming to the idea of legalized gambling on games. NBA Commissioner Adam Silver has said betting on American professional sports is inevitable and that the league would eventually profit from movements in states like New Jersey to legalize sports betting. Silver said betting makes fans more engaged in the games, similar to the effect of fantasy sports.
In any event, Harmuth said Sportradar is keen to do business with the NBA, whose data contracts are up for grabs next year. Having three owners as investors won't hurt the company's chances of winning the business, he said.
"That might certainly be one area where they can help us," he said.
Before it's here, it's on the Bloomberg Terminal.
LEARN MORE