Indonesia Plans Tax Shakeup as Widodo Renews Push for Investment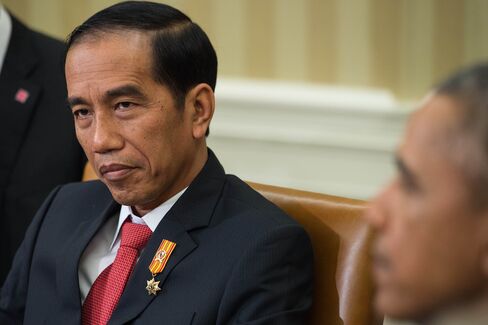 Government plans to lower income levy, value-added tax rates

Greater compliance of tax rates needed, fiscal chief says
Indonesia plans to cut tax rates next year, the nation's fiscal policy chief said, as President Joko Widodo intensifies efforts to regain investor confidence in the world's fourth-most populous nation.
The government hasn't yet decided how much of a reduction it will make in the income and value-added taxes next year, Suahasil Nazara, head of fiscal policy at the finance ministry, said at his office in Jakarta on Monday. Plans to lower the levies are being developed even as slowing economic growth curbs tax revenue, which Nazara said will probably fall 150 trillion rupiah ($11 billion) short of target in 2015.
Widodo, better known as Jokowi, met President Barack Obama and joined a ceremony Monday night celebrating agreements with several U.S. companies in Washington, seeking to spur trade and investment after struggling with slowing growth and policy flip flips during his first year in office. Forest fires at home prompted him to cut short a trip that would have included meetings with Google, Facebook Inc. and Apple Inc., but not before Widodo said Indonesia would seek to join the Trans-Pacific Partnership.
A new economic team installed in August has introduced reforms addressing weakening consumer demand and investor-unfriendly policies, including overturning manpower ministry rules on foreign workers and work visas. Government spending on infrastructure has risen, leading to a pickup in cement sales, while the rupiah has rebounded against the dollar.

"From the growth point of view, 2015 will be the bottom," Nazara said in the interview. "As long as we maintain confidence, everything will come back to the fundamentals, and that is what we are seeing now."
A top presidential aide said in May the government planned to gradually cut corporate tax to less than 18 percent from 25 percent currently. The finance ministry this year raised the threshold for non-taxable income for individual workers.
Cutting tax rates is part of a broader strategy to encourage people and companies to pay up. Raising tax revenue is central to funding an ambitious infrastructure program needed to spur growth amid slumping prices for the country's commodities.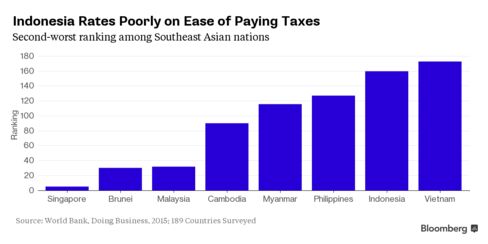 Out of a population of about 250 million, only around 27 million have a tax identification number, said Nazara.
"Next year, we do plan to revise income tax and value-added tax," said Nazara. "Ideally, we have to think of Indonesian tax reforms, but it's not only about the tariff, it's also about whether we can make better compliance. "
The government and the parliament are discussing a tax amnesty with a proposed 3 percent rate for anyone claiming previously unreported assets in 2015, rising to 8 percent next year.
"With the decline in economic activity, it will help tax collection this year," said Nazara. "If the tax amnesty is successful then Indonesia will have a much higher tax base which is good for our future. We won't make a fuss about the past."
Before it's here, it's on the Bloomberg Terminal.
LEARN MORE