Ford CFO Sees Stock Drop as `Bizarre' After Doubling Profit
`I don't think we're peaking,' Bob Shanks says in interview

Analyst says `market punishing them unfairly' for small miss
Ford Motor Co. will deliver "very strong results" over the next several years despite the selloff of its shares after third-quarter profit disappointed investors, the automaker's chief financial officer said today.
While net income more than doubled to $1.9 billion from $835 million a year earlier, earnings of 45 cents a share, excluding some items, were below the 47-cent average of 18 analyst estimates. The miss drove Ford shares down 79 cents to $14.89 in New York. The 5 percent decline was the steepest in more than a year.
"I don't think we're peaking," Bob Shanks, Ford's CFO, said in an interview. "It's bizarre, if you just meet expectations, somehow you've let the market down."
Even as strong sales of Ford's aluminum-bodied F-150 pickup led to record pretax profits in North America, investors began to turn away after Shanks and Chief Executive Officer Mark Fields said the fourth quarter would be less profitable due to higher advertising expenses, lower production and the anticipated cost of a new contract with the United Auto Workers.
"There may not be as much upside as hoped for in fourth quarter 2015," Joseph Spak, an analyst with RBC Capital Markets, wrote in a note today. He estimated Ford's North American operating margin will fall to 8.5 percent in the final three months of the year from 11.3 percent in the third quarter. "This may cause questions about sustainability of North American profit margins into 2016."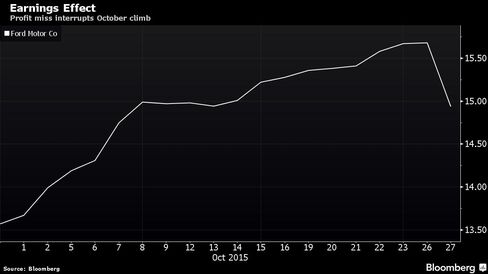 Quality Earnings
Shanks said he hopes investors will come to appreciate the "very high quality" of earnings Ford delivered in the third quarter, despite missing earnings per share estimates because of a higher than expected tax rate.
Investors' hopes may have been raised after General Motors Co. last week reported a record $3.1 billion in adjusted earnings before interest and taxes, Ryan Brinkman, an analyst at JPMorgan Chase & Co., wrote in a note Tuesday.
The earnings per share miss "is entirely due to a tax rate difference," Shanks said. "We came right on in terms of operating results, but we had a 33 percent tax rate. The analysts on average had a 32 percent tax rate."
The average tax rate jumped from 21 percent a year earlier when it was reduced by several special items. Ford had forecast a 34 percent rate, he said.
"It looks like the classic story of someone missing EPS consensus and the market punishing them unfairly," said David Whiston, an analyst at Morningstar Inc. in Chicago, who rates Ford equivalent of a buy. "They still had a really excellent quarter. The longer-term story at Ford is still very solid and very bright."
Looking Ahead
The company maintained its full-year forecast for pretax profits of as much as $9.5 billion and said North American profit margin for the year would be 9.5 percent, at the top of its projected 8.5 percent to 9.5 percent range.
Margins will be weaker in the fourth quarter, as Ford shuts factories around the holidays, spends big on end-of-year clearance sales and is likely to pay contract signing bonuses to its 52,900 U.S. hourly workers, Shanks said.
"The fourth quarter is usually the weakest of our four quarters," Shanks said. "But it's going to be an extremely strong quarter and on a year-over-year basis the numbers are going to pop. It's going to be extremely impressive. I'm not talking about a bad quarter."
Shanks said this is not as good as it gets for Ford.
"We've got several years ahead of us that are going to be really, really good," Shanks said. "North America is going to continue to run and operate and deliver very strong results."
Before it's here, it's on the Bloomberg Terminal.
LEARN MORE