Fed's Quest to Keep December Options Open: Decision Day Guide
FOMC must acknowledge weak economic data, global conditions

Committee may stress the positive, longer-term trend
Here's what to look for when the Federal Open Market Committee releases its policy statement at 2 p.m. Wednesday in Washington following a two-day meeting.
Economists don't expect a rate rise and will scour the statement for clues on what the FOMC may do at its December meeting, amid betting the Fed will delay until next year.
Fresh economic data has been mixed, at best, since officials met last month, when they left their benchmark federal funds rate near zero. Figures on U.S. jobs, retail sales, manufacturing, inventories and exports all disappointed, while new jobless claims and housing data -- for the most part -- have showed continued strength. The challenge for policy makers will be to keep their options open for a move this year, while acknowledging tepid data that could tilt the tone of the statement toward liftoff in 2016.
There is no scheduled press conference after Wednesday's gathering to help the Fed give more guidance, though Chair Janet Yellen will testify Nov. 4 before the House Financial Services Committee. That hearing is on regulation, though the questioning could extend to monetary policy.
A surprise hike on Wednesday is "extremely, extremely unlikely," said Gennadiy Goldberg, U.S. rates strategist at TD Securities LLC in New York, who laughed out loud at the suggestion.
That means Fed watchers will examine the FOMC description of the pace of economic growth, the labor market and global economic conditions for hints on whether the committee has enough confidence in their outlook for U.S. growth and higher prices to raise rates in December for the first time since 2006.
Moderate or Modest?
The first sentence of the last three FOMC statements described the economy as expanding "moderately" or at a "moderate" pace.
"The big question is whether moderate growth gets put down to modest," Goldberg said.
The see-saw pattern of economic growth has complicated policy makers' decision making. Colder-than-normal temperatures caused U.S. gross domestic product to almost stall in the first quarter, which was followed by a 3.9 percent annualized growth rate in the next three months.
Economists surveyed by Bloomberg now estimate the economy expanded at less than half that pace in the third quarter. The Atlanta Fed's unofficial forecasting tool, GDPNow, puts third-quarter GDP growth at a 0.8 percent pace. The first official estimate for the quarter, from the Department of Commerce, will be published Thursday.
Michael Feroli, chief economist at JPMorgan Chase & Co. in New York, wrote in a note to clients he expects the Fed will "look past" an adjustment of inventories that is trimming output in the quarter.
"We expect they will continue to describe activity as expanding at a 'moderate' pace, in spite of what is likely to be a soft GDP reading the morning after the statement," Feroli wrote.
Job Creation
The committee may find it harder to look past recent bumps for the labor market. Monthly gains for non-farm payrolls, which had averaged 250,000 from November 2014 through July, dropped to 136,000 and 142,000 in August and September.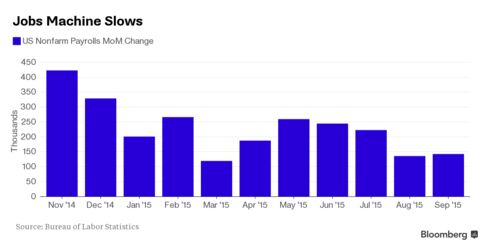 The committee will almost certainly feel it necessary to modify language from the last statement that noted "solid job gains and declining unemployment."
"I'll be looking at whether they acknowledge the recent slowdown in the pace of hiring and how they characterize that," said Aneta Markowska, chief U.S. economist at Societe Generale in New York.
The more they emphasize the most recent reports, she said, the less likely a December rate move becomes.
Tom Porcelli, chief U.S. economist at RBC Capital Markets LLC in New York, said the committee may try to put a positive spin on the weaker data to avoid sending too negative a signal. Several Fed officials, including San Francisco Fed President John Williams and New York Fed chief William C. Dudley, have already begun arguing that 100,000-150,000 new jobs a month is sufficient for stable growth.
"They have to tread very carefully here, and I would argue the Fed is already trying to change the perception of job gains," Porcelli said.
International Developments
Another communication test involves how the committee describes conditions outside the U.S. When the FOMC met in September, the group was close to pulling the trigger on a rate rise. Officials balked over concerns that the slowing of China's economy, and the resulting rumblings in financial markets, might crimp the outlook for growth and inflation in the U.S.
"Recent global economic and financial developments may restrain economic activity somewhat and are likely to put further downward pressure on inflation in the near term," the September statement read.
While the reference to financial developments may disappear because markets have calmed, the Fed may find it hard to make any substantive alterations to the rest.
"I don't think they can now credibly remove that," Markowska said. "We don't have any more clarity on China now than we had in September."
China announced Oct. 23 it would cut its benchmark interest rates and lower the amount of reserves banks must hold against deposits in an effort to boost flagging growth. Continuing uncertainty over China creates a challenge if the committee wants financial markets to take seriously the possibility of a December rate hike.
While 13 of 17 FOMC members indicated in September they anticipated a rate increase in 2015, investors currently put the chances of that at about 35 percent. That calculation is based on pricing in fed funds futures contracts and assumes the effective funds rate will average 0.375 percent after liftoff.
"They have to acknowledge that things aren't going their way, but without making it seem like a rate hike is off the table" in December, Goldberg said.
Before it's here, it's on the Bloomberg Terminal.
LEARN MORE