Belka Defends Mandate as Polish Vote Puts Focus on Central Bank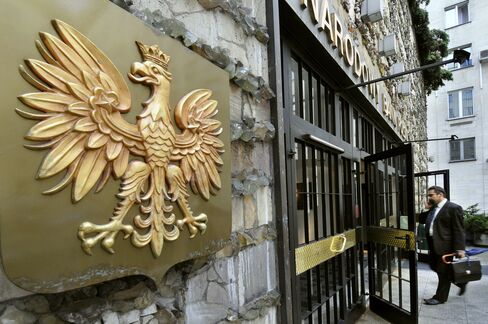 Dominant showing by opposition puts spotlight on central bank

Belka says efforts to force bank to print money are `illegal'
Governor Marek Belka fended off what he called "illegal" calls by politicians for the Polish central bank to print money for budget financing as a landslide election win by the country's opposition on Sunday raised the threat of pressure on policy makers to spur economic growth.
There's "no risk" of the central bank financing government budgets because such a policy is banned by Poland's constitution, Belka told reporters in Warsaw on Tuesday in his first comments since the ballot. Using the U.S. Federal Reserve as a model to broaden the mandate and target economic growth alongside price stability "may put us outside of EU" norms, he said.
The National Bank of Poland finds itself in the cross-hairs after Law & Justice swept into power with pledges that include higher social spending and plans to start a 350 billion-zloty ($90.5 billion) central bank loan program. The effort mirrors attempts in other emerging economies from Hungary to Turkey, where policy makers are being pressed into action to shore up growth.
While Poland is the only European Union economy to avoid recession since the 2008 global downturn, it's battling the longest stretch of deflation since the early 1980s. Beata Szydlo, who led Law & Justice's parliamentary campaign as its candidate for prime minister, has said that she wants the central bank to do more to spur growth.
Look Anew
"Any talk of change to the central bank's mandate has to do with a certain post-campaign inertia," Belka said "Joking aside, now is the time to look at the situation anew and start addressing the problems that exist."
Andrzej Duda, who scored a surprise victory in a presidential election in May with the opposition party's backing, will name the next governor of the central bank to replace Belka by mid-2016 after eight of the rate-setting council's nine other members leave early next year.
Law & Justice has promised to accelerate economic expansion from about 3.5 percent over the last five quarters to curb unemployment. Andrzej Kazmierczak, a former lawmaker for the party who was appointed to the Monetary Policy Council by late President Lech Kaczynski, last week called Poland's economic performance "good" but "nothing remarkable."
Six-month forward-rate agreements show a higher probability of the central bank cutting than raising borrowing costs through April, trading 30 basis points below the Warsaw Interbank Offered Rate. They were above the rate from May until July.
Strong Temptation
"The temptation to stimulate economic growth will be very strong and if the election result comes in line with the pre-election polls, then a rate cut may take place," Kazmierczak said in an interview.
Law & Justice is set to take control over Poland's $548 billion economy if official results, expected later on Tuesday, confirm exit polls giving the party a parliamentary majority. That would be the first such mandate since Poland returned to democracy in 1989.
In Law & Justice's view, the central bank should grant loans to commercial banks, which will be used to finance investment and support growth, the party's economic spokesman and lawmaker Henry Kowalczyk said in an interview before the election.
Poland's central bank charter states its "basic objective" is "to maintain price stability, while supporting the economic policy of the government, insofar as this does not constrain the pursuit of the basic objective."
Belka's Dealings
Belka, the only Pole to hold the posts of central bank governor, prime minister and finance minister, hasn't been above suspicion when it came to ties with the outgoing government. Last year he survived a a scandal over leaked recordings where he was heard discussing steps to boost the economy and help the cabinet win elections.
Moody's Investors Service is already sounding alarms over a possible threat to central bank independence.
"We see in the second half of 2016 higher chances for Law & Justice to exert its influence in favor of a looser monetary policy and an active role by the NBP in supporting growth and not only price stability," Marco Zaninelli, an analyst at Moody's, said in an e-mail on Tuesday.
Before it's here, it's on the Bloomberg Terminal.
LEARN MORE