Bank CEO Reveals Fee Addiction Fanned by Denmark's Negative Rate
It's not much fun being a bank in Denmark.
The country's benchmark interest rate is minus 0.75 percent, so earning money on traditional lending is a bit hard. To compensate, many banks had started relying more on fees and commissions from trading securities and refinancing mortgages. But with those markets also slowing down, things have become grim.
Karen Froesig, the only female chief executive to head one of Denmark's five biggest banks, says there probably won't be much change in the environment she and her competitors are operating in.
"It can't be otherwise, as long as the central bank's rate is negative at 75 basis points," Froesig said by phone on Tuesday.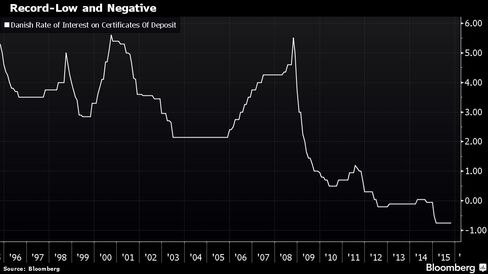 Sydbank's shares plunged 9 percent on Tuesday, the biggest one-day drop since 2008, after Froesig unveiled a third-quarter report that showed profit came in 15 percent lower than analysts had estimated. The bank also cut its 2015 forecast because of a weaker outlook for income from trading.
Spar Nord Bank, Denmark's fourth-largest listed lender, fell as much as 10 percent on Wednesday after its pretax profit fell far short of estimates. Chief Executive Officer Lasse Nyby said low rates and a summer lull in customer activity drove down revenue. He also warned that demand for loans is likely to remain tepid.
Denmark's biggest lender, Danske Bank, is due to report its results on Thursday. Sweden's banks have already revealed profits for the third quarter that disappointed investors. For the most part, negative central bank rates -- the Riksbank's repo rate is minus 0.35 percent -- and a tough trading environment held down profits.
Nordea's Christian Clausen, the chief executive of Scandinavia's biggest bank, said earlier this month that profit fell 17 percent after the "summer months featured a seasonally lower activity level" while in autumn, there's wasn't "the usual pick-up in corporate and market activity." SEB reported a 38 percent slump in third-quarter profit, while Swedbank saw its net income drop 14 percent on the year. Handelsbanken said profit fell 4 percent.
Meanwhile, most banks across Scandinavia are scaling back their branch networks to cut costs. Froesig says the traditional bank branch is becoming a thing of the past.
"No one comes into the branches anymore," she said.
Before it's here, it's on the Bloomberg Terminal.
LEARN MORE