New Zealand Dollar a Cautionary Tale of an Outsized Currency Market's Volatility
New Zealand's dollar seen falling most in G-10 by 1st quarter

In times of nervousness, kiwi exit gets very small: Citigroup
New Zealand's dollar is showing what can happen when a currency gets too big for its own economy.
Average daily turnover in the kiwi is about $105 billion, or 56 percent of the nation's gross domestic product, the biggest proportion among the world's leading 20 currencies. That leaves New Zealand vulnerable to swings in its exchange rate, which have seen the local dollar switch from being the biggest loser among its peers earlier this year to the strongest gainer.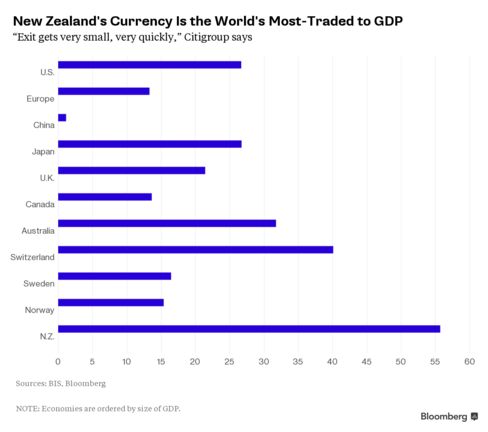 "It's a small economy, it's a small currency and therefore, in times of nervousness and positioning, it's a little bit like an emerging-market currency," said Thomas Fitzpatrick, head of technical strategy at Citigroup Inc., the world's largest foreign-exchange trader. "That exit door gets very small, very quickly."
New Zealand's dollar has jumped 5 percent this month, the biggest advance in the Group of 10 major currencies, as central banks from Washington and Frankfurt to Beijing kept open the liquidity taps that have buoyed higher-yielding assets. That's a turnaround from the first nine months of 2015, when the kiwi was the worst performer, tumbling to a six-year low in August.
Analysts see it sliding 8 percent by March to 62 U.S. cents -- taking it back to the bottom of the rankings. The kiwi was at 67.26 U.S. cents as of 11:17 a.m. New York time, set for its best monthly advance in two years.
'Rather Unstable'
For the currency of a relatively small economy where milk is a major export, New Zealand's dollar punches above its weight in terms of trading volumes.
At a daily average of $105 billion in April 2013, over-the-counter turnover in New Zealand's dollar ranks 10th in Bank for International Settlements data, just after the Chinese yuan. That compares with the South Pacific nation's economy of about $188 billion, the 54th largest in the world and just a little bigger than Vietnam's. The proportion of trading to GDP compares with 40 percent for the Swiss franc, 32 percent for Australia's dollar and 27 percent for the U.S. dollar.
Volatility in the kiwi climbed to a two-year high this month as a surge in dairy prices challenged those betting the central bank would cut interest rates. A measure of anticipated price swings is the highest among rich-world currencies at 13 percent.
"It all seems rather unstable," said Sam Tuck, a senior currency strategist at ANZ Bank New Zealand Ltd. in Auckland.
Gains in the New Zealand dollar rely on Asia being weak enough for the European Central Bank to maintain quantitative easing and to prevent the Federal Reserve from raising rates, "but not enough to generate a risk-off" move, he said.
The kiwi's gyrations pose challenges for companies hedging currency risk and its central bank when it sets policy. Its recent strength is likely to vex Reserve Bank Governor Graeme Wheeler as he seeks to combat below-target inflation and slowing growth. Officials hold their regular policy meeting on Thursday in Wellington.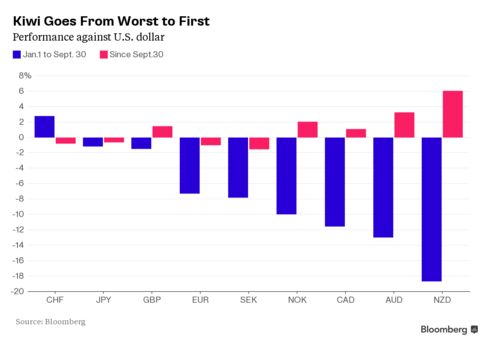 Wheeler said Sept. 10 that further easing in the official cash rate, currently at 2.75 percent, was likely and that it was "appropriate" for the kiwi, then trading around 64 cents, to depreciate some more. Economists in a Bloomberg survey predict he'll pause this month before cutting rates again in December.
China Slowdown
The South Pacific nation is susceptible to a slump in Asia. The central bank predicts annual economic growth will slow further after decelerating in the second quarter to the weakest pace since 2013. Exports to New Zealand's largest trading partner, China, have dropped by more than a quarter.
And the dangers this week for kiwi traders aren't all to do with Asia. The Fed is due to make its own policy announcement two hours before Wheeler, and investors are looking for clarity on whether U.S. rates will rise this year.
A dovish statement from Wheeler combined with a hawkish Fed may send the kiwi crashing, while the reverse would help it extend recent gains, said Ray Attrill, co-head of currency strategy at National Australia Bank Ltd. in Sydney.
While the kiwi will fall "over the next couple of months," in the short term, "the risk is for a bigger squeeze higher," Attrill said. "It's going to be a very, very sharp toy later this week. Handled carefully."
Before it's here, it's on the Bloomberg Terminal.
LEARN MORE