Valeant CEO Staunchly Defends Drugmaker's Accounting, Ethics
ValueAct's Morfit to join committee to review Philidor link

Lead director Ingram has `complete and total faith' in Pearson
Valeant Pharmaceuticals International Inc. took its first major steps Monday to push back against charges of accounting and ethical irregularities, appointing a new director aimed at calming investor concerns. Yet Valeant's shares continued to decline after their 35 percent slump last week.
Chief Executive Officer J. Michael Pearson, four other executives and six board members took to a conference call to mount a defense of the company's arrangement to sell medications through mail-order pharmacy Philidor RX Services, a practice that a short-seller last week said pumped up Valeant's revenue.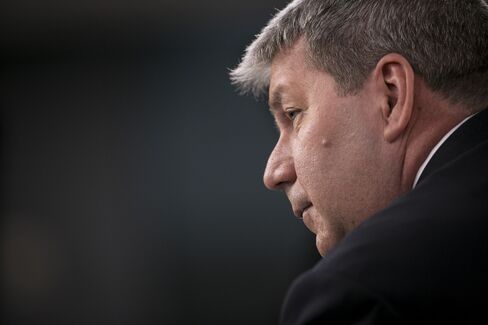 The remarks on the call left investors skeptical, failing to answer critical questions on Valeant's continuing relationship with Philidor, according to analysts. The shares dropped 5.3 percent to $110.04 at the close in New York.
Valeant didn't do enough to explain how its tight relationship with Philidor doesn't entail any legal responsibility, and how complicated it would be to separate itself from Philidor if needed, said Elizabeth Krutoholow, an analyst with Bloomberg Intelligence in New York. The drugmaker said that it has two representatives on a joint steering committee at Philidor but that the pharmacy is operated independently. An ad hoc committee of Valeant's board is reviewing the relationship and will determine its future, the company said.
"You clearly have some accusations that are pretty serious and so right now there is a level of trust that just is lacking in management," said David Amsellem, an analyst at Piper Jaffray & Co. "Management can say all the right things, they can provide a lot of details but there is still a wide audience of people who are skeptical and frankly don't really know what to believe." Amsellem said he found the call helpful, but the company faced an uphill battle to win back investors.
Pearson's remarks were his first since a short seller accused his company of fraud and threw its stock into a tailspin. After spending seven years building Valeant through serial acquisitions, the CEO found himself responding to questions about the company's accounting, pricing and business practices that have sent shivers through the industry and the stock market.
"We operate our business based on the highest standards of ethics and are committed to transparency," Pearson said on the call. "The company I've heard described in the press in the past week is not one that I recognize."
Short seller Citron Research has said Valeant is using Philidor to store inventory and record those transactions as sales. Valeant has said those allegations are "erroneous," adding that sales are recorded only when drugs are sent to patients. The company is asking the U.S. Securities and Exchange Commission to look into Citron's actions, Pearson said on Monday's call.
Andrew Left, who runs Citron, said he hasn't been contacted by the SEC and he's not the cause of the decline in Valeant's stock. He took issue with Pearson's comment that his report was alarmist and unnecessarily frightening to investors.
"Yelling, 'Fire!' in a crowded theater is a lot different than walking into a theater smelling smoke and yelling, 'Hey everyone, there could be a fire,'" Left said. "One is irresponsible, another one is a duty."
The Philidor pharmacy network accounted for about 6 percent of Valeant's revenue for the nine months ended Sept. 30, Valeant said in a filing. The drugmaker hadn't previously disclosed its relationship with Philidor because it fell below the 10 percent threshold that would make the arrangement material, said Tanya Carro, the corporate controller.
Some analysts said the call did clarify Valeant's accounting and should be reassuring to investors.
"While Valeant's use of specialty pharmacies is more aggressive than its peers, we see this as a far step from the channel stuffing and phantom sales being alleged," said Chris Schott, an analyst at JPMorgan Chase & Co.
Morfit Returns
The company said earlier Monday it brought back G. Mason Morfit, president of ValueAct Capital, to its board, appointing him to the ad hoc committee that will look into the company's relationship with Philidor.
Morfit had previously served as a director at Valeant from May 2007 to May 2014, the Canadian company said in a statement. His appointment will be effective immediately. While the board has conducted a review and determined that the revenue recognition and accounting treatment for Philidor was appropriate, the special committee will review the company's arrangements with the pharmacy, Valeant said in a separate statement.
Bringing back Morfit "indicates the company is trying to win back the trust of the board and the trust of investors," Krutoholow said. "That's going to be a hard to thing to achieve. The more you poke at Valeant, the more you keep finding."
The appointment increases the oversight of Valeant by ValueAct, one of the drugmaker's biggest shareholders. D. Robert Hale, a ValueAct partner, has been on the board since August, when he replaced ValueAct CEO Jeffrey Ubben. Morfit had resigned last year to allow ValueAct to sell shares at its discretion.
Other top investors in Valeant include Ruane Cunniff & Goldfarb Inc., which manages the Sequoia Fund, along with T. Rowe Price Group Inc. and Bill Ackman's Pershing Square Capital Management. Ackman said last week he acquired 2 million additional shares of Valeant as the stock dropped.
Valeant's lead director Bob Ingram will be chairman of the ad hoc committee, which will also include Norma Provencio, chairman of the audit and risk committee, and Colleen Goggins, former chairman of Johnson & Johnson's consumer group.
Complete Faith
Ingram said on the conference call Monday that he has "complete and total faith" in Pearson.
The "distractions" of the attention placed on Philidor have led Valeant to put a plan to sell or spin off a business unit "on the backburner," Pearson said. The drugmaker announced a week ago that it would explore whether to divest the division, which focuses on neurology drugs and some other products, because the unit was more dependent on price increases than other parts of the business.
In a presentation posted online Monday, Valeant said Philidor is independent and that the drugmaker's accounting leaves no way for it to stuff inventory into the pharmacy. Valeant can't remove the CEO or management of Philidor, and the drugmaker's executives and board members don't own any stake in the pharmacy, according to the document.
Valeant will consider whether to exercise its option to acquire Philidor or sever ties and move to different pharmacies, it said in the presentation.
"While we work with a number of specialty pharmacies, we believed that a strategic relationship with a specialty pharmacy would allow us to provide high service levels to physicians and affordable access to drugs for patients," Howard Schiller, a Valeant board member and the drugmaker's former chief financial officer, said on the call. "If Philidor rapidly expanded with additional partners, we might have lost the high service levels to patients and doctors that had driven success."
Separately, Valeant said in a filing that its Bausch & Lomb unit got a subpoena in September from the U.S. Justice Department related to two surgical products. The subpoena was related to a criminal investigation into possible violations of federal health-care laws, Valeant said, without providing further details. Bausch & Lomb is cooperating with the probe, the drugmaker said.
Before it's here, it's on the Bloomberg Terminal.
LEARN MORE