Two Dollar Indexes Explain Why the Global Economy Is So Sluggish
A tale of two dollar indexes.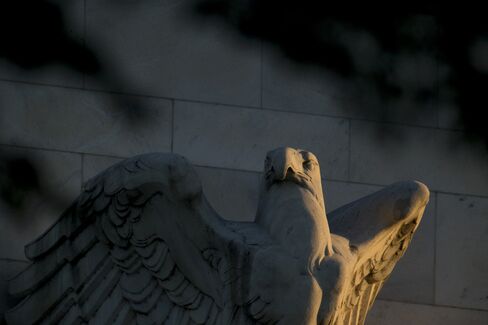 Three things have happened since the meteoric rise of the greenback began in mid-2014: oil prices fell precipitously, the outlook for U.S. growth weakened, and financial conditions tightened before the Federal Reserve could even begin to inch interest rates higher.
Depending on which way you look at it, this immense U.S. dollar rally began to peter out in either mid-March, or near the end of September.
Market participants often use the U.S. dollar spot index, or DXY, to measure the U.S. dollar, while the Federal Reserve keeps a closer eye on the Trade-Weighted Broad Dollar index, or TWI.
In looking at the divergent paths of the market's and the Federal Reserve's preferred gauges of the U.S. dollar, as well as the composition of the two indexes, CIBC economists Andrew Grantham and Royce Mendes conclude that both play a part in explaining why the global economy has been so sluggish: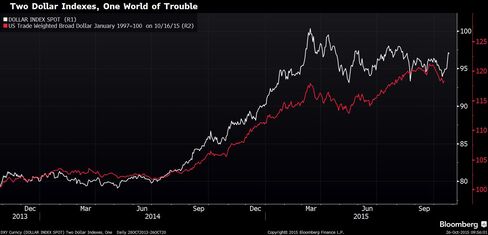 The DXY—which peaked in March—tracks the U.S. dollar's value relative to the euro, Japanese yen, British pound, Canadian dollar, Swedish krona, and Swiss franc. The TWI, as its name implies, measures how the greenback stacks up to a much larger array of currencies—many of which are developing economies, and hit its highest level of the year in late September.
"The fact that the DXY, which is made up of five large economies, has not appreciated means that struggling economies like the euro area, Japan and Canada have not benefited from the prospects of higher U.S. rates," wrote Grantham and Mendes.
The situation is such that European Central Bank President Mario Draghi recently telegraphed the ECB's intention to deploy more stimulus to bolster its economic outlook.
"Conversely, the appreciation in the TWI, which has come at the expense of emerging markets, has made outstanding dollar-denominated debt more expensive to pay back in those countries," the CIBC economists conclude.
In sum, the currencies the U.S. dollar has appreciated against since mid-March are countries that have re-committed the "original sin" of borrowing in foreign-denominated debt—though not to the same magnitude as during previous transgressions.
Meanwhile, the currencies against which the greenback has depreciated in value are currencies of developed economies struggling to get a bigger slice of U.S. domestic demand.
And all the while, the most expansive measure of the exchange rate—global trade—shows the competitive position of U.S. exporters has deteriorated; the Atlanta Fed's GDPNow forecasting tool is suggesting that net trade will shave 0.7 percentage points off U.S. growth in the third quarter alone.
Before it's here, it's on the Bloomberg Terminal.
LEARN MORE