Fixer of Japan's Worst Flops Says Toshiba Points to Wider Flaw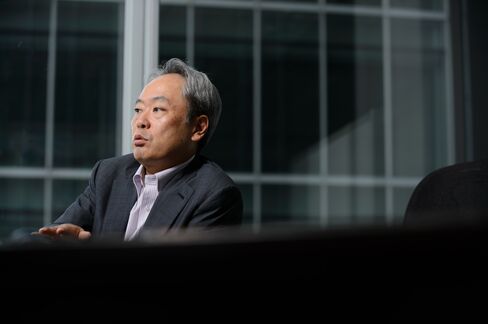 Companies must change the ways they pick their leaders

Governance changes should get beyond formalities to substance
Kazuhiko Toyama, who's spent his career fixing Japan's corporate failures, says the scandal at Toshiba Corp. is a classic case of the nation's bad old ways of running companies. The solution: pick better leaders.
Toyama, who helped engineer turnarounds at household names from Kanebo Ltd. to Japan Airlines Co., says deficiencies like those at Toshiba come from the top and won't be fixed unless Japanese companies move beyond haphazard ways of choosing their presidents. This means having the right selection processes in place, and more importantly, making sure they aren't just for show, he said.
Toshiba, which had what looked like a textbook structure for picking its leaders, named an insider as president even after disclosing accounting irregularities that reduced its reported profit by about $1.3 billion. The company decided against firing some executives found to be involved. The scandal, which hit as Japan debates how to update its recently introduced rules on corporate governance, is a reminder of how much is still left to do, according to Toyama.
"The best way to see a company's real intentions is to look at how they pick their people," said Toyama, the former chief operating officer of the Industrial Revitalization Corp. of Japan, a state-backed entity that helped revive more than 40 companies in the mid-2000s. "We must shift from formality to substance."
Japan Scandals
A string of Japanese companies have disclosed malfeasance in the months after the nation's biggest revamp of its rules for companies in decades. After Toshiba admitted to artificial inflation of profits for almost seven years, Asahi Kasei Corp. said one of its units had falsified data for foundation piles in condominiums. Toyo Tire & Rubber Co. said a unit manipulated quality-testing data for rubber products, while Matsumotokiyoshi Holdings Co., a drugstore chain, announced it had found accounting irregularities.
What happened at Toshiba is a pattern common at Japanese blue-chip companies, Toyama said.
"It comes from the top, but the actual accounting irregularities are done far away by a wide range of people," said Toyama, 55, who's now chief executive officer of Industrial Growth Platform Inc. It's different from Enron Corp. or WorldCom Inc. in the U.S., where senior executives planned misdeeds and were also close to their implementation, he said.
In Japan a "village logic" applies, where employees feel pressure to act in ways that wouldn't make sense to people outside their company, Toyama said. This makes picking the right leader even more important, he said.
Hirokazu Tsukimoto, a spokesman for Toshiba, declined to comment on Toyama's remarks.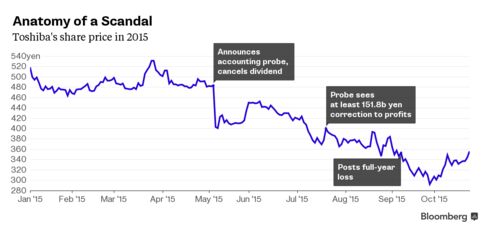 Just 68 of the 1,891 companies in the Topix index, or 3.6 percent, had nomination committees made up mostly of independent directors as of their latest full-year filing, according to data compiled by Bloomberg. Eisai Co. and Resona Holdings Inc. are among five firms where all members were independent, compared with 490 of the 505 companies in the Standard & Poor's 500 Index. Two-thirds of Toshiba's committee were outsiders when the scandal broke.
Japan introduced a corporate governance code in June, a set of best practices for how companies should be run. It started similar rules for investors in February last year, called the stewardship code. Toyama sits on a 17-member panel picked by the government to review their success and recommend improvements. The group met for a second time on Oct. 20. Improving leadership selection is one topic being discussed.
"Governance is about checking whether the power mechanism is functioning healthily," Toyama said. "Toshiba was said to be relatively advanced in terms of the formalities of its structure, but in substance it was old classic Japanese village governance."
Sticking Around
Toshiba President Masashi Muromachi said last month the company had identified 30 more executives involved in its accounting scandal. They will be punished but not dismissed, he said, while noting that two directors who stepped down in a board reshuffle remain on the payroll as advisers.
Toyama, a graduate of the University of Tokyo, started his career at Boston Consulting Group Inc. He served as COO of the IRCJ from 2003 until its disbandment in 2007. The fund provided support to 41 companies, disposed of more than 4 trillion yen ($33 billion) in bad loans and made a profit in the process.
Before it's here, it's on the Bloomberg Terminal.
LEARN MORE