Bleeding Continues for Korean Shipbuilders on Hyundai Heavy Loss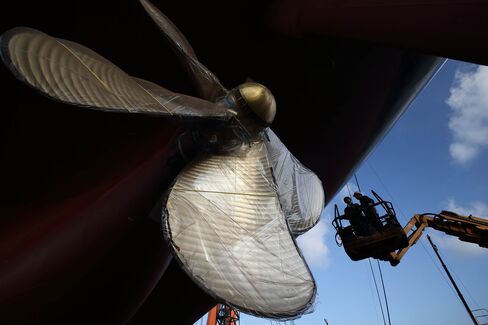 Operating loss is more than 50 times as large as estimates

Samsung Heavy beats estimates, says business has turned corner
South Korea's shipbuilding industry continued to reel from a failed international expansion and a slump in demand for new vessels, as the world's biggest shipbuilder reported a net loss seven times as large as estimated.
Hyundai Heavy Industries Co. posted a net loss of 434.1 billion won ($383 million) in the third quarter, it said in a statement Monday. That's wider than the 61 billion-won loss forecast by analysts, according to the average of 10 estimates. Its operating loss totaled 678.4 billion won, compared with estimates for a loss of 14.6 billion won.
The deficit highlights the continued challenges facing South Korea's largest shipbuilders, which shifted strategy to focus on deep-sea drilling rigs and production facilities after the global financial crisis damped orders and Chinese shipyards out-priced them. Hyundai Heavy said its third-quarter result reflected early losses on a canceled semi-submersible rig order and the termination of a renewable-energy venture.
"The biggest reason why shipbuilders are struggling is because of the delays in offshore rig projects, and until the deliveries are made, these projects will continue to weigh on the shipbuilders' profit," said Park Moo Hyun, an analyst at Hana Daetoo Securities Co. "Although it's difficult to say when the companies will be able to turn to profit, I think it will take at least another year for them to recover from the aftermath."
Stock Declines
Hyundai Heavy fell 2.3 percent to close at 96,700 won in Seoul trading before the result. The stock has fallen 16 percent this year, compared with a 6.9 percent gain for Korea's Kospi index.
Third-quarter sales reached 10.9 trillion won, compared with the 11.2 trillion-won estimate of 15 analysts.
Hyundai Heavy also blamed a drop in oil prices for the tough conditions in the industry. The company said it expects earnings to turn around in the fourth quarter.
Some customers are trying to delay projects as weaker economic growth and sluggish oil prices make it difficult for them to raise money to make scheduled payments to shipbuilders.
Order Delays
Daewoo Shipbuilding & Marine Engineering Co., South Korea's second-largest shipbuilder, ended a contract in August after a client failed to make an interim payment on a drill ship under construction. Samsung Heavy Industries Co., the third-largest shipbuilder, agreed in August to defer delivery of two drill ships at a customer's request.
Some offshore projects still under construction have yet to be hired for drilling or production jobs once they're completed, raising the possibility that more orders may ultimately be delayed, according to Shinyoung Securities Co. in Seoul.
The South Korean government and major creditors of Daewoo Shipbuilding & Marine Engineering Co. have been weighing a bailout of the world's second-largest shipbuilder, after it posted a second-quarter loss of 2.3 trillion won and sales fell 58 percent to 1.65 trillion won. Yonhap News reported Oct. 22 that an expected capital injection of as much as 4 trillion won had been delayed amid criticism of a taxpayer-funded bailout.
Customer Payment
Still, not all the news was gloomy. Samsung Heavy Industries Co. on Monday reported third-quarter net income that was more than double analysts' estimates, and said its business appeared to have turned a corner. The company said the profit was partly due to a payment from a client who requested changes in an offshore project in Australia.
Samsung Heavy posted net income of 53.7 billion won ($47 million), compared with the 22.2 billion-won average of 10 analyst estimates. Operating profit totaled 84.6 billion won, compared with estimates of 13.6 billion won. Sales of 2.44 trillion won lagged behind the average 2.99 trillion won of 14 estimates.
Before it's here, it's on the Bloomberg Terminal.
LEARN MORE