Tanzania Picks New Leader Amid Fears of Dispute Over Result
Two main candidates in closest election in nation's history

Opposition says it won't accept result if evidence of rigging
Tanzanians voted Sunday for a successor to President Jakaya Kikwete as fears grow that the outcome of the closest election in a half-century in Africa's third-biggest gold producer may trigger unrest.
The ruling Chama Cha Mapinduzi party's John Magufuli and former Prime Minister Edward Lowassa are front-runners in what analysts including Bath, U.K.-based Verisk Maplecroft have called the tightest contest since the nation gained independence from Britain in 1961. One September poll showed Lowassa, who defected to the opposition in July, winning, an unprecedented prospect in a country where the CCM has swept every election.
Several polling stations remained open after the scheduled 4 p.m. closing to let people already in queues vote in the East African nation's presidential and parliamentary elections. Results are due within 72 hours after balloting ends, according to the National Electoral Commission, or NEC. The nation has 23.3 million eligible voters.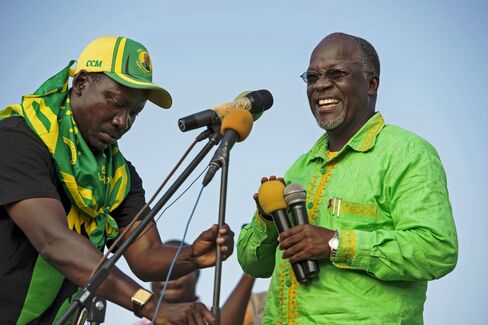 "Although skirmishes on election day should be expected, the real risk and potential for political unrest will be when the NEC announces the result," Ahmed Salim, a Dubai-based analyst at Teneo Intelligence, said in an e-mailed note. The opposition Chadema party has said it won't concede defeat if there's evidence of vote-rigging.
By the close of voting, the European Union Election Observation Mission to Tanzania had visited over 500 polling stations in the mainland and in semi-autonomous archipelago of Zanzibar, where they found "procedures were generally followed, and voting took place in a calm and peaceful atmosphere," Chief Observer Judith Sargentini said in an e-mailed response to questions.
"In urban and rural areas in all the regions of the country, opening and voting procedures at observed polling stations were assessed largely positively," she said in reporting findings of a 140-person EU team that will monitor the count through completion.
Unprecedented Pressure
Tanzania's $49 billion, mostly agrarian economy, grew more than 7 percent in 2014, according to the International Monetary Fund. It's seeking to diversify into gas production, with an estimated 55 trillion cubic feet of reserves that are the biggest in East Africa after Mozambique.
Kikwete is stepping down after his two-term rule comes to a mandatory end, having overseen a period of relative stability.
"The NEC is under unprecedented pressure as the entity's independence and transparency has been put into question," Salim said. "Any scenario where glitches or delays occur will see the opposition immediately contest the results."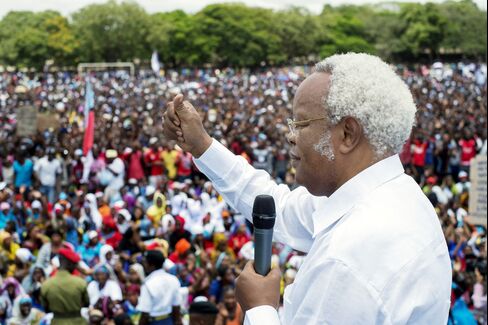 Two September polls showed Magufuli, 55, backed by more than 60 percent of those surveyed, while another found support for Lowassa from just over half of those questioned. Lowassa has built momentum with mass rallies, while Magufuli -- nicknamed the Bulldozer because of the zeal he showed in his post as works minister -- projects the image of a hard-working man seeking to revitalize a ruling party that's been dogged by graft allegations.
CCM Secretary-General Abdulrahman Kinana described Magufuli as "down to earth" and a results-oriented civil servant who won't hesitate to fire non-performers.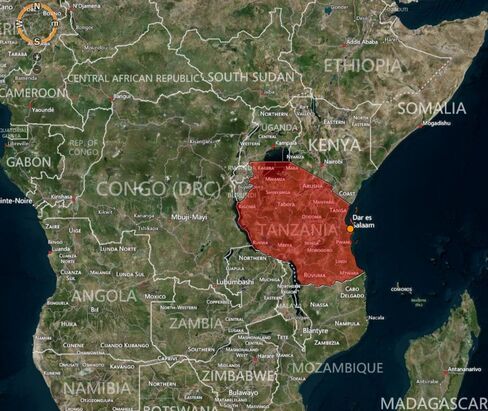 Lowassa, 62, served as prime minister from 2005 until 2008, when he resigned after being implicated in another corruption scandal. He denied the allegations, describing them as politically motivated. While there's little difference in key policies between Lowassa and Magufuli, the ex-premier may benefit from discontent with the CCM as well as a wave of enthusiasm for his candidacy that's been stoked by social media.
While mainland Tanzania has a history of peaceful voting, in contrast with neighboring Kenya, where post-election violence in 2007-08 left at least 1,100 people dead, the results of previous votes were always a "foregone conclusion," Chris McKeon, Africa analyst at Verisk Maplecroft, said in an e-mailed response to questions.
Now with both sides believing they will win, "levels of frustration among defeated parties are likely to be much higher than in previous years," McKeon said. "Accusations of vote-rigging or other electoral malpractice could result in violence, especially if such accusations are made by party leaders."
Before it's here, it's on the Bloomberg Terminal.
LEARN MORE