Poland Votes for Parliament as Discontent Propels Opposition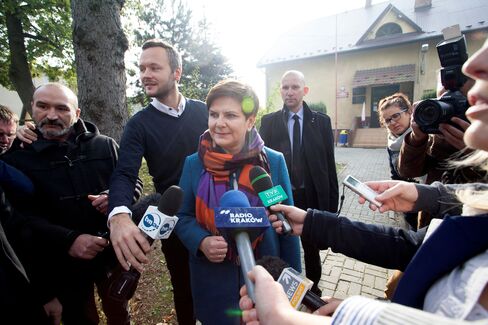 Voters rue low wages, scandals in fastest-growing EU economy

Law & Justice party seeks to tax banks, boost welfare spending
Poland's opposition is on the cusp of ending an eight-year rule by Civic Platform with a win in a parliamentary election on Sunday, securing a mandate to take charge of the European Union's biggest eastern economy.
Upending Polish politics is discontent over prospects in a nation with widening regional gaps in prosperity and an exodus of workers to western Europe. As the curtain falls on Prime Minister's Ewa Kopacz's Civic Platform, Law & Justice and Beata Szydlo, the party's candidate for premier, are poised to change the $548 billion economy with pledges to raise taxes on the financial industry, increase spending on child support and start a 350 billion zloty ($90.5 billion) central bank loan program.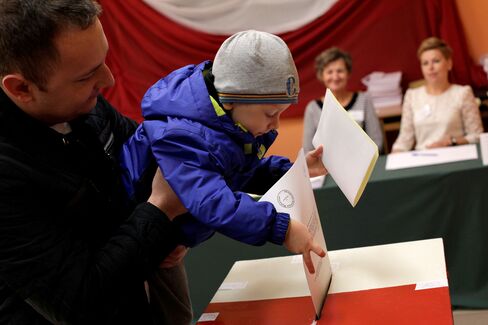 Law & Justice has a lead of more than 10 percentage points over the ruling party, recent surveys show, although it's not clear if the party will gain a majority in parliament. Poland's currency and stocks have suffered amid investor concern that the opposition will erode profitability of banks or add too much stimulus to the EU's fastest-growing economy since the 2008 crisis.
"Law & Justice is a party that knows how to make use of populism and they've done it very effectively at times," said Ben Stanley, a political scientist at the SWPS University of Social Sciences and Humanities in Warsaw. "Maybe it's making promises that may not be realistic, but it also has a more serious face."
Polling stations opened at 7 a.m. in Warsaw and close at 9 p.m., when exit polls will be published. Official results are due on Tuesday at the earliest. The turnout was 39 percent at 5 p.m., the state electoral commission said.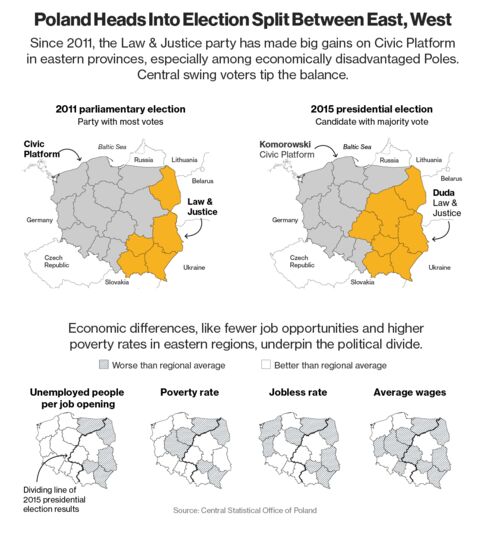 "Civic Platform has done a lot, but no one asked about the price," Ewa Makowska, 36, an accountant from Warsaw, said after casting her ballot. "And I get the feeling that some were actually benefiting too much and quite a large number of people were actually only watching. It's a shame that this party, which was supposed to be open-minded and forward-looking, rejected any criticism for eight years."
Wages, Immigration
While the economy has expanded 24 percent during the last eight years, compared with less than 1 percent for the EU on average, more than a fifth of workers still make less than the $720 a-month poverty threshold. Unemployment has dropped to below 10 percent last month, the lowest level since 2008, but people are still heading for the exit, with 2.3 million Poles living abroad, including more than 850,000 in the U.K.
Law & Justice has kept its parliamentary campaign focused on Civic Platform scandals, including secretly-taped discussions of senior officials over lavish diners, which it says highlights the government's detachment from issues that matter for ordinary Poles.
The opposition party, which seeks to bring Poland back to its Roman Catholic roots, favors a tougher stance against migrants flowing into Europe and is against EU plans to curb smokestack emissions, which would hit the country's already loss-making coal mining industry. It also seeks western support for a greater NATO presence on Polish soil.
'Great Triumph'
"I definitely wish that we'll see Law & Justice's great triumph tonight," said Bozena Kaminska, 52, a teacher from Warsaw. "I hope they'll take care of Poles and not of some international community that never actually cared about us. I see all nations being concerned with their own interests and that's what we need."
The zloty is the worst performer among 24 emerging-market currencies this month after the Romanian leu while the WIG20 stock index has declined 17 percent in dollar terms this year, almost twice as much as the MSCI developing-country gauge.
The prospect of a change of power in Poland comes with the EU more divided than at any time since former communist states joined in 2004, splitting again along east-west lines over the refugee crisis and how to deal with a more assertive Russia.
Crossing Threshold
Whether Law & Justice gains a majority of votes could depend on how many other parties clear the threshold for representation. As many as six groups can enter the legislature, ranging from an anti-establishment movement led by rock musician Pawel Kukiz to a party led by an economist preaching the gospel of austerity and free markets.
No single party has commanded a legislative majority since the re-introduction of Polish democracy 26 years ago, which has led to coalition governments and periods of minority rule.
"I'm fed up with Civic Platform and fed up with Law & Justice," said Mariusz Jakimowicz, 52, a self-employed graphic artist from Tomaszow Mazowiecki in central Poland, adding that he switched his support to "old lefties" in protest. "They are fighting a battle between themselves and for themselves, not for anyone else."
Before it's here, it's on the Bloomberg Terminal.
LEARN MORE