It's not like a Chinese president to ditch the red banners before a big day, but Xi Jinping had to go for blue before this weekend's soccer derby in Manchester.
Before the Red Devils of United take on the Sky Blues of City in a crucial match on Sunday, Xi's British roadshow headed to Manchester as Prime Minister David Cameron took him to visit City's training ground and meet star player Sergio Aguero. What followed was a photo of Xi, the Argentine striker and Cameron in what the Daily Telegraph called "one of the most surreal selfies ever to have graced the Internet."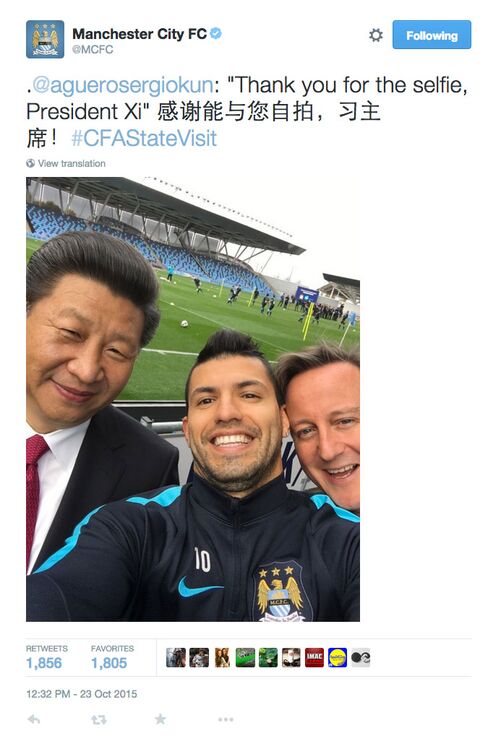 There was a flurry of comments on Twitter about the photo, with one user referring to "two blues and a red, you might say," another calling it "cringeworthy," and the Independent newspaper dubbing it "awkward."
Xi's trip to Britain, which included a trip to the pub with Cameron, has gone down well in China. State-owned media trumpeted everything from the state banquet hosted by Queen Elizabeth II to his appearance with Prince William inspecting the car driven by 007 in the latest James Bond movie. The visit has been less celebrated in the U.K., however, which came as thousands of British steelworkers lose their jobs as a result of cheaper Chinese imports.
Red or Blue?
When it comes to soccer, China and its 1.4 billion people have grown into a key market for European clubs selling TV rights and merchandise. Manchester United, England's most successful team at home and winner of three European Cups, mainly competes with Real Madrid, Barcelona and Bayern Munich for support, though its crosstown rival City has been gaining some ground since being bought by an Abu Dhabi sheikh in 2008.
City said the visit to its facilities coincided with the induction into the National Football Museum's Hall of Fame of former City player and Chinese international, Sun Jihai, the first Chinese player to score in the English Premier League.
A United spokesman downplayed the visit to City's base, saying Xi's delegation was interested in seeing an example of regeneration and the club sent along two of its most famous former players, Gary Neville and Denis Law. City's Etihad stadium is on the site of the 2002 Commonwealth games, an event that led to a whole revamp of one of the most-deprived parts of urban Britain.
Under Xi, China is trying to improve its soccer fortunes. The country is creating several new academies to try lift itself from an also-ran. China's national team ranks 81st in the world, below the likes of Burkina Faso, Haiti and Uganda.
The BBC reported that Chinese social media users were questioning why their leader was taken to the blue side of Manchester rather than the red.
Xi has been spending much of his time in the U.K. with a prime minister who has been criticized for being too laid-back and prone to "chillaxing.'' Cameron's relationship with the beautiful game has been patchy. In the run-up to winning a second term in May, he got confused over which club he supported, muddling cities and teams from different regions playing in the same colors.
Xi, on the other hand, makes no such mistake: he's reportedly an ardent United fan.
With assistance from Christopher Elser and Thomas Penny in London.
Before it's here, it's on the Bloomberg Terminal.
LEARN MORE