Washington Expects Pot Sales Tax Revenue Surge to $1 Billion
Revenue seen climbing from $67.5 million in first year

State forecast is for over four years since legalization
Washington state expects marijuana sales taxes to bring in more than $1 billion over the next four years, according to a budget forecast published by the Office of Financial Management.
In the first year since legalizing both medical and recreational cannabis, Washington collected $67.5 million in marijuana-related taxes, directed toward its general fund and health-related services.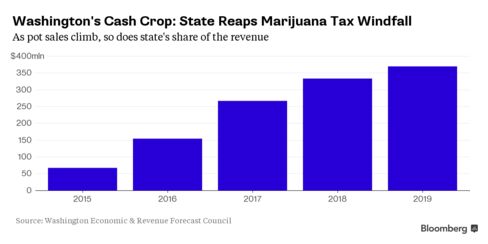 This year, the state expects to pull in $154.6 million. As of Sept. 30, three months into the state's fiscal year, Washington had already collected $37.6 million, said Steve Lerch, executive director and chief economist for the state's Economic and Revenue Forecast Council.
"When recreational legalization started, there were very, very few stores open and there was a huge shortage of supply," said Lerch. "We're expecting their market share is going to increase dramatically."
Through 2019, Lerch expects marijuana-related revenue to increase each year and anticipates collecting $267 million in 2017, $333 million in 2018 and $369 million in 2019, according to official budget projections published in September.
Marijuana has been legalized in some form in 23 states. Only four states and Washington D.C. have made it legally available for recreational use. Washington State and Colorado became the first to allow the sale and possession of cannabis, gaining voter approval in November 2012. Two years later Alaska, Oregon and Washington D.C. followed.
Shops opened up in Colorado in January of 2014, selling everything from traditional joints to pot-laced edibles, to eager customers, including tourists. Washington rolled out sales six months later and Oregon stores began selling in October of this year.
The promise of new marijuana-funded revenue streams is a compelling argument. Lawful marijuana sales topped $2 billion in U.S. in 2014 and are expected to reach $3.1 billion this year, according to the Marijuana Business Factbook.
In California, where marijuana is legal for medical use, companies have engaged in a furious land grab to purchase cannabis-friendly plots in northern parts of the state, anticipating a seemingly inevitable legalization of recreational use, said John Chiang, the state's treasurer. Since opening sales up for recreational use 20 months ago, Colorado has collected $123 million in cannabis-related taxes.
But marijuana sales and possession are still federally illegal, which stunted growth in Washington thanks to an unfriendly tax structure, Lerch said. Growers, packagers and retailers weren't able to take advantage of most federal tax deductions afforded to businesses until the state legislature revamped the taxes surrounding cannabis sales earlier this year, said Lerch.
Formerly, all three parties — growers, producers and retailers — charged a 25 percent tax, even though they weren't able to claim that expense as a business deduction.
Now, only retailers will charge consumers a tax: a whopping 37 percent on all units sold, Lerch said. While it won't solve all issues — for example, growers still can't deduct employee wages as a business expense — Lerch said it was a good start.
The new-found revenue won't be a game changer for Washington, which is already rated Aa1 by Moody's and AA+ by Standard and Poor's.
Washington's operating budget for the 2015-2017 biennium is $38.2 billion; its transportation budget is $7.4 billion, and its capital budget is $3.7 billion, according to the Washington Office of Financial Management.
Some analysts, including Washington's Treasurer Jim McIntire, are skeptical that marijuana can be the cash cow that the budget office has promised.
"It sounds great, but I'm just not sure I buy it," McIntire said. "I know it's legal, but it's pot. Who'd have ever thought?"
For more, read this next:
Before it's here, it's on the Bloomberg Terminal.
LEARN MORE