State Street Cuts Jobs, Outlook as Market Drop Hurts Fees
Boston firm fires 600 worldwide; headcount falls by 200

Firms says it may not meet its target for fee revenue growth
State Street Corp., the world's second-largest custody bank, said it's firing 600 employees globally to accelerate cost reductions after the stock market slump will probably make its goal for fee revenue growth unattainable this year. The shares fell.
The bank took a $75 million pretax charge in the third quarter in connection with the layoffs, which will result in a headcount reduction of 200 on a net basis. State Street said it may not reach a target to increase fee revenue by 4 percent to 7 percent on an operating basis this year, after a slump in global stock markets, particularly emerging markets, eroded assets.
"In light of the continued challenging environment we are accelerating the next phase of our transformation program to create cost efficiencies," Chief Executive Officer Joseph Hooley said in a statement Friday in Boston. "We're balancing investing in our business with managing against macroeconomic challenges and elevated regulatory costs."
State Street, which has 30,000 employees worldwide, is accelerating cost cuts after an almost 10 percent decline in global stock markets last quarter hurt assets and fees for overseeing them, compounding the impact of low interest rate that have plagued custody banks since the financial crisis. Assets under management decreased 7.2 percent in the third quarter to $2.2 trillion, as clients pulled a net $29 billion and market and currency swings erased $142 billion.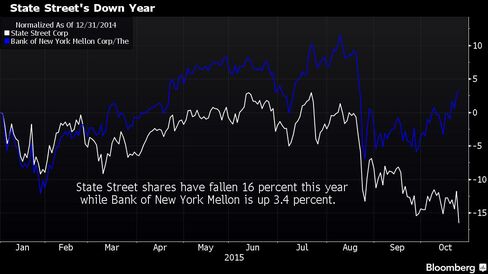 Assets under custody and administration fell 4.8 percent in the three months, to $27.3 trillion, leaving State Street behind Bank of New York Mellon Corp.'s $28.5 trillion. Net income in the three months through September was little changed at $543 million, compared with $542 million a year earlier.
Revenue Drag
State Street's shares fell 3.1 percent to $67.14 in New York. The stock has declined 14 percent this year, compared with a 4.1 percent gain for BNY Mellon, the largest custody bank.
"The drop in market valuations over the last couple of months has created a 3 to 4 percent drag on their revenues as asset management and custody was marked down to lower levels," , an analyst with Vining Sparks, said in an interview before State Street's results were released.
Custody banks keep records, track performance and lend securities for institutional investors including mutual funds, pension funds and hedge funds. State Street and BNY Mellon also manage money for investors.
BNY Mellon this week reported a 23 percent decline in third-quarter profit. Chief Executive Officer Gerald Hassell told analysts that the revenue environment is "exceedingly challenging," and it's "critical for us to keep driving efficiencies and to reduce corporate overhead."
'More Challenging'
State Street said today it will be "more challenging" to achieve a previously communicated target for fee revenue growth to outpace expense growth on an operating basis. Revenue on an operating basis fell 1.2 percent in the third quarter from the prior year, to $2.65 billion, and fee revenue rose 1 percent to $2.12 billion.
In addition to headwinds from lower stocks and a stronger dollar, State Street has been facing higher compliance costs along with low interest rates that crimp income from lending and investing. The firm, a pioneer in exchange-traded funds, is seeking to rejuvenate its asset-management business after its active strategies shrunk and its ETFs lost ground to BlackRock Inc. and Vanguard Group.
State Street is expanding its ETF business into more sophisticated offerings that produce higher fee revenue as well as directing the products more toward retail clients. The firm in January 2014 partnered with MFS Investment Management to offer actively managed equity ETFs. State Street also runs an active-bond ETF with Jeffrey Gundlach's DoubleLine Capital.
State Street started 13 ETFs in the third quarter, said Hooley during an earnings call.
"In the ETF world we are introducing exciting new products fit for market conditions," said Hooley in an interview.
(An earlier version of this story corrected assets under custody and administration for New York Mellon.)
Before it's here, it's on the Bloomberg Terminal.
LEARN MORE