Moody's Warning Rebuffed as Pemex's Mexico Backing Here to Stay
Pemex outperforms Latin America oil producers in bond market

The company still funds about 30 percent of Mexico's budget
Moody's Investors Service is warning Mexico may not be able to provide its struggling state-oil company with the financial support it'll need as soon as next year.
To Standard Life Investments Ltd. and Actinver Casa de Bolsa SA, there's little chance the government turns its back on Petroleos Mexicanos. While Mexico -- which ended Pemex's monopoly as part of sweeping reforms in 2013 -- faces declining revenue as its economy sputters, the government continues to have a vested interest in ensuring the oil producer succeeds. Pemex will still fund about 30 percent of Mexico's budget, according to official estimates.
"The Mexican government cannot afford not to continue to support Pemex," said Kieran Curtis, an emerging-market money manager at Edinburgh-based Standard Life, which oversees about $385 billion. "Sovereign support isn't going to change in its nature for at least five years and it will remain sovereign support thereafter. Moody's is right to be thinking about changes in the relationship, but I'm not sure how significant that is."
Pemex's ability to count on government backing continues to provide comfort to its bond investors. The company has held up better than industry peers in Latin America in the past year, as oil prices sank 45 percent. Its dollar-denominated bonds have lost an average of 2.6 percent in that span, compared with an 8.8 percent slump in the debt of oil producers in the region including Brazil's Petroleo Brasileiro and Colombia's Ecopetrol.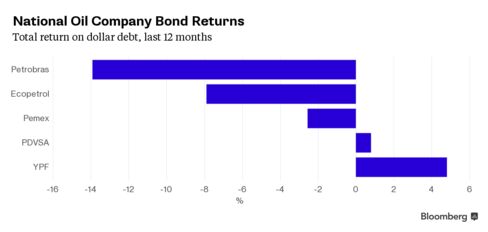 Pemex may need government help as soon as next year as its output falls to the lowest levels since at least 1990, according to Moody's. But with Mexico President Enrique Pena Nieto seeking to narrow a budget deficit in the face of tumbling oil revenue, the government may not be able to afford to come to Pemex's aid, the rating company said in a report this week. Pemex officials didn't respond to an e-mailed request seeking comment.
Mexico's 2016 budget, published last week, underscores just how challenged the country's finances will be. It assumes an oil price of $50 through 2016 and crude production at the lowest levels since 1980.
The Mexican peso fell 0.6 percent to 16.5786 per dollar as of 1:41 p.m. in New York.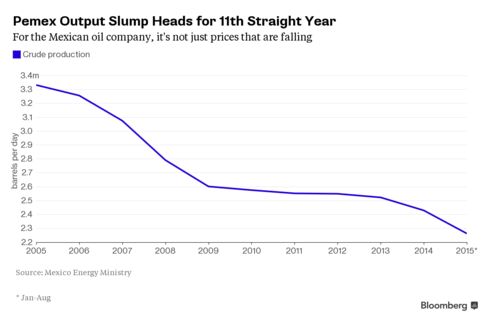 Pemex's A3 rating, which is the seventh-highest investment grade, is based on an assumption of "very high" government support, the rating company said.
"There is a tighter budget and there is a policy to try to rein in the deficit," Moody's analyst Jaime Reusche said from New York. "Mexico is cutting expenses wherever possible. There's potentially a lower likelihood of support."
Still, Pemex may take advantage of a new financing vehicle the government unveiled this month, known as Fibra E, that will allow the company to securitize assets such as pipelines, helping ease its cash needs, according to Araceli Espinosa, the head of fixed-income research at Actinver Casa de Bolsa SA.
"We will see a transformation of Pemex in the reform," she said. "But it will be gradual. Five years ago, there were reform proposals, the amount of debt outstanding was huge and Pemex's balance sheet was terrible. Five years later, the rating is still the same. As of today, nothing has changed and the government has to continue supporting them."
Before it's here, it's on the Bloomberg Terminal.
LEARN MORE