Eiffage CEO Dies Of Heart Attack; Board to Meet on Monday
Berger died at his home, leaves behind wife, three children

Berger held CEO position since 2011, became chairman in 2012
Eiffage SA said its 47-year-old Chairman and Chief Executive Officer Pierre Berger has died of a heart attack. The French construction and highway operator's board will meet Monday to discuss his succession.
"Eiffage is announcing with deep regret and great sadness that Eiffage chairman and CEO Pierre Berger died last night," the Velizy-Villacoublay, France-based company said in a statement on Friday.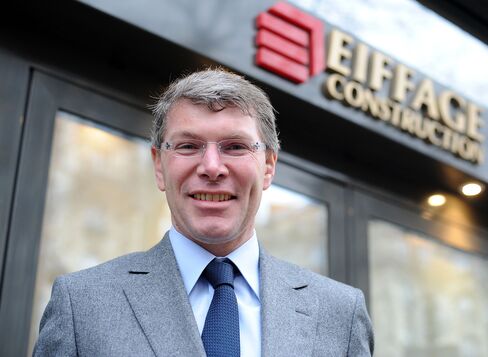 The executive had a heart attack at his home, a spokeswoman said by telephone. He leaves behind a wife and three children.
Berger was named CEO of Eiffage in 2011 and became chairman the next year. Brought in from bigger rival Vinci SA, he was charged with restoring margins at the company's construction business hurt by the economic downturn in France and Spain. As the restructuring started to take hold, Berger said he was hoping Eiffage would become more acquisitive. He bought businesses in Belgium, Canada and Latin America, and was pushing to expand in Africa.
France's third-largest construction group by sales after Bouygues SA and Vinci, Eiffage has roots in Societe Eiffel, famous for having built iconic metallic buildings such as the Eiffel Tower and the Statue of Liberty. Eiffage also built the Sydney opera house and more recently the Millau viaduct, a cable-stayed bridge in southwestern France.
No Indication
Eiffage has given no indication of who will succeed Berger. The company's vice-chairman is Jean-Francois Roverato, who created the company in 1992 after merging Fougerolle and SAE. Laurent Dupont, chief operating officer at subsidiary Eiffage Construction, is also on the board as is a representative of state fund BPIFrance Participations. The daily running of operations could fall on Deputy CEO Max Roche or Chief Financial Officer Christian Cassayre.
Berger's death comes almost exactly a year after that of another French executive, former Total SA CEO Christophe de Margerie, who was killed in a plane crash in Moscow. Also this month United Continental Holdings Inc. CEO Oscar Munoz went on medical leave following a heart attack.
Berger, a tennis player, graduated from French elite engineering schools Ecole Polytechnique and Ecole Nationale des Ponts et Chaussees.
Before it's here, it's on the Bloomberg Terminal.
LEARN MORE