Hurricane Patricia Makes Landfall as Mexico Braces for Floods
Top winds at 160 miles an hour as storm moves inland

Storm threatens catastrophic damage as it crosses Mexico
Patricia, the strongest hurricane to ever be measured in the Western Hemisphere, made landfall on the west coast of Mexico, threatening catastrophic damage to property and posing danger to the lives of anyone caught in its path.
Hurricane Patricia went ashore Friday at 6:15 p.m. local time near Cuixmala as a Category 5 hurricane, the strongest level on the five-step Saffir-Simpson scale, according to the U.S. National Hurricane Center in Miami. As of 7 p.m. local time, its winds peaked at 160 miles (260 kilometers) per hour, down from 200 mph earlier in the day.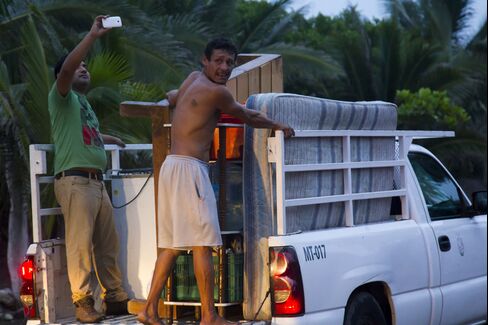 The "extremely dangerous" Patricia will bring life-threatening mudslides and flash floods and may reach into Texas with flooding rain as a record-setting year for tropical systems continues, according to the National Weather Service.
"With this type of wind the damage is catastrophic; there are very few structures that withstand this" strength of hurricane, Dennis Feltgen, a meteorologist and spokesman for the National Hurricane Center, said Friday by phone from Miami. "The trees are long gone, we're talking buildings ripped off foundations."
Puerto Vallarta
Patricia is bearing down on a part of Mexico that is home to Pacific beach resort Puerto Vallarta and Manzanillo, the nation's busiest container port. Manzanillo also has a liquefied natural gas terminal and a rail line operated by Ferromex, a railroad owned by Grupo Mexico SAB and Union Pacific Corp. Guadalajara, Mexico's second-biggest metropolitan area, is about 125 miles from the coast.
It could cause $5 billion to $10 billion in damage and other costs and be a storm equivalent to Katrina or Sandy in terms of its effect on Mexico, said Chuck Watson, research analyst with Enki Holdings LLC in Savannah, Georgia.
"The last-minute wobbles will matter a lot for the ports," Watson said.
The international airports in Puerto Vallarta, Jalisco, Manzanillo and Colima were closed Thursday, Mexican civil protection official Jose Maria Tapia said during a press conference.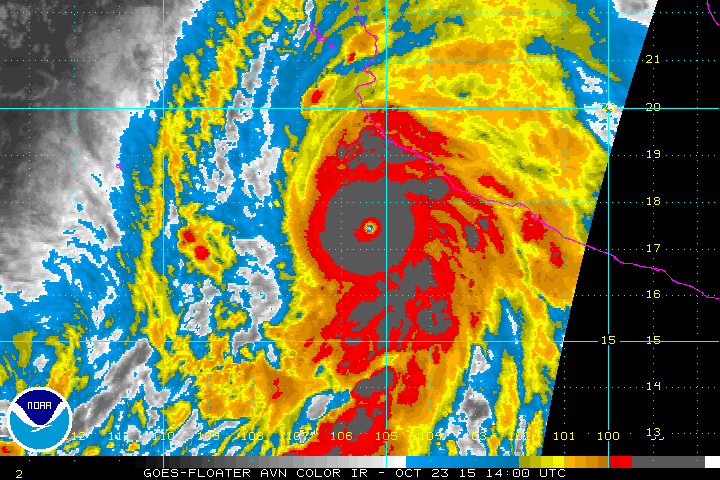 Hurricane Katrina, which killed more than 1,800 people, was a Category 3 storm when it reached landfall.
Before it weakened, Patricia was the most powerful storm ever in the Eastern Pacific and Atlantic basins, and topped the list of the strongest systems recorded anywhere in the world since 1970, including Typhoon Haiyan, which killed more than 6,000 people in the Philippines in 2013, said Phil Klotzbach, lead author of the Colorado State University seasonal hurricane forecast.
"Allegedly there were a whole bunch of storms stronger in the 1950s and 1960s, but those estimates were likely out to lunch," Klotzbach said. "Of course, they estimated Haiyan's intensity from satellite, not aircraft, so Haiyan could certainly have been as strong, or stronger, than Patricia currently is."
Typhoon Koppu
The system is just this year's latest record-breaking storm. Typhoon Koppu flooded the Philippines starting late last week and claimed about 40 lives, while Hurricane Joaquin sank the container ship El Faro in the Bahamas at the beginning of the month, killing 33 crew members.
Klotzbach said a record 22 Category 4 and 5 storms have formed across the Northern Hemisphere this year, besting the old mark of 18 set in 1997 and 2004. Reliable data for the entire hemisphere goes back only to about 1985, Klotzbach said.
Patricia grew from a tropical depression on Tuesday to a Category 5 hurricane Thursday at 10 p.m.
"My thought is this is a very extreme event, one of the most intense ever observed in modern history," said Mark Bove, a senior research meteorologist with Munich Reinsurance America in Princeton, New Jersey.
In addition to wind and storm surge damage along the coast, Patricia could drop 12 inches (30 centimeters) of rain across Mexico, with some areas getting up to 20 inches, the hurricane center said.
Tightly Wound
Because Patricia's most intense winds are tightly wound around its center, "the worst impact of this will be concentrated in a very small area where the eye comes ashore," Bove said. If the current track holds, Puerto Vallarta and Manzanillo may be spared the worst.
Patricia's threat won't stop even after it degenerates. Moisture from the storm will pour into eastern Texas, threatening a large part of the state -- from San Antonio to Houston and as far north as Dallas -- with 8 to 10 inches of rain, Walker said.
There is a chance another tropical system could spawn near the Texas coastline, made up of a weather front coming across the U.S. and the remnants of Patricia. Central Texas is already being drenched with heavy rains from another system, the U.S. Weather Prediction Center said Thursday, and almost 5 inches will fall through Friday. More than double that will occur over the next five days.
Before it's here, it's on the Bloomberg Terminal.
LEARN MORE