BOJ Easing Alone Not Enough to Reach Inflation Target, Aso Says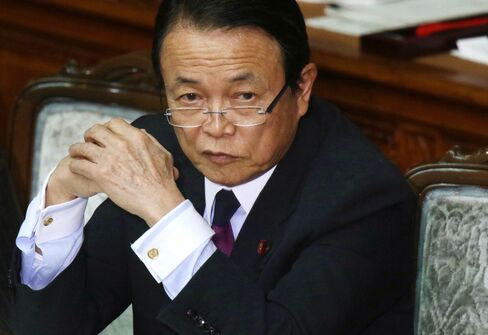 Problem is Japan's economy is lacking demand, not money

Aso says any decision on further easing is up to the BOJ
Monetary policy alone isn't enough for inflation to reach the Bank of Japan's target of 2 percent, according to Japan's finance minister.
"Prices aren't rising in Japan not because of a lack of money, but because of a lack of demand," Japanese Finance Minister Taro Aso told reporters in Tokyo on Friday. "The economy is fine, but looking at inflation, the effect of a halving of oil prices has been pretty huge."
In the two and a half years since Haruhiko Kuroda became BOJ governor and expanded monetary easing, inflation in Japan hit a peak of 1.5 percent before dropping back below zero in August. Although Kuroda has repeatedly said he sees prices rising again to meet the target next year, expectations are high for the bank to add to stimulus at its meeting next Friday.
"Aso's comments suggest that he basically stands up for Kuroda and the Abe government isn't pressing the BOJ to ease further at the moment," said Hiroaki Muto, chief economist at Tokai Tokyo Research Center Co. in Tokyo. "That's probably because they acknowledge that a weaker yen isn't necessarily good for consumer spending."
"Governor Kuroda may expect companies to use their cash reserves to pay higher wages and bonuses, and this will increase consumption by raising the disposable income of workers," Aso said. "I agree with this."
Aso said last week that it was unlikely the central bank would expand easing now. He said Friday that any decision on monetary policy, and whether to expand monetary stimulus, should be left to Kuroda and the bank.
"The BOJ will probably hold off an additional easing next week," Muto said. "However, if the industrial production data comes in much weaker than expected, it may build pressure on the BOJ to ease further."
Before it's here, it's on the Bloomberg Terminal.
LEARN MORE