United's Acting CEO Pushes Service as Profit Optimism Grows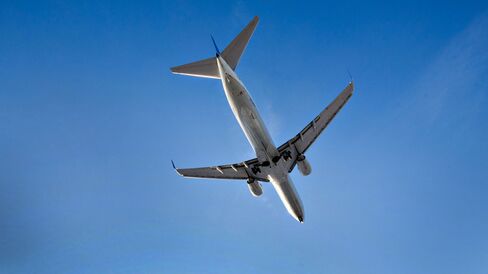 Margin forecast seen as reassuring amid pressure on airfares

Hart aligns himself with Munoz during first call in new role
United Continental Holdings Inc.'s acting chief executive officer promised to keep building on the momentum of the airline's permanent CEO, who's out on medical leave, and got a boost from an encouraging profit outlook.
Customer-service improvements will be announced soon, interim CEO Brett Hart said Thursday on a conference call just three days after his appointment to fill in for Oscar Munoz. He also said United remains focused on improving morale for front-line employees, a persistent challenge since the carrier's creation in a 2010 merger.
Hart met with analysts and investors while presiding over his first earnings report in his new role after serving as general counsel. While the Chicago-based airline has struggled to match the financial results of U.S. rivals, United forecast a fourth-quarter profit margin that exceeded some analysts' estimates, and the shares joined an industrywide rally.
"Like Oscar, I believe United has the people, the network and the assets to achieve the same or greater margins as our peers," Hart said on the call. "I, with our entire management team, will continue to take steps necessary to get us there."
United's naming of Hart, 46, as interim CEO on Oct. 19 marked the latest chapter in turmoil that began with the ouster of Jeff Smisek in September and extended into the leave for Munoz, who suffered a heart attack last week. How the company might move forward in Munoz's absence and whether Hart shared the CEO's priorities was on analysts' minds during the call.
No Difference
When a reporter asked Hart where his initiatives might diverge from the full-time CEO's, he replied: "They don't differ at all."
Hart is leading the world's second-biggest airline at a crucial time. United has given no timetable for the return of Munoz, who became known for popping in on employees around the country and his pledges to restore labor peace and improve customers' experience. Discounters are piling on seats, crimping pricing power for United and peers American Airlines Group Inc. and Delta Air Lines Inc.
Fares are weak especially in the domestic markets of Chicago, Houston and Dallas, as well as in the Pacific region and Latin America, Chief Revenue Officer Jim Compton said on the conference call. Competition also is fierce in China, where competitors are boosting seating capacity by 35 percent this quarter, he said.
Fare Wars
United's forecast for a pretax profit margin this quarter in a range of 9.5 percent to 11.5 percent was better than the 9 percent estimated by Raymond James Financial Inc. analyst Savanthi Syth.
"There was a lot of fear going into this quarter that United is more exposed to the sort of fare wars than American or Delta, so there was some concern there, and United has more exposure to China and greater oil and gas exposure," Syth said in an interview. "Given all the headwinds, it was a pretty decent guide."
Third-quarter profit of $4.53 a share excluding some items fell short of the average estimate of $4.55. United rose 2.8 percent to $56.05 at the close in New York. The stock has slid 16 percent this year compared with a 2.2 percent drop for the Bloomberg U.S. Airlines Index.
New Coffee
United gave few details about what customer service improvements it has in mind. It has narrowed its choice of premium coffee to three types, Compton said, and the company is conducting an experiment on new boarding procedures at Chicago's O'Hare International Airport. United's on-time arrival rate has lagged behind those of its biggest peers.
Hart said he is committed to Munoz's focus on customer service, teamwork and innovation, as well as reaching new contracts with unions. Five years past the merger, the carrier hasn't been able to get unified labor accords with flight attendants -- who work under contracts with former United parent UAL Corp. or Continental Airlines -- and mechanics.
Munoz was president of railroad CSX Corp. and a United director when his fellow board members hired him to succeed Smisek. The former CEO and two subordinates left on Sept. 8 amid a federal probe into the airline's ties to the former chairman of the Port Authority of New York & New Jersey.
Before it's here, it's on the Bloomberg Terminal.
LEARN MORE