Russia Said to Back Early Syria Vote to Give Assad New Term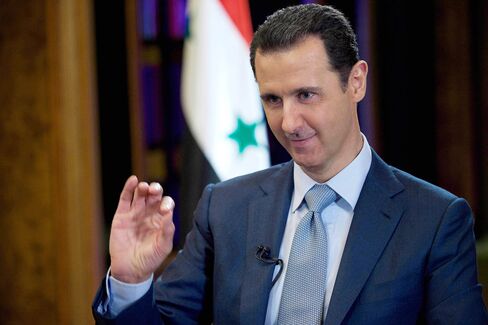 Putin hardens stance after Assad gets Kremlin `red carpet'

Russia, U.S., Saudi Arabia and Turkey to meet in Vienna Friday
Russia is pushing for early presidential elections in Syria that may give President Bashar al-Assad a fresh mandate, hardening opposition to demands for his ouster from the U.S. and its allies.
Assad would decide himself whether to run or not, a senior official in Moscow said, asking not to be identified because the matter is confidential. The wartime conditions in much of Syria shouldn't be an obstacle to conducting a poll, the official said.
The U.S., the European Union and the Gulf Cooperation Council all refused to recognize the previous election, last June, when Assad won another seven years in power with 89 percent of the vote. Assad has lost control of most of the country during a civil war that's left more than a quarter million dead and triggered Europe's worst migrant crisis since World War II, but the areas he still holds contain a majority of the population.
"There's no alternative" at the moment to Assad's government when it comes to "countering Islamic State and other terrorist groups and safeguarding Syrian statehood," Ilyas Umakhanov, deputy speaker of Russia's upper house of parliament, where he oversees international affairs, said by phone from Moscow on Thursday.
Vienna Talks
Umakhanov said he wasn't aware of any Russian initiative on early presidential elections, but he couldn't "rule out" a poll happening soon. Putin's decision to join the war last month with daily airstrikes in support of Syria's army and against terrorist targets from a base inside the country has boosted Assad's popularity, he said.
The initiative comes as officials from Russia, the U.S., Saudi Arabia and Turkey prepare to meet in Vienna on Friday to discuss how to resolve the conflict, which threatens to reshape the entire Middle East. The U.S., the EU and Turkey say Assad must step down as part of any resolution and that Russia is targeting a wider range of opposition groups and not just Islamic State.
Assad, 50, will probably call early elections both for parliament and for president, which he would run in and win, a person close to the government in Damascus said. Putin has repeatedly said that Syria's future must be decided by its own people and that Assad is prepared to share power by inviting some of his opponents into government.
"Of course the Syrian leadership must establish working contacts with those opposition forces which are ready for dialog," the Russian leader told the Valdai discussion club in Sochi on Thursday. "As far as I understood from the meeting with President Assad the day before yesterday, he is ready for such dialog."
Part of the solution should be to ensure objective international supervision of any elections, Putin said.
An early presidential poll could be used to "dress this up as part of the political resolution," said Elena Suponina, a senior Middle East analyst at the Institute of Strategic Studies, which advises the Kremlin. "Assad is sure of himself," she said by phone. "It's clear that he has many supporters."
Russia must pressure Assad to agree to constitutional changes to transfer authority from the all-powerful presidency in Syria and hold credible elections, Qadri Jamil, a Kurdish politician and former Syrian deputy premier who now lives in Moscow, said in an interview in the Russian capital. Otherwise, the situation will worsen, he said.
Kremlin Meeting
The Syrian leader, who succeeded his father in 2000, flew to Moscow for talks with Putin this week, his first official foreign visit since the war started. Assad thanked Putin for the bombing campaign, which is allowing his forces to mount a ground offensive with Iran's help to regain territory. Putin's strategy is to help Assad retake as much land as possible, including from rebel militias backed by the U.S., Russian officials told Bloomberg News.
The two leaders talked Tuesday about the continuation of Russian air operations in support of the Syrian army's offensive, Kremlin spokesman Dmitry Peskov told reporters in a conference call on Wednesday.
Putin's military intervention in Syria, Russia's largest outside the former Soviet Union in decades, is posing a direct challenge to American power in the Middle East.
The U.S. decried Putin's "red-carpet welcome for Assad," which White House spokesman Eric Schultz said was at odds with Russia's stated goal of seeking a political change.
The Obama administration is still focused on "getting a political transition in Syria" at the Vienna talks between U.S. Secretary of State John Kerry, Russian Foreign Minister Sergei Lavrov and their counterparts from Saudi Arabia and Turkey, State Department spokesman John Kirby said.
Nonetheless, the U.S. sees little hope of progress on any political settlement, American officials said on condition of anonymity, noting that the Obama administration doesn't have much leverage over Russia. Putin may be looking for a way to declare victory by creating a rump state for Assad and offering some kind of transition, they said.
Alexei Pushkov, a senior Russian lawmaker, said on his Twitter feed this week after Canadian Prime Minister Stephen Harper's election defeat that many of the Western leaders calling for Assad's ouster will "leave the stage long before he does."
QuickTake QuickTake: Syria's Civil War
Before it's here, it's on the Bloomberg Terminal.
LEARN MORE