Ghana Faces Rising Debt Costs on Return to Local Bond Market
Ghana returns to local debt market after canceling three sales

Local yields 5 times higher than average for emerging markets
After canceling four bond sales since April, Ghana risks paying higher borrowing costs when it returns to the market on Thursday with its largest ever issuance of cedi-denominated debt.
Yields on Ghana's 1.5 billion cedis ($395 million) of three-year notes on sale may rise to more than 24 percent, the highest since a July 2014 auction, as confidence in the government's ability to rein in spending wanes, according to Boston-based Acadian Asset Management LLC, which doesn't own any of the nation's debt in the $300 million of assets it oversees and won't be bidding for the securities at the auction.
"Given how much things have deteriorated with the fiscal situation, there is a very real risk of yields rising," Bryan Carter, who helps manage Acadian's $21 million emerging-markets debt fund, said by phone from Boston. This will probably send the country into a "higher yielding environment," he said.
President John Dramani Mahama's administration is curbing spending before a 2016 election as the economy struggles to cope with a currency that's weakened 15 percent against the dollar this year, tumbling prices for gold and oil exports and rising dollar debt. The economy, beset by power shortages, is expanding at its slowest pace in 20 years, threatening tax revenue.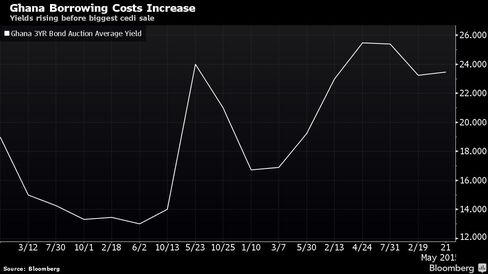 "There will be some foreign investor interest but it will be limited as foreign-exchange risk remains elevated and the economic outlook clouded," Angus Downie, London-based head of economic research at Ecobank Transnational Inc., said in an e-mailed response to questions. "With inflation continuing to accelerate rapidly, the real yield offered by the government needs to be attractive."
Ghana last sold three-year notes in May at a yield of 23.47 percent. That's higher than any of the 31 countries in the Bloomberg Emerging Market Local Currency Sovereign Index, where rates average 4.67 percent. The world's second-largest cocoa producer canceled a seven-year issue in April and a five-year offer in June, blaming market conditions. Another five-year bond was postponed in August and a three-year sale set aside last month. The cedi gained 0.8 percent to 3.7994 per dollar as of 11:08 a.m. in Accra.
"We think there is reduced scope for an auction cancellation this month," Barclays Plc Johannesburg-based analysts Ridle Markus and Dumisani Ngwenya said in a note. The issuance will probably be used to repay securities maturing Oct. 26, they said.
The fiscal gap, which has averaged about 10 percent of gross domestic product over the past three years, narrowed to 4.7 percent for the first eight months of the year, better than the 4.8 percent goal, the finance ministry said. The government is targeting a 7.3 percent shortfall for 2015. The ministry of finance didn't immediately respond to e-mailed questions.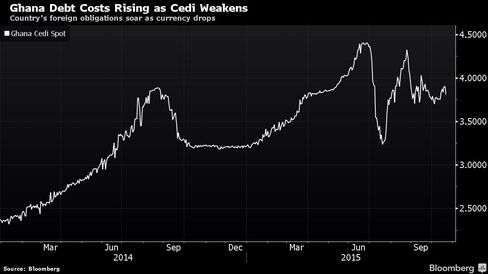 The country sold a third Eurobond in as many years on Oct. 8, raising $1 billion and falling short of the $1.5 billion the government initially targeted. The debt yielded 10.75 percent, above the state's initial expectation of 8.5 percent to 9 percent. Ghana agreed to an almost $1 billion three-year International Monetary Fund program in April to help tame the fiscal deficit and weakness in the currency, which has fueled inflation.
"We don't yet see that there's enough incentive for the government to change its ways to turn things around," Carter said. "The deficit is still going to be too big."
Before it's here, it's on the Bloomberg Terminal.
LEARN MORE