Deutsche Bank May Slash Bonuses by Almost One-Third
German lender said to cut bonuses by as much as $566 million

Some managing directors said to have their bonus scrapped
Deutsche Bank AG may cut the bonus pool for its investment bank by as much as 500 million euros ($566 million), or almost a third, as co-Chief Executive Officer John Cryan seeks to slash costs in the securities unit, according to people with knowledge of the matter.
No decision has been taken and the biggest reductions are likely to impact employees in the fixed-income business, said one of the people, who asked not to be named as the information isn't public. Some managing directors may have their entire bonus scrapped, according to the person. Deutsche Bank paid staff at the securities unit 1.7 billion euros of variable compensation for 2014, the Frankfurt-based firm's filings show.
Cryan, 54, who took over from Anshu Jain in July, indicated earlier this month that bonuses may be cut after saying the company will report a third-quarter loss of about 6.2 billion euros after writing down the value of the investment bank and other assets. The bank is also considering suspending its dividend for the first time since Germany's post World War II reconstruction in an effort to bolster capital.
The writedowns and dividend recommendation "have to be factored in some way into our upcoming decisions on variable compensation for the year," Cryan wrote in a memo posted on the firm's website on Oct. 7, adding that there hasn't been a final decision on discretionary payouts. "You have my personal commitment to try to achieve a fair balance between staff and shareholder interests."
A spokesman at Deutsche Bank in Frankfurt declined to comment.
Bonus Cap
The shares rose as much as 1.7 percent, trading at 26.75 euros at 3:10 p.m. in Frankfurt, up 0.8 percent on the day. They have increased about 7 percent this year.
Deutsche Bank paid staff across its businesses 2.71 billion euros in bonuses for last year, down from 3.16 billion euros they received for 2013, company filings show. Last year marked the first time the bank implemented European Union rules which cap bonuses at twice annual salary.
The investment banking and trading unit, which was previously co-headed by Colin Fan, employed 25,843 people at the end of December, 8,207 of whom were classified as front office staff, who are generally the top earners, according to company filings.
A total of 2,057 so-called material risk-takers at the investment bank, including 58 in management, were paid 1.09 billion euros in bonuses and other discretionary remuneration for last year, the filings show.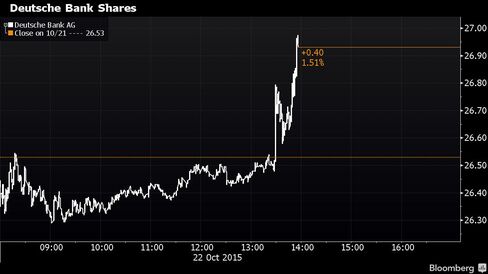 Cryan, who helped restructure UBS Group AG in the wake of a bailout, has been seeking ways to shrink the investment bank as regulators step up scrutiny of risky assets. The German lender is scheduled to report third-quarter earnings on Oct. 29.
In the first half, revenue from fixed income and currencies trading, the bank's biggest source of earnings, rose 12 percent to 4.75 billion euros from a year earlier, company filings show. A weaker euro helped increase revenue from its U.S. trading business.
Management Changes
As part of his overhaul, Cryan is replacing senior managers who helped build the investment bank. Fan resigned, while Michele Faissola, a senior executive, will leave after a transition period, according to a statement on Oct. 18. Jeff Urwin, who joined the company as Fan's co-head earlier this year, will oversee a newly founded corporate and investment bank unit, while Garth Ritchie, the head of equities, was appointed to lead a separate markets unit.
Among other changes, Quintin Price, the former head of Alpha Strategies at BlackRock Inc., will oversee asset management and join the management board. Fabrizio Campelli, the head of strategy at Deutsche Bank, will be in charge of wealth management after the business is moved to a unit which caters to consumers and smaller companies.
Before it's here, it's on the Bloomberg Terminal.
LEARN MORE