Central command would come alongside broader military revamp

Plan to be discussed at annual party plenum next week
China's military chiefs are seeking to unify the country's cyber warfare capabilities as they build a modern fighting force that relies less on ground troops.
The plan is part of a broader shift toward a unified military command similar to that of the U.S. to meet President Xi Jinping's goal of transforming the People's Liberation Army into a force that can "fight and win modern wars." It will be discussed at a meeting of top leaders next week, according to people familiar with the matter.
A move to a centralized command reporting to the Central Military Commission would better organize China's cyber warfare capabilities, which are scattered across a variety of units and ministries. It would further elevate the role of cyber within a PLA that has long prioritized the army over the navy and air force, two branches that require a high level of computerization skills.
It could also worry the U.S. if it accelerates the transformation of cyber as a military tool, given tensions over allegations China carried out significant hacks of U.S. networks and companies. While the U.S. and China recently agreed to broad principles to stop the theft of corporate secrets, the rules won't extend to traditional intelligence collection.
A unified command would be "a pretty big deal" in organizing domestic cyber forces to "win informationized local wars," according to Council on Foreign Relations cyberspace program director Adam Segal, citing a goal enshrined in China's first white paper on military strategy released in May.
'Official Sign'
"It would be an official sign that cyber attacks would be used in a military conflict," he said. "Theoretically, it would allow them to concentrate resources in one place and create specialized forces, and might make it easier to plan joint operations."
The main agenda for the Communist Party gathering in Beijing that starts Monday, known as the Fifth Plenum, is to review and approve a blueprint for China's economic and social development for the next five years. But the session, attended by more than 350 top officials, also provides a platform for the vetting of government and military reforms.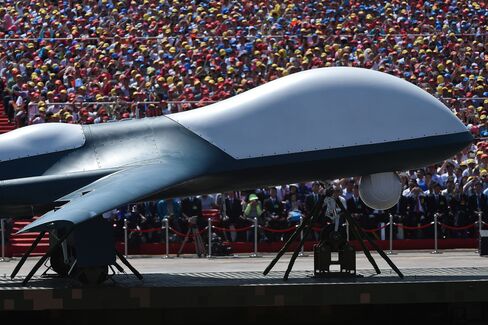 China's military plays a major role across the government and the economy. Military-affiliated companies own factories and properties and invest in technology and aerospace companies.
Various Units
Its information warfare capabilities are currently housed in different departments and specialized units within the PLA, while the Ministry of State Security and the Ministry of Public Security also have cyber remits. The move could help leaders exert greater control over cyber spies who may be acting on their own accord or with only tacit permission from above.
"A consolidated cyber command would, in theory, lead to greater central control of units and individuals involved in cyber activities," said Dennis Blasko, a Florida-based analyst at CNA Corp.'s China Security Affairs Group. "This organization could, in theory, limit the moonlighting and freewheeling that some units and individuals allegedly are involved in," he said. "It would also allow for better coordination of effort in offensive cyber activities."
It wouldn't be surprising for China to adopt a centralized structure, said James Lewis, a senior fellow at the Center for Strategic and International Studies. The U.S. has also moved to better coordinate its cybersecurity strategy, with the Obama administration appointing Admiral Michael Rogers to head both the National Security Agency and the Defense Department's Cyber Command.
North Korea
Other countries are adopting similar strategies. Russia was moving to create a new army corps to ensure information security, Pravda reported on its website in mid-2013. Little is known about the structure of North Korea's cyber warfare operations, though it was blamed for the hacking of computers at Sony Corp.'s Hollywood studio late last year and the regime has said previously it'd retaliate against any U.S. provocations with conventional, nuclear and cyber attacks.
The PLA's first specialized information unit was set up in July 2010, not long after the U.S. Cyber Command went operational.
'More Powerful'
"China already is a cyber power, and this will make them more powerful," Lewis from CSIS said. "The PLA was carefully excluded from the Xi-Obama agreement. That's a problem, and finding ways to engage the PLA on cyber and other areas is crucial."
Xi, who chairs the CMC, has kicked-started the most sweeping overhaul of the military in at least three decades, announcing last month a reduction of 300,000 troops. He's endorsed a new military strategy for "information warfare."
In August 2014 during a meeting of the Politburo, a powerful decision-making body, Xi said China "must vigorously promote military innovation" and urged the military to "change our fixed mindsets of mechanized warfare and establish the ideological concept of information warfare". The white paper from May cites building cyber forces as a "critical security development domain."
The PLA has found itself in the cross hairs of several hacking claims. FireEye's Mandiant division alleged in February 2013 that it may be behind a group that hacked at least 141 companies worldwide since 2006. After the report was published, the U.S. issued indictments against five military officials who were alleged members of that group.
Open Line
Chinese officials regularly claim the country is a victim of cyber security breaches and have repeatedly denied being the source of hacks of the U.S. and other countries.
"What I think is quite likely in the short term is for such a development to be seized upon by some in the United States as another piece of evidence that China is continuing to emerge as a threatening and offensive-minded cyber power," said Andrew Scobell, a senior political scientist at the RAND Corp.
Still, it could also potentially open a line of communication. The U.S. has worked with the Chinese navy on rules of engagement for unexpected encounters at sea, for example.
"Diplomatically, it would put them on their back foot," said Segal from the Council on Foreign Relations. "On the positive side, the PLA could now engage the Pentagon in discussions about rules of the road and responsible behavior on an equal footing, and might make them more willing to pursue these discussions."
— With assistance by Ting Shi, and Keith Zhai
Before it's here, it's on the Bloomberg Terminal.
LEARN MORE