After $33 Billion Wipeout, a Rosier Outlook for Brazil Utilities
Of 10 Brazil stocks with best rating boosts, 3 are utilities

Cesp, Copel and Cemig among best dividend yields in Brazil
Brazilian power utilities, which went from safe havens to stock-market pariahs amid government interventions in recent years, are winning back some fans.
Among the 10 Brazilian stocks that have received the most analyst rating increases in the past three months, three are electric utilities, according to data compiled by Bloomberg. Cia. Energetica de Sao Paulo, or Cesp, Brazil's biggest power generator, is showing the best improvement among the benchmark Ibovespa's 63 members with six upgrades. Cia. Paranaense de Energia, known as Copel, and Cia. Energetica de Minas Gerais, or Cemig, also earned new endorsements.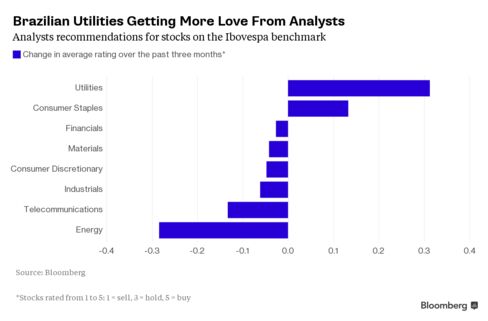 It's a bit of good news for an industry that lost $33 billion in market value since 2012, when President Dilma Rousseff's administration forced electric utilities to cut prices if they wanted to hang on to their generating licenses. Power producers also took a beating from a drought last year that drained water reservoirs and pared output, forcing many to buy energy in the spot market to meet supply contracts. What's driving the change in sentiment among analysts now is simple math: The stock plunge means dividend payouts as a percentage of price look all the more attractive.
"Power utilities were always good dividend payers -- that didn't change," Sergio Tamashiro, an analyst at Haitong Bank SA, said from Sao Paulo. He rates Cesp a buy. "They have lost excessively in recent years, so the upside, even considering the regulatory risks and the effects of the drought, is very attractive."
With dividend yields of at least 13.6 percent, Cesp, Cemig and Copel had the best payouts last year among all but one other stock on the Ibovespa index, data compiled by Bloomberg show. Cesp and Cemig are estimated to yield almost 10 percent this year, based on Wednesday's closing price. Copel's 5.2 percent expected payout is slightly above the Ibovespa's average of 5 percent.
Cesp has gained 10 percent this month. Of the 13 analysts who rate the stock, three now say buy and one says sell. In July, the company had no buy recommendations and nine sell ratings. Copel climbed 4.2 percent in October and Cemig rose 12 percent. The Ibovespa is up 5.7 percent.
Shares of Brazilian power utilities have also been rising on expectations that new rules planned by the Energy Ministry may reduce the risk of losses during future droughts, according to Bruno Piagentini, an analyst at the brokerage Coinvalores.
"The idea is to better share between companies and consumers the costs," Piagentini, said from Sao Paulo. "Those expenses have been pressuring the companies' results a lot lately. Investors are optimistic with the measures, but it's better to be cautious since wee don't know yet all the details of it."
Before it's here, it's on the Bloomberg Terminal.
LEARN MORE