Shanghai Halts Land Auctions as Surging Prices Worry Officials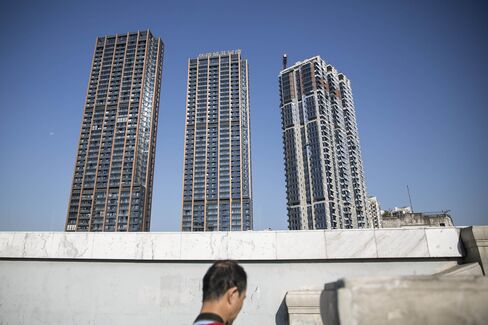 Prices in China's financial hub surged to highest since 2011

City mayor says irrational land supply behind high prices
Shanghai has halted six land auctions since Oct. 12, as officials are seeking to rein in the property market after the government's loosening of curbs triggered surging prices.
The city on Oct. 12 called off an auction for a plot of land in Yangpu district, with a starting price of 4 billion yuan ($630 million), two days before it was scheduled, saying "more conditions are needed to be met to develop the land." The auction has been rescheduled to resume next month, with plans to more than double the number of apartments that can be built on the land. As of Monday, auctions for another five residential and commercial sites were suspended in suburban Qingpu, Jiading and Songjiang districts.
The Chinese government's easing of property curbs and five interest rate cuts since November to help revive sluggish real estate investment has spurred home price increases in first-tier cities. Officials in Shanghai are acting to cool the market as property prices have been bid up in hotly contested auctions and prices since May have risen at the second-fastest pace, trailing only the city of Shenzhen. In some cases, local officials are halting auctions so they can increase the number of homes that can be built on the land, thereby bringing down prices.
"It shows an altering of the local authority's attitude," said Gong Min, a Shanghai-based analyst of Centaline Group, China's biggest property agency. "The government sees the rocketing price increase in Shenzhen and clearly doesn't want Shanghai to repeat or even come close to it."
"Too High"

Prices in the financial hub of Shanghai have been rising sharply, with the average value jumping to 34,632 yuan per square meter in July, the highest since 2011, according to SouFun Holdings Ltd. That prompted Shanghai's mayor Han Zheng to say that controlling home prices is a "crucial regulation target," the local Jiefang Daily reported last week, citing a speech at a government meeting.
The southern city of Shenzhen has been leading gains among the nation's most affluent cities this year. Shanghai's mayor Han said Shanghai's home prices are already "too high" and if not firmly regulated, will hinder the city's competitiveness, according to the newspaper report.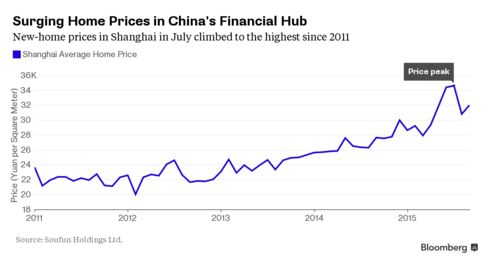 The 4 billion-yuan property in Yangpu, spanning 132,000 square meters (1.4 million square feet), would likely have become Shanghai's most expensive residential piece of land this year if the auction hadn't been halted, Gong said. A site in the Baoshan district that sold at 3.5 billion yuan in September, compared with an asking price of 1.8 billion yuan, holds the record for land sold at auction this year, according to Gong.
Local governments use land auctions to regulate home supply, as developers have to buy state-owned plots to build homes. In the newspaper article, Han referred to an "irrational land supply" in Shanghai, with too few small- to medium-sized residential apartments planned on the land that is put up for auction, leading to a severe shortage of homes for less affluent residents.
"The land market in Shanghai will cool down remarkably after the streak of auction halts," said Lu Qilin, a Shanghai-based director of Homelink Real Estate Agency Co.
— With assistance by Emma Dong
Before it's here, it's on the Bloomberg Terminal.
LEARN MORE